Muamer Hodzic
March 11, 2008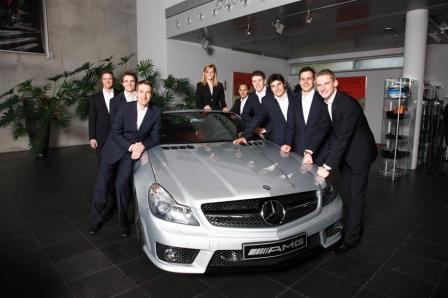 Mercedes-Benz Motorsport announced today, that nine drivers will compose the 2008 DTM team and race with the Mercedes Benz C-Class AMG. Even though, Bernd Schneider is already in his 40's, he will be returning for yet another season; not even age is stopping Schneider. The Canadian Bruno Spengler, who finished second last season right after Mattias Ekstroem, is poised to take this years championship. The new and most famous addition to the AMG team is Ralf Schumacher, who left the Toyota F1 team, after a couple disappointing seasons, to join the DTM racing series and try his luck there.
Read more about each driver after the break.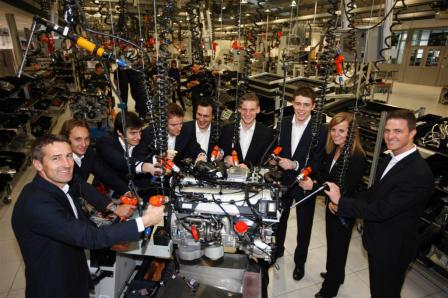 The Drivers:
Bernd Schneider (43 years/Germany): Until the end of the 2007 season, Schneider completed exactly 220 DTM races, 69 more than his eight Mercedes-Benz team mates together; they took part in a total of 151 DTM events. Schneider achieved 42 race wins, 24 pole positions and 58 fastest race laps; No driver will be able to match this record balance in 2008. In 1995, 2000, 2001, 2003 and 2006, Bernd Schneider clinched the DTM championship titles, he also won the 1995 International Touring Car Championship (ITC), which had been staged together with the DTM.
"After my fifth title win in 2006, the sixth position in the 2007 championship was not what I had planned for. However, I am now even more motivated to fight again this year."
Bruno Spengler (24/Canada): In 2007, the Canadian achieved one of the seven Mercedes-Benz victories in the DTM. With a gap of three points, Spengler finished the championship runner-up – for the second consecutive time. It was the first time after 1991, that more than two drivers had chances to win the championship. After a learning year with Persson Motorsport in 2005, he moved up to the HWA factory team. When he clinched his first DTM victory at Nuremberg's Norisring in 2006, he was one of the youngest winners in DTM history at the age of 22 years and 334 days.
"Two runner-up positions are nice, only one place is even nicer and I will push hard to achieve it in 2008."
Jamie Green (25/England): In his 30th DTM race, Jamie Green finally took his first victory in the championship. He won the penultimate round of the 2007 season in Barcelona and repeated this success two weeks later in the next race, the season finale in Hockenheim. The 25-year-old Englishman has been with Mercedes-Benz for 11 years. In 1997, he was second of the "Champions of the Future" kart series with two wins; this series was part of the promotion programme for young drivers of Formula 1 partners McLaren and Mercedes-Benz. In 2004, Green won the Formula 3 Euro Series with seven victories out of 20 races at the wheel of an ASM team Dallara Mercedes; driving for ASM in 2005, also Formula 1 runner-up Lewis Hamilton won the title of this championship.
"I want to start the 2008 season exactly like I finished the previous one and then I want to fight for the championship."
Paul di Resta (21/Scotland): In 2006, di Resta won the Formula 3 Euro Series with five victories out of 20 races; like Jamie Green in 2004 and Lewis Hamilton in 2005, he was driving for ASM. He debuted in the DTM on 22nd April 2007 with fifth place in Hockenheim, followed by four more podium positions in the next nine races and fifth place overall in the championship. Di Resta is the cousin of former Mercedes-Benz DTM driver Dario Franchitti, winner of the 2007 Indianapolis 500, the 2007 US Indy Racing League champion and winner of the 2008 24-hour-race in Daytona 2008, who is now racing in the US-American NASCAR series. Di Resta benefited from and excelled in the Mercedes young driver promotion already early on. He was 14 years old, when he won the McLaren Mercedes Champions of the Future Kart series in 2000 and then again in 2001. In 2004, he won the McLaren Autosport BRDC Young Driver of the Year Award and became a Mercedes-Benz Junior.
"Four podium positions and seven places in the points out of 10 races are not a bad balance for my first DTM season. I am very happy that I am now a member of the HWA team and want to thank for the confidence they have placed in me by improving further."
Ralf Schumacher (32/Germany): From 1997 until 2007, Ralf participated in 180 Grands Prix, won six of them and started from pole position six times. He achieved eight fastest race laps and scored a total of 329 World Championship points. In 2001 and 2002, he finished the Drivers' Championship in fourth positions respectively. In the Brazilian Grand Prix on 21st October 2007, driving for Toyota, he finished his Formula 1 career. His last race with a car with a roof was a round of the FIA GT Championship in Spa-Francorchamps on 20th July 1997, when he was a guest driver in an AMG Mercedes CLK-GTR. When Ralf Schumacher tested the AMG Mercedes C-Class in Estoril, Portugal for four and a half days, he drove about 490 laps, more than 2,000 kilometres, which are approximately 12 DTM race distances.
"It was great fun to test the DTM C-Class and I look forward to the new season, more than I did for a long time. I like the DTM, I like the environment, I like the enthusiastic and positive spectators. And I like Mercedes. I will learn in the DTM, I will work hard and I will put it behind me if people will criticize me if I should have problems during the first couple of races."
Gary Paffett (26/England): When Gary Paffett came back to the DTM after a one-year break, he won already his second race in Oschersleben 2007. It was the first time that a DTM race was won in a last year's car and it was the 10th DTM race win for Gary Paffett. The Englishman won the 1999 McLaren Autosport BRDC Young Driver of the Year Award. In 2002, he became German Formula 3 champion. In December 2005, two months after winning the DTM championship title, he was promoted McLaren Mercedes test driver. This year he will again race in the DTM and also fulfil his test duties with the Vodafone McLaren Mercedes MP4-23.
"I love the DTM and in addition to my job as a Formula 1 test driver I look forward to racing in my favourite series and I want to finish the season in a better position than last year."
Susie Stoddart (25/Scotland): In 2003 and 2004, Susie qualified for the final round of the renowned McLaren Autosport BRDC Young Driver of the Year Award. Two years ago, she changed from the British Formula 3 Championship to the DTM and she finished her first race in the championship in Hockenheim in 10th place. The same result in Mugello, Italy was her best one in the 2007 DTM. In qualifying, she made it to the second of the top 14 drivers three times; in the season opener in Hockenheim and at Nuremberg's Norisring, she started 12th on the grid respectively, at the Nürburgring she qualified 13th.
"Although my results don't show it so clearly, I have continuously improved since I have started in the DTM. If I'm able to qualify higher up the grid, I should be able to achieve better results in 2008."
Mathias Lauda (27/Austria): Only four years after his first ever race, Mathias Lauda, the son of three-times Formula 1 World Champion Niki Lauda, started in the DTM with a 2004 AMG-Mercedes C-Class of the Persson-Team. No other driver had a shorter motor sport career before entering the DTM. Lauda's best result was his sixth place in Barcelona in September 2007; it was the second time that he scored points after finishing seventh at the Lausitzring in May 2007. The qualifyings in Oschersleben, at the Lausitzring, Brands Hatch and at the Nürburgring saw him move up to the second sessions of the top 14 drivers; his 10th place on the grid in Barcelona was his best starting position in the DTM.
"My target for the new season – I want to score points constantly and to finish the championship among the top ten."
Maro Engel (22/Germany): Born in Munich, Maro Engel raced karts for five years before he drove his first ever car race at the age of 15 in 2001. In the Formula BMW Junior Cup, he won three races and was third overall. At the age of 18, he entered Formula 3 in 2003. Two years later, he took part in five races of the Italian Formula 3000 series and changed to the British Formula 3 Championship in 2006. Last year, he finished the championship runner-up after winning three races. In November 2007, Maro Engel tested the AMG Mercedes C-Class for the first time in Mugello, Italy followed by another test in Estoril, Portugal in January 2008. He completed a total of 261 laps, almost 1,200 kilometres.
"Testing a race touring car was a new experience for me. The DTM is a great challenge and I definitely want to seize the chance provided by Mercedes."
Norbert Haug, Vice President Mercedes-Benz Motorsport: "From 1988 until the 2007 season finale, Mercedes-Benz have completed 300 DTM and ITC races and won 141 out of them. Our drivers claimed seven victories in the previous season's 10 races; five of our 10 drivers, Bruno Spengler, Bernd Schneider, Gary Paffett, Jamie Green and Mika Hà¤kkinen were on the top spot of the podium at least once, Mika and Jamie stood there even twice respectively. Nine of our 10 drivers each scored points at least twice and this shows that – with maximum competitiveness – there are chances to score points for all of our drivers. In 2007, Mercedes-Benz drivers claimed 60 percent of all points positions. Also in 2008 we will have a strong team and I am sure the sport and the excitement in the new DTM season will be at an even higher level."