Matt
February 13, 2008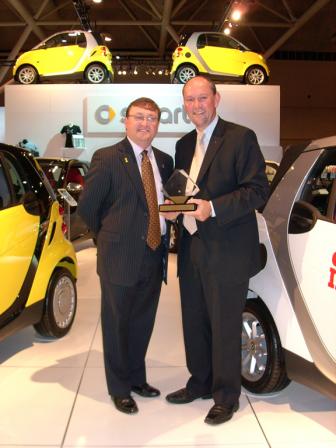 With the eco-consciousness of today's society, energy consumption and efficient designs became the path forward. With hybrids being one alternative in solving the problem of oil consumption, Mercedes' take on re-interpreting the true essence of driving provides a new perspective on the way we use our automobiles and how we consume gasoline. The smart being the fore-runner in this "stripping down" to the essentials provides a fresh new ideal on how we use automobiles for mainly day to day travel. This minimalist approach to a two seater is a logical move to accommodate the usual single occupancy travel for one to get to and from work. With that said, size, weight and fuel consumption can be kept to a minimal and thus giving it top regards to eco-friendliness. It is with this regard smart has won the ecoENERGY award for being the most fuel efficient vehicle in the two-seater category from Natural Resources Canada – a agency facilitated by the Government of Canada.

Official Press Release
Natural Resources Canada awarded an ecoENERGY for Vehicles award to the smart fortwo today for being the most fuel efficient vehicle in the two-seater category.
The world-acclaimed smart fortwo has been a frequent recipient of safety, ecological and fuel-economy leadership awards all around the globe. Since its Canadian launch in September 2004, more than 10,700 smart customers have recognized and praised its environmental benefits and its relentless commitment to sustainability and social responsibility.
Starting at $14,990, the completely redesigned second generation smart was recently launched in Canada in December 2007. It now boasts a new, more powerful gasoline engine, better acceleration, and lower emissions without compromising its top notch fuel economy of 5.4 litres/100km combined highway (4.8l/100km) and city driving (5.9l/100km) – the car also qualifies for a $2,000 ecoAuto Rebate.
Equipped with a 5-speed automatic transmission with manual shift mode, its 3 cylinder 999cc gas engine produces 70 hp and 68 lb-ft of torque; the smart fortwo accelerates from 0-100 km/h in 13.3 seconds and now has a top speed of 145 km/h.
Natural Resources Canada estimates that the smart fortwo consumes 1,080 litres of fuel per year which represents an annual fuel cost of $1,080 and that its CO2 emissions total to 2,592 kg/ year.
The Honourable Mike Wallace, MP for Burlington presented the ecoENERGY award to Marcus Breitschwerdt, Mercedes-Benz Canada's President and CEO at a press event held in conjunction with the opening of the 2008 Canadian International Auto Show in Toronto.
Mr. Breitschwerdt said, "It is with great pride that I accept this award. I want to take this opportunity to thank the 10,700 Canadian ambassadors who have made a passionate commitment to making a difference in Canada by driving a smart fortwo over the course of the last four years. Coupled with this strong customer support, invaluable endorsements such as this ecoENERGY award are key to educating consumers that they too, can now make an intelligent and environmentally friendly purchase decision."