Nedzad
July 6, 2007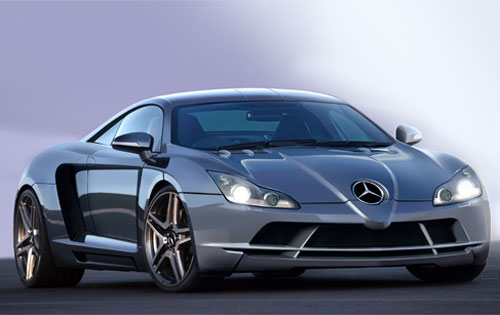 AFFALTERBACH, Germany — Following a decision to discontinue its project to build the midengine McLaren F2, Mercedes is instead moving forward with a different car to be built by AMG.
Mercedes originally partnered with McLaren Automotive to produce the 617-horsepower Mercedes-Benz SLR McLaren, and the $450,000, 200-mph supercar was launched in 2005. The car's development didn't go smoothly, as McLaren bridled under the requirement to create a front-engine car, while AMG wanted to build the car itself, not just the engine.
The cheaper, midengine F2 was supposed to be developed by McLaren once the SLR project reached production, but the project was halted in late 2004. Mercedes is certainly no stranger to midengine cars, as it unveiled its three remarkable C111 experimental cars in 1969 at the Frankfurt auto show and then raced at Le Mans in the 1990s with the CLK-GTR and CLR.

Mercedes has now decided to go its own way with what is being called the Mercedes SLC. The SLC will be lighter and smaller than the SLR, and is expected to be powered by a new, turbocharged 6.2-liter V8 built by AMG. The new supercar might share parts with the future SL Black Series, reducing the financial burden of the engineering costs.
The new car will be engineered by HWA, a racing company established by Hans Werner Aufrecht, one of the founding partners in AMG, which was acquired by Mercedes in 1999. HWA is located in Affalterbach, the same small town where AMG builds its special editions for Mercedes.
Mercedes expects to unveil the SLC concept at the 2008 Geneva Auto Show, and if all goes well, production will begin near Stuttgart as early as 2009. Meanwhile, the midengine McLaren F2 will now be a solo effort by the racing company's automotive division at the elaborate McLaren Technical Center in Woking, England.