Matt
January 29, 2008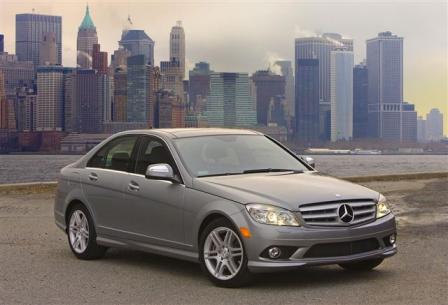 Mercedes-Benz Canada has launched two new C-Class models, the 2008 C230 and the 2008 C230 4-Matic. The new models made their 'world exclusive' debut and the 2008 Montreal International Auto Show, which ran from January 17 – 27, 2008. The C230 is priced at CDN$35,800 and the C230 4-Matic is CDN$39,500. These models are less expensive than the existing C300 (CDN$41,000 – CDN$44,700) and C350 (CDN$47,900 – CDN$50,100), but come with less standard equipment, and have a 2.5 liter V6 gasoline engine producing 201 hp, compared to 228 hp (C300) and 268 hp (C350). The new C230 is not currently available in the U.S.
Although these new models are at a more affordable price point than the existing models, their addition to the C-Class range in Canada means there are now six models with V6 gasoline engines. Is this what the consumer wants? In Europe there are also two 4 cylinder gasoline engines available. If Mercedes Benz Canada wants the C-Class to be more affordable, which seems to be the aim of the new C230, then perhaps they should consider bringing over the C180 and C200. These four cylinder gasoline engines are less expensive and more fuel efficient than the V6 engines.

The rationale for not making the C180 and C200 available in the U.S. and Canada may be due to a perceived weakening of Mercedes Benz' luxury image – 'luxury cars do not have four cylinders'. But Mercedes Benz already offers the B-Class in Canada (and soon in the U.S.), which uses four cylinder engines, and some believe that its introduction has already diluted the brand.
Many prospective Mercedes Benz buyers may also be waiting for a diesel C-Class. The existing C-Class diesels available in Europe do not pass emissions laws in the U.S., so buyers will have to wait for the Bluetec C-Class in North America. This car is sure to be a big seller in North America with fuel economy as low as 6.0 liters/100 km combined.