Thursday, August 31, 2006
Luxury Diesel Comparison Test
Here we have a great comparison test between four German luxury diesel limousines. The four cars they tested were the Audi A8 3.0 TDI, BMW 730d, Mercedes S 320 CDI, and the Volkswagen Phaeton V6 TDI. Most convincingly presents itself the Mercedes, raising the bar with its drive and comfort, but has unfortunately a high price tag. The Audi, who is in second place, goes the sporty way. The BMW is on third place due to control weaknesses. The Volkswagen Phaeton would have to loose some weight before it could start competing against the other three. To read the entire review please visit the link below. There are also two short clips from the comparison test. Continue reading with Google Translator

Video 1
Video 2
Caution: Media Player will launch


posted by Muamer Hodzic @ 8/31/2006 11:51:00 AM
DiggIt!
Wednesday, August 30, 2006
Videos on Wednesday: Kimi Raikkonen In Istanbul


This is something new I will be bringing to the readers at BenzInsider. Every Wednesday I will post a random video from my growing collection of Mercedes-Benz clips. It doesn't mean you won't see video throughout the rest of the week, but Wednesday will be reserved for very off topic and interesting clips. Today, I bring you a clip from the F1 race on Sunday. Kimi was caught up in the midfield chaos of turn one, where half of the cars were forced out of the track, and when Kimi slowed down to avoid the fast-starting Christian Klien, he was hit from behind by the Toro Rosso of Scott Speed.

The collision punctured the Finn's left rear tire and after crawling back to the pits, his race ended a lap later when damage sustained to the bodywork of his car caused him to run wide at turn four, crashing in to the tire wall. Here is the video from the pit stop.
posted by Muamer Hodzic @ 8/30/2006 06:30:00 PM
DiggIt!
Smart Fortwo Edition Red
This is for the readers in Europe and other areas where the Smart car is being sold. According to the Press Release (below): Before the fortwo successor model becomes available in the spring of 2007, the smart fortwo edition red will be offered for sale as a final special model to mark the phase-out of the current model. The sporty two-seater will be exhibited at the Paris Motor Show (28 September - 08 October 2006)

Boeblingen, Aug 30, 2006 Before the fortwo successor model becomes available in the spring of 2007, the smart fortwo edition red will be offered for sale as a final special model to mark the phase-out of the current model. The sporty two-seater will be exhibited at the Paris Motor Show (28 September - 08 October 2006).

The current smart fortwo model is already as good as sold out and it has achieved cult status within a very short space of time. Due to the high demand, production in Hambach, France, was increased once more at the beginning of this year. More than 750,000 vehicles have been delivered to customers since the market launch in October 1998.

The smart fortwo edition red is just as sporty as it looks: the BRABUS engine has a power output of 55 kW (75 bhp). 16 inch alloy wheels, a front spoiler and sports rear muffler further underline the sporty appearance. And as the name says, the tridion safety cell and bodypanels are painted in "intensive red".

Leather and Alcantara with elaborately stitched seams dominate in the interior of the smart fortwo edition red. Special contrast components in "intensive red" and aluminium pedals add to the exclusive look. Air conditioning and an audio system with an MP3 interface are also part of the package. The smart fortwo edition red is available as a coupé or a cabrio and costs 20,995 Euro and 23,695 Euro respectively.
posted by Muamer Hodzic @ 8/30/2006 09:10:00 AM
DiggIt!
Performance packages for high-powered AMG models
Mercedes-AMG is offering customised performance packages for three AMG models, aimed at particularly sporty drivers. The packages, which are available for the CLS 63 AMG, SLK 55 AMG and SL 55 AMG, comprise various factory-fitted components which significantly enhance the dynamics of all three models and further improve their racetrack potential. The performance packages were developed in the AMG Performance Studio and the vehicles are built at the relevant DaimlerChrysler production plants.



Press Release
Affalterbach, Aug 30, 2006


The performance packages for the CLS 63 AMG, SLK 55 AMG and SL 55 AMG focus particularly on chassis and brake system modifications, incorporating com-ponents with an even higher performance rating and longer service life. The re-sult is a breathtaking driving experience for ambitious sports car enthusiasts who want to have the option of using their AMG model on closed-circuit racetracks. Customers benefit from the extensive motor sport know-how gained by Mercedes-AMG GmbH in almost four decades of working in this field.



The performance package for the CLS 63 AMG comprises:


-Internally ventilated composite front brake discs, size 390 x 36 mm
-Multi-disc rear locking differential with 40% locking effect for additional traction
-19-inch twin-spoke AMG alloy wheels, multipiece, painted sterling silver, size 8.5 x 19 with 255/35 R 19 tyres (front) and size 10 x 19 with 285/30 R 19 tyres (rear)
-AMG performance suspension based on AIRMATIC DC
-AMG ergonomic sports steering wheel in leather/black Alcantara with silver-coloured aluminium shift paddles



The performance package for the SLK 55 AMG comprises:


-Internally ventilated composite front brake discs, size 360 x 32 mm
-18-inch twin-spoke AMG alloy wheels, multipiece, size 7.5 x 18 with 225/40 R 18 tyres (front) and size 8.5 x 18 with 245/35 R 18 tyres (rear)
-AMG performance suspension
-AMG ergonomic sports steering wheel in leather/black Alcantara, with silver-coloured aluminium shift paddles
-Carbonfibre interior trim parts



The performance package for the SL 55 AMG comprises:


-Internally ventilated composite front brake discs, size 390 x 36 mm
-Multi-disc rear locking differential with 30% locking effect for additional traction
-19-inch twin-spoke AMG alloy wheels, multipiece, size 8.5 x 19 with 255/35 R 19 tyres (front) and size 9.5 x 19 with 285/30 R 19 tyres (rear)
-AMG performance suspension based on Active Body Control (ABC)
-Additional oil cooler
-AMG front apron with larger air intakes
-AMG ergonomic sports steering wheel in leather/black Alcantara, with silver-coloured aluminium shift paddles



The AMG performance packages are priced as follows (prices include 16 % VAT):


-CLS 63 AMG: 8,236 Euro
-SLK 55 AMG: 5,220 Euro
-SL 55 AMG: 11,948 Euro


The AMG Performance Studio in Affalterbach can provide even more customisation for these AMG high-performance models. Depending on the model in question, the available components include:
-Extra-lightweight, forged AMG alloy wheels
-Carbon-fibre exterior package
-AMG sports steering wheels
-Illuminated AMG door sill panels

The Performance Studio specialists also fit unique interior trim components and high-performance hi-fi and multimedia systems and even create one-off specials – a traditional forte of Mercedes-AMG GmbH.
posted by Muamer Hodzic @ 8/30/2006 08:58:00 AM
DiggIt!
Mercedes developing R8 competitor?!
Mercedes is planning an R8 competitor that is supposed to come out sometime in 2010. The two seater will be powered by a 6.2 liter V8 mid-engine; it will be a RWD with a new Sport-automatic transmission. The illustration above was done by Schulte-Nextline, which shows what the Mercedes could look like. Auto-Motor-und-Sport also reports that the car will have wing like door, similar to the Gullwing concept I report last month on. So could this be the Gullwing or will there be two very similar cars from Mercedes by 2010? Nobody really knows, but I am sure that this and the 300SL illustration last month is an indication that Mercedes is moving into building a new car that will compete directly against the future R8 from Audi and BMWs Z8.
posted by Muamer Hodzic @ 8/30/2006 06:32:00 AM
DiggIt!
Tuesday, August 29, 2006
BLUETEC diesel fails to meet emission requirements in 5 states
This is a sad day for the diesel fans in five US states. GreenCarCongress is reporting that the BlueTec diesel from Mercedes did not pass the required emission standards in California, Maine, Massachussets, New York and Vermont.

Tests by the EPA in 2004 of a E320 prototype indicated that the aftertreatment system came in at just beneath 0.06 g/mi of NOx; the Tier 2 Bin 5 target is 0.05 NOx g/mi. (See graph below)

The EPA has yet to sign off on urea-SCR systems for light-duty vehicles, partly due to concerns on enforcement. It is clear, however, that urea-SCR is going to be necessary to support a full 50-state rollout of most clean diesel vehicles. The EPA said at the recent DEER 2006 conference that it would soon provide guidance to manufacturers on urea-SCR systems for light-duty vehicles.
Read more at GreenCarCongress.com
posted by Muamer Hodzic @ 8/29/2006 04:40:00 PM
DiggIt!
BMW M5 vs. Merc. CLS 55 AMG Comparison Test


Here is another comparison test for today. This time it is the BMW M5 and the Mercedes CLS 55 AMG. The test is from the German TV channel, DSF, so for me and the lucky ones who know German it is perfectly fine, but for those that don't, you should just try and read what it says on the screen and you'll be fine.
posted by Muamer Hodzic @ 8/29/2006 02:38:00 PM
DiggIt!
Audi RS4 vs. Mercedes CLK 63 AMG Comparison Test
Here is very nice comparison test between the Audi RS4 and Mercedes CLK 63 AMG. Two very powerful and sporty convertibles that have left the Autobild testers with a very hard decision to make. Since both have their strengths and few weaknesses, they (testers) could not announce a winner and so decided on a tie. The CLK delivers a lot of torque and a precise automatic gearbox that offers a very comfortable ride and seats comfortably four people. Even though, the Audi is lacking some of the performance, it is still a very sporty car that longs for curves and fast acceleration; the RS4 is also more dynamic than the CLK.

Continue reading the article with Google Translator
posted by Muamer Hodzic @ 8/29/2006 11:55:00 AM
DiggIt!
Mercedes Diesel offensive in Japan
DaimlerChrysler, in the course of its global Diesel offensive, is now also trying to penetrate the Japanese market. The president of DaimlerChrysler Japan, Hans Tempel, presented today in Tokyo the new Mercedes E-class, which will be available with the E320 CDI for the first time as a Diesel variant in Japan. The introduction of the new E-class as "new Clean Diesel" represents a "milestone" for the automobile market in Japan, said Tempel. Many Japanese, similar to Americans, still have the perception that diesel cars are slow, loud and dirty.

Read the rest with Google Translation.


posted by Muamer Hodzic @ 8/28/2006 12:38:00 PM
DiggIt!
Smart ForTwo coming to US early?!
Jalopnik reader, Keith Cody, took some very interesting picture at Port Hueneme in California. It shows at least a hundred Smart Fortwo;s parked and possibly awaiting a shipment. Not sure why the they would be bringing the Smart car here at this time, since they will be selling the '08 model in the US market; Jalopnik is guessing that it makes sense they'd be bringing over more '07's for sale -- though these ones are probably still coming in by request of the third-party import crowd -- and not by means of the new distro deal which is supposed to be for sales in '08. It is still early to tell what Mercedes and its executives have planned out, but I am sure we'll find out pretty soon what these cars are here for.


posted by Muamer Hodzic @ 8/28/2006 12:05:00 PM
DiggIt!
Mercedes-Benz CL-Class - Parking assistance
The new Mercedes cars just keep getting better and better. When the new CL comes out (2007), you can expect it to be packed with new feature and amazing technology that will provide the driver and passengers a more comfortable and safer driving experience. The Parking assistance system is one of those that will make life or at least parking much easier. Here is official press release with more information on how the system works.



The technology behind the new Mercedes-Benz CL-Class - Parking assistance: New Mercedes coupe uses radar to help the driver park



Stuttgart, Aug 28, 2006
A newly developed parking guidance system is making its series production debut in the Mercedes-Benz CL-Class this autumn. The system uses radar technology to help the driver find a suitable parking space and park the vehicle.

When driving past at a speed of up to around 40 km/h, side-mounted radar sensors in the front and rear bumpers of the new luxury coupe measure whether the parking spaces on the driver and front passenger sides are sufficiently large for the vehicle. Once the system has found a suitable parking space on the front passenger side, a blue "P" symbol appears in the instrument cluster if the vehicle speed is below 16 km/h. Parking spaces on the driver's side are shown if the indicator on that side is operated.

Once the driver has stopped the coupe in the position shown on the display and engaged reverse gear, the display shows a symbolic, bird's-eye-view representation of the parking situation. Coloured guide lines show the driver how best to park: a red line indicates the current steering angle, while a yellow line shows the steering angle required for parking. The driver now turns the steering wheel until the two lines coincide, and can then begin to reverse slowly. As soon as the ideal and actual steering angles coincide, the guide lines on the display change to green. When reversing, an acoustic signal informs the driver when it is time to countersteer.

During the parking manoeuvre, the guidance system continuously monitors the steering angle and vehicle position. If the driver stops before reaching the recommended position, for example, the system automatically recalculates the ideal steering angle for smooth parking.

The new radar-based parking guidance system, which will be optionally available for the CL-Class from the end of 2006, works in tandem with the Parking Assist feature familiar from the S-Class. This system uses radar to measure the distance to obstacles in front of and behind the car, informing the driver by means of the display and an intermittent acoustic warning.
posted by Muamer Hodzic @ 8/28/2006 11:36:00 AM
DiggIt!
Sunday, August 27, 2006
2006 Turkish Grand Prix Race
Wow, what an exiting race it was today from start to finish. The start was just insane; half of the cars were pushed outside the track and a lot of them suffered damage, including Kimi Raikkonen, who retired from the race after only completing one lap. Pedro had a very good race today, finishing fifth. Here is the official Mclaren press release with reaction from Kimi and Redro.

Team McLaren Mercedes driver Pedro de la Rosa finished today's Turkish Grand Prix in fifth position. Team mate Kimi Raikkonen's race ended after the first of 58 laps following an incident at the start and a subsequent off at Turn 4. Pedro had his only pitstop on lap 31 (11.1 seconds) Kimi is fifth in the Drivers' Championship with 49 points whilst Pedro is 11th with 14 points. Team McLaren Mercedes remains third with 89 points. To prepare for the last race of the European Formula 1 season the team will test at Monza this coming week with Kimi and Pedro.



PEDRO DE LA ROSA

"A good result coming from 11th position. There was mayhem at the first corner following Fisichella's spin and I just made it through despite lots of debris on the track. It was a tough race with the one-stop strategy as I had to look after my rear tyres and this made it challenging to be consistently quick. However my race pace was good and I could even overtake a couple of cars. With a higher grid position a better outcome of the race would have been possible."



KIMI RAIKKONEN

"It got very messy at the start. I tried to avoid a spinning Fisichella, but then Speed hit my left rear tyre causing a puncture. I drove for almost a whole lap with a damaged tyre in order to get back to the pits to see what could be done. The team changed my tyre, but I think the car must have incurred quite a lot of damage at this point. When I re-joined the race, I came into Turn 4, had no rear end grip, got sideways, ran out of road, hit the tyrewall and that was it. My back is a bit sore but nothing to worry about. I'm obviously disappointed that my race was over so quickly, but there was nothing we could do."



RON DENNIS

"Pedro drove a very good race, using our one-stop strategy to achieve a solid fifth position. Kimi's accident was the result of Fisichella's incident at the start which led to Speed hitting Kimi from behind, damaging his left rear tyre. The subsequent tyre failure damaged the bodywork, as Kimi was making his way back to the pits. This changed the aerodynamic characteristics of the car and on re-joining the race Kimi ran wide at Turn 4. The impact jolted his back, but our team doctor is optimistic that Kimi will be able to test as planned at Monza this week."



NORBERT HAUG

"A good race of Pedro's starting 11th and finishing fifth. He stayed focussed and made the best out of the one-stop strategy and kept his cool. It's a pity for Kimi – the crash at the first corner was not his fault, but if you start lower down the grid you are in danger of such incidents. We now will continue to work hard at next week's test in Monza in order to be in good shape for the Grand Prix in a fortnight."
posted by Muamer Hodzic @ 8/27/2006 07:39:00 PM
DiggIt!
Saturday, August 26, 2006
Grand Prix Qualifying in Istanbul
Not a very impressive Qualifying from the Mclaren team. As we have seen last time in Hungary, the qualifying position sometimes doesn't mean a lot. Let's hope that there will be some surprises in Istanbul like there were last time, but I doubt it, since rain was the main factor for the turmoil in Hungary. Here is what Kimi, Pedro, Ron and Norbert had to say about the Qualifying today.



Team McLaren Mercedes driver Kimi Raikkonen will start Sunday's Turkish Grand Prix from seventh on the grid. In the third part of qualifying Kimi set the eighth fastest time with 1:27.866, but he will move up one position as Ralf Schumacher will go back 10 places due to an engine change. In the first two parts of qualifying Kimi was ninth and sixth respectively with times of 1:28.236 and 1:27.202. Pedro ended up twelfth fastest in the second part of qualifying with 1:27.897 and subsequently did not make it to the final round. In the first session he was also twelfth setting a fastest lap time of 1:28.403. However due to Ralf's engine change Pedro will start the race from 11th.





KIMI RAIKKONEN

"The times are very close today so even a small improvement could have made a big difference in where we qualified. I think we had expected to be slightly higher up, but I will move one place on the grid to seventh, and as we have seen many times before anything is possible. The car is handling quite well, and you never know what strategy the others are using, so all we can do now is to wait for the race tomorrow."





PEDRO DE LA ROSA

"Not qualifying inside the top ten obviously allows us to be a bit more flexible with the strategy, so it's not all bad. I will also move up one position on the grid due to Ralf's engine change. On my flying laps in the second session I hit traffic which affected my times. I'm sure that we have made the right decision with regards to our Michelin tyres. The car was working well, and I look forward to the race."





RON DENNIS

"We have a good race strategy which should give both drivers every opportunity to achieve strong finishing positions in the race tomorrow. Kimi and Pedro are both pleased with the handling of their cars, so we look forward to a competitive Turkish Grand Prix."





NORBERT HAUG

"From the first Michelin runner Fernando Alonso in third to Kimi in eighth there is a little bit more than half a second. In the race tomorrow we will build on our strategy and our race speed. Starting from seventh and 11th is not ideal, but our aim is still to finish as the best Michelin team."
posted by Muamer Hodzic @ 8/26/2006 12:19:00 PM
DiggIt!
200th race for McLaren and Mercedes
This weekend, the F1 championship race will be held in Istanbul, Turkey; it will also be the 200th race for the partnership between McLaren and Mercedes-Benz. Motorsport.com has compiled all the accomplishments and statistics in the last 10 years that the F1 Team has achieved.



Since 1995 Team McLaren Mercedes cars have completed a total of 94,572 racing kilometres, which is the equivalent of driving around the world 2.4 times.





Of those 14,400 have been whilst leading a grand prix, which would equate to 15 journeys from the McLaren Technology Centre in Woking to Mercedes-Benz headquarters in Stuttgart.





The McLaren and Mercedes-Benz partnership made its race debut on 26th March 1995 at the Brazilian Grand Prix with drivers Mika Hakkinen and Mark Blundell both scoring points, finishing fourth and sixth.





The team has scored points 232 times in 199 starts adding up to a total of 1,219 points.





During the 199 races since 1995 Team McLaren Mercedes performed approximately 800 pit stops and a total of approximately 1100 sets of race tyres were used.





Since 1995 Team McLaren Mercedes has won two Drivers' World Championships in 1998 and 1999 with Mika Hakkinen and finished as runner-up on four occasions with Mika Hakkinen (2000), David Coulthard (2001) and Kimi Raikonnen (2003 and 2005).





Team McLaren Mercedes was crowned Constructors' World Champion in 1998 and finished four times as runner-up (1999 / 2000 / 2001 / 2005)





Team McLaren Mercedes has won a total of 44 races, which is 22 percent of all the races.





On 14 occasions Team McLaren Mercedes has scored one-two finishes, the last of which was last year at the penultimate race of the season in Brazil when Juan Pablo Montoya finished ahead of team-mate Kimi Raikkonen.





Team McLaren Mercedes drivers have finished on the podium a total of 139 times over this 11.5 year period.





Pole position has been filled with a Team McLaren Mercedes car 45 times with Kimi Raikkonen achieving the most recent pole position for the team at the last race three weeks ago in Hungary.





The front row of the starting grid has been occupied by both Team McLaren Mercedes drivers a total of 20 times.





In almost a third of all the races since the start of the 1995 season, Team McLaren Mercedes has scored the fastest lap of the race, a total 59 times.





Team McLaren Mercedes cars have been in the leading position of the race in a total 3012 out of 12603 laps.





Team McLaren Mercedes has taken victory in 18 different countries over five continents.





Since 1995 nine different drivers have driven for Team McLaren Mercedes, Mika Hakkinen (114 starts), Nigel Mansell (2), Mark Blundell (15), Jan Magnussen (1), David Coulthard (150), Kimi Raikkonen (83), Juan Pablo Montoya (27), Pedro de la Rosa (4) and Alex Wurz (1).





Ron Dennis and Norbert Haug have definitely been asked over 2000 questions during the traditional 'Meet the Team' press conferences.





Team McLaren Mercedes has distributed 796 press releases in the Media Centre over the last 199 races.





Over this period there have been three World Cups and three European Championships but luckily for the Anglo-German relations in Team McLaren Mercedes, Germany and England have only played football against each other on four occasions (three of which were on a Grand Prix weekend) with Germany winning on two occasions and England also winning twice.
posted by Muamer Hodzic @ 8/25/2006 12:22:00 PM
DiggIt!
Thursday, August 24, 2006
Top Gear - Jeremy's S-Class Cottage


This must be the craziest Top Gear episode I have seen, but also the funniest. If you don't wish to watch it, then I will try to summaries it for you. Jeremy buys an early 90's S-class and wants to redesign the interior. After meeting with a designer and rejecting her modern ideas, he goes on to do it himself with the help of a couple Polish dudes. He rips the entire interior out and moves even the fuel tank so he can put a fireplace in its spot. He pours concrete for the floor and decorates the inside with wooden furniture. Richard later test drives the car and finds himself flying around it without any control. I think you get the picture, but watching the video is much better. Enjoy
posted by Muamer Hodzic @ 8/24/2006 10:47:00 AM
DiggIt!
Mercedes E350 Special Edition For 60K
I am sure you have already read about the Special Edition Edition E350 that will come out this October to raise funds for women's cancer research. But did you know what the price tag was - maybe me you did, but here is it anyways. Mercedes-Benz announced that the price for its special-edition 2007 E350 will start at $59,550, including a $775 destination charge.
Here is a piece from Edmunds Inside Line about the Benz.



The company will donate $1 million through the sales of the special-edition E350 this fall to raise funds for women's cancer research. The special-edition E350 will go on sale in October.





The special-edition E350 is primarily an appearance package that bundles a Sienna Black sedan with a Sahara beige interior and black bird's-eye maple wood trim. The vehicle is powered by a 3.5-liter V6 that produces 268 horsepower and reaches 60 mph in 6.5 seconds. The sedan features a seven-speed automatic transmission, a sport suspension and 18-inch five-spoke AMG light alloy wheels. It also includes an AMG-design front airdam with mesh air intakes, an AMG rear bumper and a leather-trimmed sport steering wheel.





Mercedes-Benz said sales of the vehicle will support Saks Fifth Avenue's Key to the Cure, a national women's cancer initiative.





What this means to you: If you're going to spend 60 grand on a German luxury sedan, why not spend it for a worthy cause?
posted by Muamer Hodzic @ 8/24/2006 01:50:00 AM
DiggIt!
Wednesday, August 23, 2006
Mercedes GL420 CDI Review
Here is a nice review of the all new Mercedes GL CDI from Auto Express. The CDI is the highly acclaimed diesel engine from Mercedes that is gaining more and more popularity here in the US.



There are big 4x4s, and then there's the new Mercedes GL-Class. Measuring considerably more than five metres, it's even longer than Audi's Q7 and weighs over 2,500kg. It's designed for the US, but can the seven-seater make sense here, too?




With boxy, angular lines, there's no hiding the bulk. Yet despite its size, there's less space inside than you might expect, with surprisingly tight legroom in the second row of seats. However, the GL's trump card is its third row, which can be raised or lowered at the touch of a switch, and can easily accommodate two six-footers.




On the move, the 4.0-litre V8 turbodiesel is gutsy and refined, covering 0-60mph in 7.6 seconds and cruising almost silently on motorways.




Fuel economy is a dismal 23.9mpg, though, and the seven-speed auto box is jerky at low speed. Off-road, however, the GL is highly capable, thanks to air-suspension, hill descent control and a low-ratio gearbox with differential locks. On tarmac, it steamrollers over bumps with ease.




The GL isn't cheap and, with just a few optional extras, it's easy to spend a lot of money. Our car had leather seats, adaptive xenon headlights and an electric sunroof, bringing its price close to £ 70,000. If you want a large and versatile Merc, look at the M-Class 4x4 or the R-Class MPV. At less than £ 40,000, either makes much more sense.




posted by Muamer Hodzic @ 8/23/2006 01:16:00 PM
DiggIt!
Tuesday, August 22, 2006
Mercedes CL PRE-SAFE Video


Here is a very cool video showing how the PRE-SAFE system works and what it does. If you don't already know, the CL will have the system available as a *standard and the DISTRONIC PLUS proximity cruise control as an option for consumers buying the new model in 2007.

*Fixed mistake
Via MotorFull
posted by Muamer Hodzic @ 8/22/2006 07:20:00 PM
DiggIt!
Mercedes-Benz S550 is CNET Editor's choice
CNET has created a top 10 list of cars that make the best use of technology. The Mercedes S 550 got the highest score from the Editor - 9.7 which they describe as Spectacular. Here is what they had to say about the S-class:
The 2007 S550 is a fitting flagship for Mercedes-Benz, offering cutting-edge technology to go with excellent performance for a full-size sedan. It's expensive with all the gizmos but trumps the competition in nearly every respect.

Here is the full list.
posted by Muamer Hodzic @ 8/22/2006 02:59:00 PM
DiggIt!
New Maybach Model?
The Luxury mark - Maybach, is set to unveil a new model in Beijing this November. The 62 S will be a 600 HP strong model variation of the current Maybach. No further information is currently available, but I am sure we will learn more as we move closer to November.

Source: Auto-Presse.de
posted by Muamer Hodzic @ 8/22/2006 02:31:00 PM
DiggIt!
More Mercedes CL AMG Spy shots
We have seen dozens of these, but it doesn't hurt to show you some more spy shots I found over at WorldCarFans. According to the Fans, it will be powered by the same 612-bhp 6-litre bi-turbo V12 used in the S class. And like all the top AMGs, it will be getting the Performance optic with the new bumper and the additional air-intakes in front of the wheel arches. The CL will make its first public appearance at this year's Paris Motor Show.


posted by Muamer Hodzic @ 8/22/2006 02:00:00 PM
DiggIt!
Monday, August 21, 2006
Mercedes E-class AMG 63
The Spies over at Autospies have caught the Mercedes E-class AMG 63 at the Concours D'Elegance hidden away in the VIP parking lot.
Here are a couple pictures the spies managed to shoot.


posted by Muamer Hodzic @ 8/21/2006 11:01:00 PM
DiggIt!
Montoya not able to join NASCAR yet
Ever since Montoya announced that he wants to join NASCAR and leave the F1, I have lost a lot of respect for him. Why someone goes from the Formula 1 to NASCAR still puzzles me. Juan Pablo Montoya is unable to test NASCAR this summer because Dodge, the US subsidiary of DaimlerChrysler has not been able to negotiate his release from his contract at McLaren - despite the fact that McLaren is also linked to DaimlerChrysler. The only logical explanation of this is that there are legal matters that must be cleared up before McLaren can grant Montoya a release. If that does not happen he will have to wait until the end of the F1 season on October 22.
Source: GrandPrix.com
posted by Muamer Hodzic @ 8/21/2006 01:20:00 PM
DiggIt!
Mercedes shows off new seats for CL
Mercedes is known with raising the bar with new patents and technology when it releases new cars, from being first to install airbags to patenting front and rear crumble zones. So with the new CL, they are installing tones of new features. One of them are the new seats, which have more functions than some cars.
The seats of the 2007 Mercedes CL-Class will offer a built-in massage function, ventilation, and automatically adjusting side bolsters that increase in size during cornering. Miniature fans in the seat cushion and backrest take in cool air at floor level and evenly distribute it via an air-permeable fabric under the surface of the seat in hot weather conditions. The seats also feature nine air chambers, allowing owners to customize the fit to their liking. What's more, a 'dynamic mode' allows the air chambers to rapidly inflate during hard cornering, creating sports-car-like side bolsters to hold the driver in place. The air chambers are also integrated to the Pre-Safe crash anticipation system, and will inflate to hold the driver in place ahead of an impact. Seven separate air chambers also provide the driver and passenger with a relaxing back message by rapidly inflating and emptying, thus creating a pulsating sensation.
Source: DaimlerChrysler via LeftLaneNews
posted by Muamer Hodzic @ 8/21/2006 12:41:00 PM
DiggIt!
Mercedes SLK 55 AMG Black Series Review
HP (kW): 400 (294) Top-Speed: 280 km/h Price: 107,300 Euro



Mercedes showed us the Black Series a couple of weeks ago, and we even saw it being driven by Autobild, but this is the first a review has been written. AutoZeitung, like with any other reviews, has written a great article about the SLK 55 AMG Black Series. I will try my best and translate the article for you.

Next to the AMG models, which are sold Mercedes dealership network, they (Mercedes) is creating and producing special models in the new AMG Performance Studio. The SLK 55 AMG Black Series is the first model to come out and has already been called a perfect lightweight racetrack car.
The SLK 55 AMG Black Series fenders were made from reinforced plastic and the top from carbon. Since the SLK doesn't have the folding top, the weight was further decreased by uninstalling the motor system which lowered and raised the roof. The saved weight was invested by the Engineers in improving the cars performance (e.g. installing bigger brakes). Overall, the SLK lost 45 kilogram.
The weight decrease and the performance boost from 360 to 400 HP increased the Performance to weight ratio from 4.3 to 3.7 Kilogram per HP. To achieve that, AMG optimized the air suctions, upgraded the cooling system, and reprogrammed the engine timing, along with many other upgrades. All these upgrades made the SLK go 0.4 seconds faster from 0 to 100 km/h than the basic version. According to AMG, the Black Series achieves the 200 km/h mark after only 15.5 seconds.

The Black Series SLK should not just impress on paper, but it should also perform on the racetrack. That is exactly what it is trying to do with a Spoiler (completely adjustable), Pirelli sport tires, and a strengthened suspension goes. With perfect precision maneuvers the AMG through curves. It also impressed by going around the corners with almost no tilt and with a lot of grip; understeer is also not an issue with the SLK.
Stopping when one needs to, is made possible with big front brakes, and accelerating is made easy with a seven a gear automatic engine. The system is very fast when it comes to changing gears up, but has some issues when it comes to decreasing the gears and catching up with the braking. The EPS in the AMG is the same one that is found in any other Mercedes model. Shutting the system off is not possible, but fortunately it does not hinder the driving performance one bit.
It is the most impressive SLK so far costs 107,300 Euro and is made at the AMG Performance Studio by hand. The edition is not "limited", but it will still remain an exclusive version.

Here is a slideshow of the Black Series.


posted by Muamer Hodzic @ 8/21/2006 01:21:00 AM
DiggIt!
Sunday, August 20, 2006
Maybach Exelero Concept
We have seen the Exelero a couple of months ago, but here we see it in the open along with many other concept cars. The Autospies agents took a couple of pictures, which you can view in the Slideshow below. I have to say that I really like this concept, maybe it is because I am a Batman fan, but it could also be that this car is just amazing.

According to Autospies: "Mercedes/Maybach were displaying the Excelero concept on the front lawn of the lodge at Pebble Beach."

"Sources tell the Spies that they were trying to gauge customer reaction, as they are preparing a smaller but similar version as we speak, that will compete directly with the Bentley Continental."


posted by Muamer Hodzic @ 8/20/2006 11:30:00 PM
DiggIt!
Saturday, August 19, 2006
F1 World Champion Mika Hakkinen is ambassador to MobileKids
Formula One World Champion Mika Hakkinen has become the ambassador to MobileKids, which is a road safety initiative that sets out to arouse enthousiams for safety in traffic among children thought the world. Mika stated: "My dream is that children over the world can move safely and without danger in road traffic."



Stuttgart/Nurburg, Aug 19, 2006




Mika Hakkinen is ambassador to DaimlerChrysler's worldwide road safety initiative MobileKids. The two time Formula One World Champion announced this on the occasion of the DTM Race at the Nurburgring. As MobileKids ambassador, Hakkinen intends to show commitment to the objectives of this initiative: "As a father of two children, I know how much depends on the implementation of the MobileKids idea. My dream is that all children, wherever they may be in the world, can move safely and without danger in road traffic. That's why I'm becoming involved in MobileKids."





Why MobileKids?





According to a study by the World Health Organization (WHO), accidents in road traffic are the most frequent cause of death among children in Europe. On a worldwide scale, too, injuries in road accidents are one of the greatest threats to the well-being of young people. WHO warns that this type of accident could become the world's most frequent "preventable cause of death" by 2020. To counteract this trend and to strengthen the position of these most vulnerable participants in traffic, especially of the already highly mobile 10 to 15-year-olds, DaimlerChrysler in 2001 developed the worldwide concept "MobileKids" in cooperation with international road safety experts. This initiative sets out to arouse enthusiasm for road safety among children throughout the world. With the online city "Mokitown", the TV series "The Nimbols" and experience roadshows, MobileKids intends to sharpen children's awareness of appropriate behavior in road traffic in an entertaining manner. The boys and girls learn in a playful way how to better assess their own situation, recognize hazards in good time and avoid them through careful behavior.




posted by Muamer Hodzic @ 8/19/2006 02:00:00 PM
DiggIt!
Friday, August 18, 2006
Mercedes S-class king of luxury
A very interesting article by Jonathan Yarkony from Canadian Auto Press. Here is a portion of the article, and if you are interested in the whole thing, just click on the link below the article.



The Mothership has landed.





For the sake of my own journalistic integrity, I am going to attempt to refrain from any excessive sarcasm or gratuitous mockery of so revered an institution as the Mercedes-Benz S-Class. And by institution I am not referring to its massive size or the multitude of features with which it sells, but rather the esteem and respect it garners on all avenues and boulevards.





The previous S-Class was widely lauded as a machine designed with a large measure of classic tastefulness. It was a bridge to the distinguished limos of the three-pointed star marque's past, like the 1963 600 or the mid-50s 300D, with technological innovations fit to usher in a new millennium.





The millennium is now past and Mercedes is looking to continue a longstanding tradition of innovation while maintaining a historical connection with over a century of car building and design. As even Mercedes designers will point out, theirs is an evolutionary progress.





"An exorbitantly luxurious car, designed, as rumour had it, to outclass everything that had been available to ambitious customers all over the world in the category of top-notch limousines."





That's a quote from the Mercedes-Benz history site about the release of the much-anticipated 600 limo in 1963, also available at the time in regular and long-wheelbase versions. It seems that DaimlerChrysler has carried forward those same principles and pulled out all the stops for the brand new 2007 S-Class. Those stops include Brake Assist Plus, Distronic Plus, second-generation PRE-SAFE, as well as various other features that have nothing to do with stopping.





Before I get to all the different ways the S-Class keeps itself from getting scratched or dented, I will give a little rundown of its newfound design. Though many will mourn the passing of the previous model's elegant curves, Mercedes is applying many of the same techniques and stylistic themes they have already applied across their model range. The dominant features to my eyes are big flared wheel arches on all four corners, recalling the floating fenders of the '30s without going back in time.





One of the defining features of all new Mercedes-Benz designs is the arcing beltline crease. In the case of the S it originates from above the front wheel arches, runs along the bottom of the windows and D-pillar all the way back to separate the rear taillight clusters and the trunk. The side panels are relatively uninterrupted, allowing a feel of substantial mass, and combined with edges in the fascia and grille and sharper headlight shapes give the S-Class an overall high-tech look, as opposed to its predecessor's sinuous, sporting demeanour.





Now that I've given word to certain features that caught my eye, I'll tell you about the foremost technological advancements of Mercedes' flagship sedan. Most of these features pertain to the car's various safety systems that help keep it from colliding with other vehicles.





The first and most critical to Mercedes are the capabilities of the new radar system, which works in concert with several of the car's programs to maintain the integrity of the S-Class in various situations. Distronic Plus is Mercedes' adaptive cruise control, which allows the driver to maintain a constant distance from the vehicle in front. In city-driving conditions, Distronic Plus teams up with Brake Assist Plus to monitor proximity to surrounding cars. If the sensors anticipate a collision, they will automatically apply appropriate brake pressure even if the driver does not.



Click here to continue reading
posted by Muamer Hodzic @ 8/18/2006 03:12:00 PM
DiggIt!
2007 Mercedes-Benz E-Class Preview
Here is a nice preview review about the 2007 Mercedes E-class from Automobile.com.



Safety is E-Class Priority





Unquestionably, the most popular luxury executive sedan on the global market today is Mercedes-Benzs E-Class. While Audi and BMW managed to elbow their way into the spotlight with daring styling and a sporty spin on upper-level luxury, the three-pointed star remains a strong but silent best-seller in its home market of Germany (thanks partly to E-Class taxi-cab dominance - Ed.), and the rest of Europe, where it takes a respective 38 and 30 percent market share respectively. In fact, since the current generations launch back in 2002, Benz has sold over a million E-Class sedans and wagons, a production figure that hasnt been touched by any of its competitors in the past four years.





Today, the E-Class is still extremely strong in the sales department, but, to Mercedes-Benz, the present isnt the only important time - the future is too. To retain the all-important number one position, Mercedes has chosen to give the E a mid-life update. For this years New York International Auto Show, Mercedes-Benz pulled off the wraps to an updated version of the E, which has been honed for model-year 2007. The new car features all of the goodies and gadgets that have appeared in all of Benzs new introductions, in a package thats familiar to the masses.





The most prominent change with the revised E-Class is its nose, and in particular the grille. Though the four individual headlamps have more or less stayed the same, Benz has brought greater focus to the front of the vehicle by augmenting the grille. Its now taller and brighter like the S-Class. New bumpers have been fitted; those in front are slightly more complex in appearance than before, with three separate intakes and LED driving lamps, though, the ones in back are classy and simple. The E-Class exterior is rounded out by a new decklid with chrome accent trim, new head and tail lights featuring different bezels, plus new wheels and a new color palette.





Inside, changes are minimal, mostly made to the decor of the interior with new materials and colors. Aside from a revised version of the Thermatic climate control system and a rear-seat entertainment system, the only real new addition to the E-Class is a new steering wheel. More impressively, the new four-spoke tiller (borrowed from the CLS-Class) is linked to a reworked steering system thats approximately 10 percent sharper than before. Combined with new spring link dampers, these changes improve the cars dynamics, a change thats said to boost driver confidence.





Benz is also aiming to make the E the safest vehicle in its class with new technologies to help the driver and drivers of other vehicles avoid accidents. The 2007 E-Class will feature M-Bs new Intelligent Light System, a five-mode program for the standard bi-xenon headlamps. Depending on vehicle speed, the beam adjusts in order to provide enhanced visibility without creating excessive glare and dazzle from oncoming drivers. Likewise, the E-Class also features flashing rear brake lamps, which are present to reduce the reaction time of drivers behind the vehicle. Benz claims a shortening of 0.2 seconds for reaction time, which works out to an amazing 18 feet of distance when traveling at 60 mph.

Benz also hopes that in the event of an accident the new E will also be one of the safest automobiles to be in. Aside from having a safety pedigree, the E-Class is fitted with numerous new passive safety features that include the Pre-Safe system, which primes all safety systems (including raising reclined seats, pretensing the seatbelts and even closing the sunroof) in the event of an unavoidable collision in order to allow the passive safety features to provide maximum protection. Also new, the Neck-Pro whiplash prevention system is standard on all models, as are a full count of airbags which include side impact airbags and side curtain airbags.





Part of what made the E-Class so successful in Europe, and to a certain degree, North America, is its extensive model lineup. The range could only be described as expansive, and stretched from small but efficient four-cylinder turbodiesels to supercharged V8s capable of warp-speed-like acceleration. Out of the ten engines offered on the E-Class, six were heavily revised or completely new for the 07 E. These motors include the 200 Kompressor, a supercharged, four-cylinder engine that is used in the base model (unavailable in U.S.), a new 5.5-liter naturally-aspirated V8 engine as featured in the new S-Class, and a whole host of turbodiesels.





Out of all of these new engines, there are two that really stand out; interestingly, they come from opposite ends of the spectrum. First is the powerplant fitted to the new, top of the line AMG model; as its name suggests, the E 63 is powered by a 6.3-liter naturally-aspirated engine, tuned and hand-built by AMGs craftsmen. This engine, which debuted in Mercedes SUV range, features a thoroughly impressive 507 horsepower and 465 lb-ft of torque, which makes it the most powerful E-Class ever, surpassing the likes of the old 5.5-liter supercharged V8.





The other engine is of a completely different nature, and will make its world debut in the North American marketplace. As was promised at this years NAIAS in Detroit, Bluetec Diesel technology is on its way, and will be featured first on the E. The principle behind this new technology is nitrogen oxide emission abatement to a level that clears the worlds most stringent emissions standards. This, of course, comes with no penalty to power or fuel consumption; while performance figures have yet to be released, Benz claims that the E 320 CDI Bluetec consumes between 20 to 40 percent less fuel than the equivalent gasoline model.
posted by Muamer Hodzic @ 8/18/2006 03:00:00 PM
DiggIt!
Survey: What do fans think of a Mercedes F1 Team
There have been debates and arguments for and against the recent news that Mercedes is going to increase their stake in McLaren by another 60 percent. So F1Total.com set out to survey a group of people and see what the general publics' reaction is to the news. They surveyed 2,600 people, from which 47.88 percent responded that they didn't want the McLaren name to go away. 23.9 didn't really care if Mercedes took over the entire McLaren team. 19.4 thought that it was a great idea for Mercedes, and 9.18 thought that Mercedes should spend the money somewhere better. I think that the people have spoken with an overwhelming majority.
posted by Muamer Hodzic @ 8/18/2006 02:52:00 PM
DiggIt!
McLaren Model Designs


I've shown you these a while back, but now I found a whole gallery of the model designs that were created by Italian design students. The 36 images are just stunning; the concept models, if approved, would be amazing cars. Let's cross our fingers and hope that they will be manufactured someday, until then, here are some images of the models.

To stop the slideshow, hover over the top with you mouse and press the pause button, and to view the pictures individually, hover over the bottom to reveal the thumbnails.
posted by Muamer Hodzic @ 8/18/2006 01:38:00 AM
DiggIt!
Thursday, August 17, 2006
Dr. Z Ad Campaign Will Continue
Love them or hate them, but the Dr. Z ads will continue, according to BrandWeek, through the end of the year in its broadcast and online versions. DCX may revise some ads after September 5th, when the wave of TV and radio spots is scheduled to end.

The Dr. Z ads could also be used to promote the upcoming models, like the Aspen and Nitro. Eileen Wunderlich, marketing communications rep for Chrysler. "Dr. Z could also be used for more image advertising, so some of the current ads may come back. But," she added "there will be a next phase for Dr. Z. There is nothing in creation yet, we are only in the talking stage for more."
posted by Muamer Hodzic @ 8/17/2006 04:58:00 PM
DiggIt!
2007 Mercedes-Benz S65 AMG Review
Here is a great review from Edmunds Insider Line about the all new 2007 Mercedes-Benz S65 AMG.



During the Mercedes press conference, company officials talked up the new GL-Class SUV and extolled the virtues of the new E320 Bluetec, the cleanest-ever diesel sedan. But no one said a word about the 2007 Mercedes-Benz S65 AMG, even though it was the first time anyone outside Stuttgart had laid eyes on it.





Maybe it's because the S65's engine is a carryover. A 604-horsepower, 6.0-liter, twin-turbocharged, hand-built V12 carryover. It teams up with a sport-calibrated five-speed automatic transmission to deliver a crushing 738 pound-feet of torque to the sedan's 20-inch rear meats, the largest factory tire size ever offered on a Mercedes-Benz.





Or maybe it had to do with the fact that even with the aerodynamic improvements on the redesigned 2007 S-Class, there's no way the S65 will escape a gas-guzzler tax, hardly something to bring up during a press conference that focused on lowering emissions and raising fuel economy.





Of course there's a payoff for the S65's thirst. Mercedes estimates it will take the sedan just 4.2 seconds to reach 60 mph, making it almost a second faster than the '07 S600 and the quickest luxury sedan on the planet.





We've been impressed by the handling of the new S550, but we expect the AMG version to take this large sedan's dynamics to a higher level. Mercedes' Active Body Control (ABC) active suspension is standard, and Mercedes reports that the AMG engineers have modified it to reduce body roll by 68 percent over the standard, non-ABC S550. Hit a button on the dash and you get an additional 95-percent reduction in roll.





Take a walk around the S65 and you'll appreciate the greatness of its braking hardware. The perforated discs are huge, measuring 15.4 inches in front and 14.4 inches in rear. Eight-piston calipers clamp down on the front discs, four-piston calipers on the rears.





Look for the S65 AMG to show up in late June or early July, says Rob Moran, manager of product and technology public relations for MBUSA, with a price tag of about $190,000. That's about $20,000 more than the 2006 S65 cost, but as on the 2007 S600, every major bit of equipment should come standard.





What's Edmunds' Take?

Without an M version of the BMW 7 Series to battle, this car's only real competition is the 552-hp Bentley Continental Flying Spur, and even it falls short of the S65's performance. Mercedes remains the undisputed king of ultraluxury, ultrapowerful sport sedans.




These are the first ever factory 20-inch wheels on a Mercedes-Benz. The show car wore 20-inch Pirelli P Zeros measuring 255/35ZR20 in front, 275/35ZR20 in rear.


Rich walnut lines this cockpit, while S65s with lighter interiors get chestnut. Sport seats are standard and Mercedes says they're an all-new design with firmer contours and higher bolsters.


A lower-clearance front fascia with honeycomb mesh inserts and reshaped foglamp units immediately distinguishes the 2007 Mercedes-Benz S65 AMG from the regular S-Class sedan.


That's a carbon-fiber cover over Mercedes' biturbo V12, an engine capable of 604 hp and 738 lb-ft of torque.


posted by Muamer Hodzic @ 8/17/2006 01:50:00 PM
DiggIt!
Wednesday, August 16, 2006
BenzInsider update
BenzInsider had a little facelift today; hope you guys like. I'll continue working on the site and brining you the latest Benz news.
posted by Muamer Hodzic @ 8/16/2006 07:32:00 PM
DiggIt!
The $4 Million Mercedes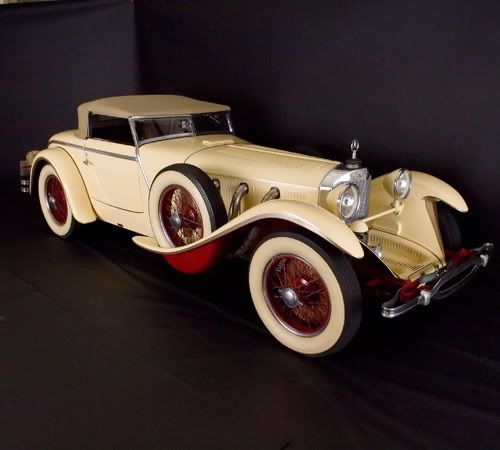 If you are into classics and have a money tree, then this is for you. BusinessWeek has compiled a list of cars that will be auctioned at 'Christie's Exceptional Motor Cars'. The most expensive of them all is the 1928 Mercedes-Benz Torpedo Roadster, which is expected to sell for between $3 million and $4 million.



Only 124 Typ S models were built by Mercedes-Benz in 1928. This one was ordered by the wife of Charles Levine, who never returned to pay for the car after it was delivered to the Mercedes-Benz showroom in New York. The car sat in the showroom for months until Frederick Henry Bedford Jr. purchased it in 1929. It has stayed in the family and was restored in 1982.



Here is the complete list of the cars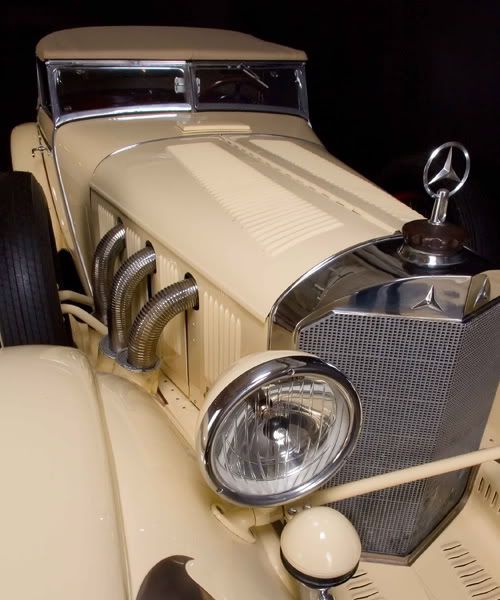 posted by Muamer Hodzic @ 8/16/2006 04:35:00 PM
DiggIt!
Tuesday, August 15, 2006
Mercedes developing revolutionary new engine?
My good old friend 'Agent001' over at Autopies has gotten his hands on some very interesting news.
Here is what the source told him in the email: "I was talking with a Benz tech today, and he mentioned in passing that over the next 4 years or so, Benz will be introducing an engine that is completely sealed (ie, no fluids added EVER, throughout the life of the engine). Have you heard anything about this? Sounds cool!"

Now this is the first time I have heard about such an engine, and I do have to say that I am a bit skeptical. I mean you have to change the oil sometime or the brake fluid. It could be possible that they have developed something that extends the life of each fluid, but not eliminating the need to change it sometime. By the way the image above is not the engine.


posted by Muamer Hodzic @ 8/15/2006 05:41:00 PM
DiggIt!
How to beat a Speed Camera


This is a bit ridicules; I mean beating a Speed Camera by going as fast as possible instead of slowing down, but since it is from our favorite car show - Top Gear- it is perfectly fine. The video and sound quality is not very good, but you'll be able to get the point.
posted by Muamer Hodzic @ 8/15/2006 03:56:00 PM
DiggIt!
DaimlerChrysler to buy McLaren
The McLaren F1 team has really been struggling in the last couple of years; their last championship title was won by Mika Hakkinen in 1999. Norbert Haug, the Mercedes motorsport boss, wants to get the racing team back to the top, and the natural first step would be to replace Ron Dennis, who is the McLaren boss, according to a AutoMotorundSport report.

DaimlerChryler owns 40 percent of the British racing team, but is very close to a deal to take over the remaining shares. Auto-Motor-und-Sport has reported that an agreement has been reached between McLaren boss Ron Dennis and DaimlerChrysler directors Thomas Weber and Bodo Uebber. Either way this turns out, we all just wish that the F1 team will start winning some races and compete against Ferrari and the new favorite- Renault.
posted by Muamer Hodzic @ 8/15/2006 02:26:00 PM
DiggIt!
Technology Behind the CL-Class Pre-Safe System
We have all seen how the Mercedes Pre-Safe system works, if you haven't, then check out Top Gears review of the S-class and its Pre-Safe system. Here is a press release and a few picture of how the the Pre-Safe system workds. The system will be available as an option to consumers.


Stuttgart, Aug 14, 2006 The anticipatory PRE-SAFE® protection system is included in the standard safety equipment for the new CL-Class, which makes its market debut in the autumn of 2006. This award-winning technology goes into action if an accident is imminent and protects the occupants of the new luxury coupé against the effects of an impending collision. Available as an option is the PRE-SAFE® brake, an additional new feature that automatically slows the CL-Class down when the risk of an accident is recognised. No comparable safety technology is found in any other car in this vehicle class.

With PRE SAFE®, Mercedes-Benz ushered in a new era of passenger car safety. For the first time, this system is able to create a synergy between active and passive safety: on the basis of sensor information from active handling safety systems, which register the danger of a skid or very heavy braking within milliseconds, PRE-SAFE® uses the time between detection of a potential accident and activation of the protective systems in the vehicle interior. During this interval, PRE-SAFE® prepares the occupants for the impending collision as a precaution.

In other words, PRE-SAFE® gives the car reflexes. When danger is detected, the new CL-Class responds as reflexively as a living being and activates the appropriate protective measures to avoid the risk of injuries or reduce their severity. This Mercedes invention is in line with the findings of accident researchers, which show that more than two-thirds of all serious accidents are preceded by critical driving manoeuvres that allow an impending collision to be predicted in advance. In the new CL-Class, PRE-SAFE® uses this advance accident detection phase, which can have a duration of several seconds in some cases, to:

* move the front passenger seat to a more favourable position with respect to height and fore-and-aft adjustment, as well as cushion and backrest angle, during emergency braking, so that the seat belt and airbag are able to work most effectively during an impact, and to inflate the air chambers in the dynamic multi-contour seats (optional) to support the driver and front passenger and press them more firmly into their seats.

* additionally close the front side windows and sliding sunroof if the car starts to skid, so that the occupants are not thrown out and the windowbags have better support during a side impact or rollover.

Automatic partial braking when a collision is imminent

The newly developed PRE-SAFE® brake system improves this preventative occupant protection even further. This unique system automatically brakes the CL-Class before an impending accident and operates in tandem with the Brake Assist PLUS (BAS PLUS) system introduced last year, which warns the driver of an imminent rear-end collision with visual and audible signals and automatically calculates the required braking pressure to prevent an accident. This braking-power support is available as soon as the brake pedal is operated.

The PRE-SAFE® brake system goes one step further: if the driver does not react to the BAS PLUS warnings, the PRE-SAFE® brake system triggers automatic partial braking where an accident is imminent and slows the CL-Class down at a rate of up to 0.4 g (around 4 m/s²), corresponding to around 40 per cent of the total braking power. In addition to the visual and acoustic warning, the automatic partial braking provides the driver with another clear warning to act. If the driver then immediately applies the brakes, the maximum braking force is available and the accident can - depending on the situation - be averted at the last moment. If an accident is unavoidable, the PRE-SAFE® brake system reduces the impact severity and, in turn, the risk of injury to the vehicle occupants.

The anticipatory PRE-SAFE® measures on board the new Mercedes coupé are also activated automatically when the PRE-SAFE® brake system goes into action. As soon as the system commences automatic partial braking, the supporting bolsters in the dynamic multi-contour seats are inflated and the front passenger seat is moved to the most favourable position.

As with Brake Assist PLUS, the new PRE-SAFE® brake system also utilises state-of-the-art radar technology to scan the situation in front of the car and detect a potential accident. Two short-range radar sensors with a range of 30 metres and a scanning angle of 80° are located behind the front bumper fascia on the CL-Class. The additional long-range radar in the radiator grille has a range of 150 metres.

Accident severity reduced by 40 per cent

Mercedes-Benz has conducted extensive tests on the effectiveness of the new PRE-SAFE® brake system. In the DaimlerChrysler Research driving simulator in Berlin, Mercedes engineers conducted a series of tests with 70 drivers who were deliberately distracted by an accident on the opposite carriageway during their journey, while the traffic ahead of them suddenly braked at the same time. The results of these tests demonstrate the increased safety made possible by the state-of-the-art support systems in the CL-Class: thanks to the rapid reaction of the drivers and the help of BAS PLUS with the PRE-SAFE® brakes, an accident was avoided during 70 per cent of these journeys. In one-third of these simulator tests the participants were unable to prevent an accident. In these cases the automatic partial braking function ensured a reduction of around 40 per cent in impact severity.

Mercedes-Benz also offers the PRE-SAFE® brake system in conjunction with the optional DISTRONIC PLUS proximity cruise control and the BAS PLUS braking assistant.
posted by Muamer Hodzic @ 8/15/2006 01:52:00 PM
DiggIt!
Monday, August 14, 2006
AMG History 101
Do you know what AMG stands for? Did you know the AMG Company is 35 years old? If you answered to any of these 2 above with a NO, then this article is for you. If you want to educated yourself or just want to impress your friends next time you talk about cars, then this is definitely for you.
35 years of Mercedes-Benz high-performance vehicles and production-car track success
1967 to 2002: from a three-man band to a workforce of around 580

35 years of high-tech engineering for Mercedes-Benz vehicles

A pioneer in adapting cars to individual customer specifications

Victories across the board in international motorsport
From its beginnings 35 years ago as a specialist motorsport and tuning firm, Mercedes-AMG GmbH has grown into a supplier of exclusive high-performance cars with some 580 employees, an extensive model range now comprising 17 different AMG cars, customers across the world and a brand name which has gained a high level of recognition. The company was founded back in 1967 by Hans Werner Aufrecht (A) and his partner Eberhard Melcher (M), whilst Aufrecht's birthplace of Großaspach (G) sup-plied the third letter in the company name. They officially described them-selves as "engineering, construction and testing specialists in the development of racing engines". The firm was based in an old mill in Burgstall (near Affalterbach).
The breakthrough in 1971 with class victory in the 24 Hours of Spa
In its early years, AMG concentrated on building racing cars based on the Mercedes-Benz 300 SE and competing in European touring car races. And the company didn't have to wait long to taste success, their first real breakthrough arriving in 1971. A Mercedes-Benz 300 SEL 6.8 modified by AMG took a surprise class victory in the 24-hour race at Spa in Belgium, finishing in second place overall. Sharing the driving duties in the racing saloon that day was the partnership of Hans Heyer and Clemes Schickendanz.
The 1971 success proved to be the springboard for a enviable record on the track which has continued to the present day :
Click here to continue reading
posted by Muamer Hodzic @ 8/14/2006 03:07:00 PM
DiggIt!
Mercedes S-Class Convertible in '07
Good morning everyone, let's kick things off with a piece from 'TheCarConnection'. According to them and their sources, Mercedes will surprise the world with an S-Class Convertible Concept at the upcoming 2007 NAIAS in Detroit. Brenda Priddy has created a couple illustrations to give us all a preview of the huge four-door convertible concept. I am not sure how good this idea is, since it would make more sense for a CL class convertible than an S-class.


posted by Muamer Hodzic @ 8/14/2006 09:15:00 AM
DiggIt!
Saturday, August 12, 2006
Pimp my Benz: Carlsson CK55 CLS 55 AMG
I compiled you a slideshow of the Carlsson CK55 CLS 55 AMG. I am experimenting with a new way of showing images via this slideshow tool. It lets me show you tons of photos without taking too much space up; let me know what you guys think.



Update:

If you want to stop the slideshow or look at a picture longer then what you got to do is go over the black bar with your mouse under the picture and all the pictures thumbnails will pop up; once you select a different picture, the slideshow sequence will stop so you can have a longer look at each picture. You can continue looking at all the pictures that way or you can go over the top black bar with your mouse and start the slideshow by pressing Play.


posted by Muamer Hodzic @ 8/12/2006 04:44:00 PM
DiggIt!
Friday, August 11, 2006
Top Gear: 2 McLaren Mercedes SLR reviews


These videos are fantastic. Not only is the car amazing, but Jeremy and Richard are just hilarious. The top video is the SLR being tested by Jeremy and the bottom one is by Hamster himself. If you have time, watch them both because it is interesting to see how a car can be absolutely amazing in one review and a total failure in another.


posted by Muamer Hodzic @ 8/11/2006 02:25:00 PM
DiggIt!
Mercedes CLS 55 AMG Test Drive


To accompany our 'Mercedes CLS 550 Review' post, I bring you a video that shows the CLS 55 AMG somewhere in the wilderness. This is a great video for a couple of reasons; first, it doesn't have any annoying music playing in the background, so what you hear will be the roar of the engine and the insects communicating with each other. Second, it is a video of our beloved CLS 55 AMG. If you are reading this before playing the video, which I doubt, then you should turn up the volume and start the video -- enjoy.
posted by Muamer Hodzic @ 8/11/2006 01:08:00 PM
DiggIt!
Mercedes CLS550 Review
Here is a really nice review of the 2007 Mercedes CLS550 done by 'TheTruthAboutCars'.

[W]hen the CLS500 first appeared on the scene nearly two years ago, I was intrigued. Architecturally, it was as if Mercedes had grabbed the E-Class at both ends and pulled, compressing the passenger cabin and elongating the design. When I got up close and personal, I discovered that the resulting interior spaces were wide yet useless, with limited head and legroom. The car's curvaceous roofline and tiny windows also restricted rear visibility, while huge side mirrors hampered the view at eight o' clock and two o' clock. And without the optional electronic parking assist, backing into a parking space was an expensive game of blind man's bluff.


I was also distanced by the pretentiousness of its monniker: "four door coupe" (it's still listed as such on Mercedes' website). The fact that the CLS borrowed liberally from the cheaper E-Class' mechanical underpinnings heightened my sense that the car was a triumph of packaging over character. My wife, however, was smitten by the "German Jaguar's" bodacious exterior; she insisted that a CLS500 find its way into our garage. I never warmed to its fluffy brakes, handling and steering. Even the styling lost its allure; I felt like a poseur driving the beast.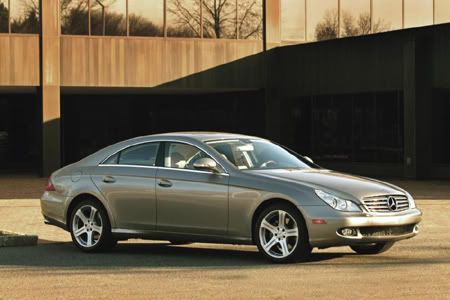 For the CLS' first major refresh, Mercedes slotted their 5.5-liter 382 horsepower V8 underhood, euthanized the electronic SBC braking system and tightened-up the steering rack. For an extra five G's (on top of 75 large), the CLS550 gains a sport package. Although it's a no-cost option in the E-Class, a CLS550 so equipped comes complete with AMG labeled wheels and big, fat (plastic) paddles behind the steering wheel. My tester was painted the same color as the launch edition, Indium Grey. The interior was suitably black, with more metal accents than a blinged-up bouncer.


The CLS' cabin distinguishes itself from its E-Class cousin with a huge swath of burled wood across the dash. Along with its higher door and dash panels, the design delivers a dramatic cocooning effect, magnified by the car's machine gun slit windows. The Mercmeisters have dressed the cabin in acres of sumptuous leather, including the top of the dash. Overall, the CLS offers more of a sense of occasion than the E, albeit with more than little arrogance. And now…

I love driving this car. For one thing, the CLS550's steering has gained much-needed heft and driver communication. The rack-and-pinion set-up integrates speed-sensitive power assistance and hydraulic dampers. It leapfrogs BMW's Novocained tiller, returning to the gold standard set by the previous generation BMW 5-Series (go figure). The wheel itself is as addictively caressable as a baby's head.

The CLS550's Adaptive Damping System II does a Mad Max, proving that a sequel can be better than the original. Combined with Airmatic semi-active suspension, the CLS550's does the near impossible: eliminates body dive, roll and squat; smoothes out all but the most vicious potholes and delivers outstanding road feel. The two-ton Teuton won't give a Porsche Cayman any trouble, but the CLS550 is as fast and nimble a luxobarge as money can buy. In terms of acceleration, the CLS550 is a velvet hammer; it accelerates to ridiculous speeds with imperious ease. Equally important, the new, non-newfangled stoppers shed speed with genuine authority and perfectly modulated feel.


The CLS550's driving experience is worlds away from the E550. In fact, almost everything I didn't like about the E550 feels spot on in the CLS550. The CLS' Harmon Kardon sound system sounds livelier than the E's equivalent unit. The bigger car's interior is more modern and contemporary than its mid-sized cousin. The CLS' seat comfort is beyond reproach, and includes the "comfort" headrests found in the E. The CLS' seven speed transmission is transparent and seamless, with none of the awkward downshifts that bedeviled the E550. As a rule, as a driver, I prefer a smaller car to a bigger one. But the E's price and sun visors are its only apparent advantages over the new, improved CLS.

Incredibly, modest changes to the 2007 CLS550 have catapulted the chop-top four door to the top of my lust list, whereas the 2000 changes incorporated into the E-Class do nothing for me. Obviously, I still have issues with the CLS' design and visibility. But now, once I'm behind the wheel, all is forgiven. The new CLS is one of those rare brutes that loses weight as it gains speed, and gains balance as it loses your license. This Baby just got a whole lot better.
posted by Muamer Hodzic @ 8/11/2006 12:38:00 PM
DiggIt!
Thursday, August 10, 2006
Mercedes SLR convertible
Over at LLN they are reporting that Mercedes was considering building a convertible version of its $450,000 SLR supercar. AutoExpress magazine is now reporting that the car is "well on its way" to entering production, and will be officially unveiled "within six months." If the convetible will look like the one on the picture, then it is definitely getting a "Go" from me. AutoExpress also says the goal of the SLR convertible is to handle and perform as well as its coupe counterpart.
posted by Muamer Hodzic @ 8/10/2006 10:16:00 AM
DiggIt!
Wednesday, August 09, 2006
Mercedes CL Coupé Promo Video


We have seen many pictures and spy shots of the upcoming Mercedes CL coupé, but here is a promotional video that you might have not seen before. It lets you see the beauty of the car both from the inside and outside.

posted by Muamer Hodzic @ 8/09/2006 02:22:00 PM
DiggIt!
Tuesday, August 08, 2006
Mercedes GL ad under fire by NAD


The National Advertising Division (NAD) of the Council of Better Business Bureaus said on Monday, that Mercedes-Benz should discontinue an ad in which a crash sled is repelled after slamming into the side of its GL Class SUV.
This is one of the funniest ads I have seen in recent times. When you watch the ad, you can clearly see that it was made for humor and was exaggerated so that people will notice the humor.
Why doesn't the NAD look into the Toyota ads, where the Tundra gets hit by a meteor or when it gets washed away in to the Ocean and spit out again.
posted by Muamer Hodzic @ 8/08/2006 07:29:00 PM
DiggIt!
BMW 520d Touring vs. Mercedes E 220 CDI T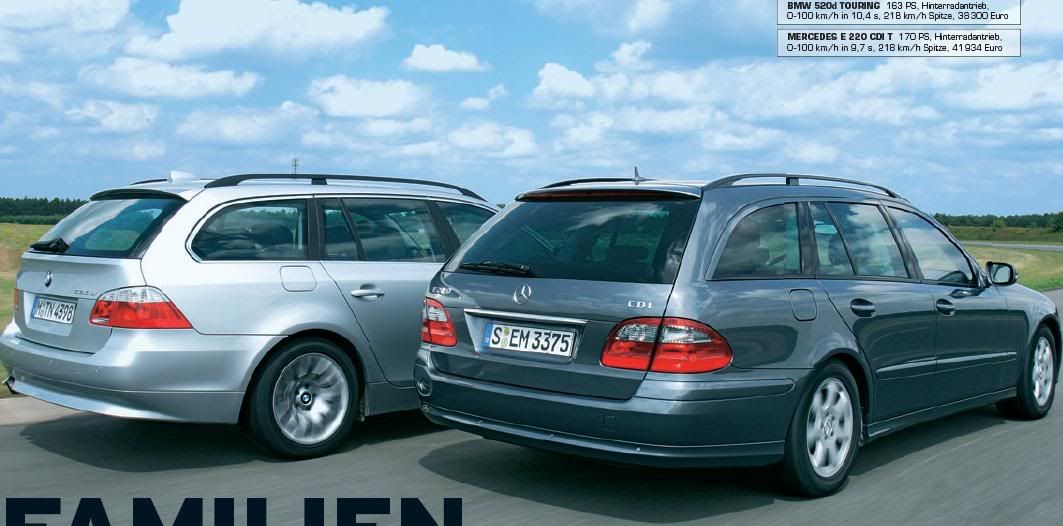 For this week, we have a nice duel between two family friendly cars that are not the most aesthetically pleasing designs, but do have other features that make them unique.
Auto Zeitung has put them through a vigorous test to see who will end up the winner and earn the bragging rights. On one side, we have the recently redesigned E-class, who is said to be more dynamic then before. The recent facelift has given the Benz a more aggressive look; they have also increase the horsepower from 150 to 170 and hoping that the increased power and the chassis with the so call "Direct Control" package will give the Mercedes an advantage over its competitors. Its arch rival from Bavaria has similar 4 cylinder diesel under the hood, who with its 163 HP is very close to the E 220 CDI performance.

The Mercedes E 220 CDI is the winner of this comparison test due to being a more practical and harmonic car. The Benz convinced the testers with its quiet, strong and very fuel-efficient engine. The Mercedes feels more dynamic, but without loosing any comfort.
The BMW 520d Touring has not convinced the testers with its design, but the car has shown that it is sporty and agile. The BMW is more affordable then the E-class, but both are roomy and comfortable family cars.

Conclusion: The E 220 CDI has won the comparison test over the BMW 520d due its its superior engine, and being a comfortable and dynamic car.



BMW 520d Touring 163 HP/120 kW, RWD, 0-100 km/h in 10.4 sec, 218 km/h top speed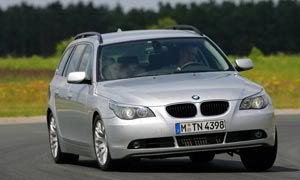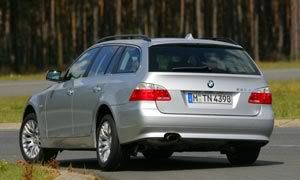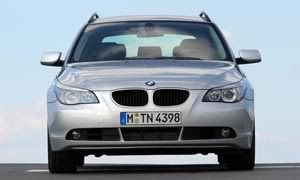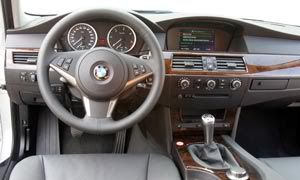 Mercedes E 220 CDI T 170 HP/125 kW, RWD, 0-100 km/h in 9.7 sec, 218 km/h top speed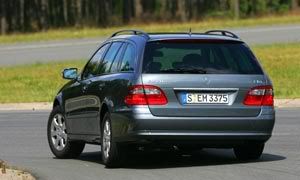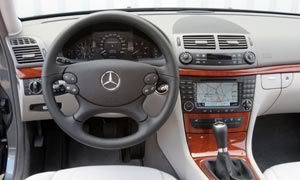 posted by Muamer Hodzic @ 8/08/2006 03:22:00 PM
DiggIt!
Mercedes CL coupé quietest luxury car.
Mercedes claims that the upcoming CL coupé is the quietest car in the luxury class. The engineers designed the airflow-efficient A-pillars, developed a more rigid bodyshell with reinforced outer surfaces and achieved a new sealing concept for the doors. This is meant to generate as little wind noise as possible. Here are some photos and a press release explaining their findings.

Stuttgart, Aug 08, 2006 The first-class comfort offered by the new Mercedes-Benz CL-Class is also an audible experience. Thanks to meticulous development work and the most modern testing procedures, the coupé is by far the quietest car in its class.

In addition to the noise configuration and sound insulation of the engine, exhaust system and chassis of the new CL-Class, it is the car's good aero-acoustics in particular that make it a very quiet driving experience for drivers and passengers. As early as the conceptual phase, Mercedes engineers took pains to ensure that the bodyshell was optimally streamlined so that wind noise was reduced.

It was with this in mind that they designed the airflow-efficient A-pillars, developed a more rigid bodyshell with reinforced outer surfaces and achieved a new sealing concept for the doors, which is acoustically even more efficient than in the preceding model. This exemplary noise insulation is also helped by the side windows, which have a thickness of six millimetres in the new CL-Class coupé.

Many other components were also developed with a view to aero-acoustic efficiency: for example the windscreen wipers, which are positioned very low down, out of the airstream, when not in use. A narrow stem between the exterior mirror housings and the doors also prevents wind noise, and a specially designed rubber seal between the rear window and the boot lid also makes for aero-acoustic efficiency. The tilting/sliding sunroof features serrated wind deflectors whose ridges create designed-in longitudinal air turbulence, thereby reducing thrumming noises when the roof is open.

Measurement technology: Noise analyses with a three-metre parabolic mirror

To carry out their aero-acoustic measurements, Mercedes engineers developed a new procedure involving a three-metre parabolic mirror fitted with numerous microphones, which acts as a sound reflector. From a distance of five metres, the microphones at the focal point of the mirror record the noises caused by the airstream as it passes around the vehicle body. While numerous individual measurements were formerly necessary for such analytical procedures, the new parabolic mirror process requires only a single measurement to examine complete areas of the vehicle body, e.g. the A-pillar, exterior mirror, side window and roof.

A video camera makes the area under examination visible on the computer screen. At the same time the system superimposes the wind noises onto the video image as different-coloured areas, depending on the sound volume and frequency. This enables sources of irritating noise and its distribution to be identified and examined. During the development of the new CL-Class this innovative aero-acoustic measuring procedure was supplemented with well-proven artificial head technology: a dummy with an artificial head, whose anatomically accurate auditory passages were equipped with capacitor microphones, was seated behind the steering wheel. These made both spatial sound recordings and precise measurements of sound pressure and frequency possible.

Subsequent evaluation of the test results showed how effective the noise reduction methods were. The acoustically sensitive area at the driver's head level appears as a dark blue, particularly quiet zone on the computer screen of the parabolic mirror microphone system. At a wind speed of 140 km/h, the interior noise level in this area is below 66 decibels.

posted by Muamer Hodzic @ 8/08/2006 02:13:00 PM
DiggIt!
Monday, August 07, 2006
Maybach luxury accessories
Do you own a Maybach? Are you planning on getting one really soon? If yes to any of these questions, then this product is for you. Dunhill's Maybach Smoker's Set comes complete with a leather-trimmed travel humidor, lighter and cigar cutter capable of being operated with one hand. The price is not known right now, but if you had money to buy a Maybach, you won't care too much about the price.

Source:Autoblog
posted by Muamer Hodzic @ 8/07/2006 12:05:00 PM
DiggIt!
Sunday, August 06, 2006
Button wins, De la Rosa second
What a messy race this was, but fun and exciting at the same time. There were a lot of accidents and even more spin outs, but 13 drivers did manage to finish. McLarens number one driver, Kimi Raikkonen, was not able to finish the race today, retiring in lap 26 while in second place following a collision with Vitantonio Liuzzi, which resulted in the Mercedes-Benz safety car being deployed. Pedro had an amazing race and a really nice fighting with Schumacher for second place. I am not really sure what Michael was thinking there when he cut the corner and didn't let Pedro pass. It was just a crazy day today with many surprises and twists. Here is what Kimi and Pedro had to say about the race.
Redro de la Rosa:
"I am extremely happy to score my first Formula 1 podium today, and it is great to score eight points for the team, who have all worked so hard for this. It was a very interesting race with the wet conditions, so I just tried to keep my head down, push all the way and stay out of trouble, as I knew if I got to the end we had the speed to be on the podium. The Michelin tyres worked really well today in all the conditions, especially the dry tyres at the end. We backed off a little in the middle section as we were very heavy on fuel and we wanted to conserve this and go as long as possible, but in the end the track conditions changed, and we pitted earlier to change the tyres. This really is a great feeling and it is down to all the team that we were able to achieve this today."

Kimi Raikkonen
"I could do nothing to avoid the collision with Liuzzi. He really slowed down on the racing line and there was just nowhere for me to go except into the back of him. The start of the race was really good for me with my first set of Michelin tyres working really well, but after the first stop I was really struggling with grip on the front, and as a result Fernando Alonso was able to build on his lead. It is never great to end a race like that especially when there was every opportunity to win it, but we just have to move forward, and I really appreciate the gesture of Liuzzi coming to apologise. Well done Pedro for a strong performance."
posted by Muamer Hodzic @ 8/06/2006 12:20:00 PM
DiggIt!
Saturday, August 05, 2006
Lucky Star, by Mercedes Films


This is a trailer for a movie that will never come out. It was directed by Michael Mann for 'Mercedes Films'. This seems to be something like BMW Films, but a bit different. With the BMW Films we knew that it was a promotional film about a BMW car, but here we are made to believe that this is a movie which is supposed to come out, but in fact this is only a Mercedes commercial disguised in a trailer for a movie that will never come out. I think this is a brilliant marketing strategy, and hope to see some more.

Thanks '1legerdemain1' for uploading
posted by Muamer Hodzic @ 8/05/2006 01:15:00 PM
DiggIt!
Friday, August 04, 2006
Mercedes Car Group world wide sales up 2%
Mercedes has release the world wide sales numbers for the Mercedes Car Group. In July, Mercedes sold 102,300 units compared to 100,600 in 2005, a 2% positive change. Overall sales for the first seven months increased by a respectable 8% or 729,600 compared to 677,600 in 2005.
The S-class continues to silence it critics, by selling 55,000 units in the first seven months. This of course may not continue, but it is nice to see that the new S-class is a hit.
Mercedes-Benz SUV's (M, R, GL, and G) have also posted positive growth numbers by selling 14,000 in July, continuing to be the best-selling premium brand in the SUV segment.
The Smart car is know for suffering loses and this month is no different. They sold only 9,600 units this month, which is 22.4% decrease compared to last year. Let us all hope that the Smart car will be able to sell cars in the U.S. and make a profit.
posted by Muamer Hodzic @ 8/04/2006 01:11:00 PM
DiggIt!
Mercedes CLK 63 AMG in UK before U.S.
Jalopnik has a small article about the CLK coupe and convetible AMG versions, which they say will get a high-revving 6.2-liter V8 engine, and will be released in the UK before it come to the States.
Mercedes is offering up a closer-to-market look at its latest AMG stormers to rock the division's first all-AMG engine -- the high-revving 6.2-liter V8. It's the CLK63 AMG Coupe and Cabriolet, which made their world debuts at the Geneeva show earlier this year. The UK versions will come to market before we Yanks will get our hands on the wee beasties. They'll get AMG's Speedshift -- a tweaked iteration of Merc's 7GTronic seven-speed tranny -- with paddles (thank you sir, may I have another!). These models get a slight uptick in power compared to Geneva show spec (481 hp vs 475) and 465 ft.-lbs of torque, a new AMG braking system, 18" alloys, and a new AMG body kit. Expect the US version in early 2007. Now you go, BMW.
posted by Muamer Hodzic @ 8/04/2006 12:35:00 PM
DiggIt!
Mercedes Benz Theme Park?
I am not really sure what to say about this venture, so I'll just wish them good luck and give you a piece of the article from Just-Auto.com to read.
Interesting to see the new Benz 'theme park' that has gone up in Surrey, next to the Brooklands museum. It opens to the public in October and is all about taking the Mercedes-Benz brand to a bigger audience, as well as creating an 'attraction' for customers and potential customers. I was talking to my colleague Graeme Roberts about this subject earlier and we both recalled the entertainment centres pioneered by the Japanese in Tokyo in the early-1990s.

How successful will this Brooklands venture - Mercedes-Benz World - be? Well, it was probably a smart move to site it next to the Brooklands museum and redevelop a part of the Brooklands site, for starters. The association is a good one and has some historical foundation (see this short film).

Will arch-rival BMW want something similar in Britain? BMW dealers will no doubt be noting the support that Mercedes is offering its UK dealer network with this venture.
posted by Muamer Hodzic @ 8/04/2006 01:36:00 AM
DiggIt!
Thursday, August 03, 2006
Mercedes B-class spied in the U.S.?!
Over at Leftlanenews they posted a picture of what they claim is the B-class being tested in Colorado. We can only see the back portion of the car, but it does look like the B-class. Photographer Jordan McCullough, says that it was camouflaged in the front and that he was only able to snap a picture of the back. Recent reports have suggested the B-Class will arrive some time in 2007 for the U.S. market, following a long delay from the original timeframe. The spy shot is the one below and the one on top is what the B-class looks like when being photographed in its entirety.

posted by Muamer Hodzic @ 8/03/2006 07:26:00 PM
DiggIt!
Latest Spy Shots of Mercedes CL 63 AMG
Over at Autospies, my friend 'Agent 001', got some beautiful spy shots of the upcoming CL 63 AMG. The shots were taken during testing in Colorado. You can tell it's the 63 because the four large exhaust pipes give its identity away. The CL63 will come with an 8 cylinder, 6.3 litre, 510 HP, AMG engine and the signature AMG body kit. This is the first time we have seen the CL so close, and I have to admit that it gets prettier and prettier everyday.

Original images from Jordan McCullough
@ AmbientIdeasPhotography.com

posted by Muamer Hodzic @ 8/03/2006 04:29:00 PM
DiggIt!
Spy shot : Smart ForTwo in America
While being tested somewhere in the Colorado Rockies, it was spotted at a gas station by leftlanenews. You can clearly see that the headlight will be different and reflect the design of the future Mercedes models.


posted by Muamer Hodzic @ 8/03/2006 10:12:00 AM
DiggIt!
Video: Mercedes C-class AMG


I've probably shown you dozens of computer illustrations and spy shots of what should be the new C-class, but here is a clip I found at Jalopnik that shows the C-class AMG in action somewhere in the desert.

Original source:streetfire.net
posted by Muamer Hodzic @ 8/03/2006 02:21:00 AM
DiggIt!
Wednesday, August 02, 2006
Mercedes CL 600 Signature Edition at Saks Fifth Ave.
Mercedes will release the CL sometime in 2007, and with that release will be a Signature Edition ultra-luxurious 12-cylinder CL600 Coupe that will debut in Saks Fifth Avenue holiday catalog. Here are some photos and some more info abou the SE.

Mercedes-Benz USA and Saks Fifth Avenue come together to offer the Signature Edition of the all-new flagship 2007 CL-Class coupe. Just 20 Signature Edition CL600 luxury coupes will be offered exclusively through Saks Fifth Avenue's annual "The Gift" holiday catalog which mails to customers mid-October 2006. Last year's 2005 "The Gift" catalog featured 20 examples of a specially equipped S600 flagship sedan – priced at $145,775 – which sold out in a staggering seven minutes.

Widely recognized as the world's benchmark luxury coupe, the Mercedes-Benz CL-Class can trace its history back to the grand 300 S coupe in 1952. Today it continues to define the pinnacle of automotive innovation and design. The all-new 2007 CL-Class pairs its commanding presence on the road with revolutionary technology including Night View infra-red driving assistance, parking guidance system, PRE-SAFE brakes, Distronic PLUS and COMAND Plus, the intuitively centralized entertainment interface.

The eagerly awaited new CL-Class will make its official US debut at the Miami Auto Show this October and is expected to arrive in US showrooms in early 2006. The Signature Edition CL600, built exclusively for Saks Fifth Avenue, offers elegance in abundance, with an exclusive color palette that suits the season – the exterior is Mystic White, paired with Porcelain Nappa leather interior and Piano Lacquer Black wood-trim. It also features 5-spoke 18" wheels and high-performance tires. Under the hood is a twin-turbo V12 that boasts a whopping 510 horsepower and 612 lb.-ft. of torque, propelling the grand coupe from 0-60 in 4.5 seconds. Pricing for this special-edition super coupe has yet to be announced.
posted by Muamer Hodzic @ 8/02/2006 01:42:00 PM
DiggIt!
Mercedes-Benz S 500 alongside Meryl Streep
Mercedes-Benz S-Class will make its film debut alongside Meryl Streep in Devil wears Prada.
The Mercedes-Benz S-Class is set to premiere in the "The Devil Wears Prada", the eagerly awaited film out this autumn. The lead and Oscar winner Meryl Streep plays the high-powered, revered editor-in-chief of the world's most respected fashion magazine in this potential blockbuster, chauffeured in the Mercedes-Benz top-of-the-line model from meeting to meeting with fashion's crème de la crème in New York and Paris. Because like her, the Mercedes-Benz luxury saloon with its refined style, self-confident elegance and innovative ideas is in a class of its own.
posted by Muamer Hodzic @ 8/02/2006 10:30:00 AM
DiggIt!
R-Class: Two new model variants
Here we have some news about the beautiful R-class, which in my opinion looks amazing considering it is a (mini)van. This is what Mercedes has to say abou the 2 new model variants that will be offered.
Mercedes-Benz continues to upgrade its R-Class. Through the introduction of the new R 280 CDI 4MATIC und R 63 AMG 4MATIC models, which will become available this autumn, the touring SUV's product range will be expanded to five engine variants. As a result, the output range of the six and eight-cylinder engines will extend from 140 kW/190 hp to 375 kW/510 hp. Furthermore, Mercedes-Benz will equip the R-Class with additional driver-support systems that will ensure even more driving comfort. Besides innovations such as the radar-based DISTRONIC proximity control system, the comfort-enhancing systems will include actively ventilated front seats, the LINGUATRONIC voice control system and a rear-view camera for safe and easy parking. The R-Class's high level of long-distance comfort, which makes a significant contribution to driver-fitness safety, is documented by scientific studies conducted by DaimlerChrysler Research. The driver's stress level as measured on the basis of the heart rate is significantly lower in the R-Class than in other comparable vehicles.
posted by Muamer Hodzic @ 8/02/2006 01:16:00 AM
DiggIt!
Tuesday, August 01, 2006
Even more C-class illustrations
They keep on coming; here we have more computer generated images of what should be the new C-class. This first image was sent to me by Wayne Batty, showing what he says is a spy shots of the new c-class, but painted directly over so that it shows the right proportions. It looks a lot like the one I showed you a week ago. Everyone likes the constant flow of new spy shots and photoshopped images, but of course we are still awaiting an official picture of the new C-class, which will probably come sometime next year. Until then, we will keep enjoying these images and people will keep supplying them to us.


posted by Muamer Hodzic @ 8/01/2006 06:14:00 PM
DiggIt!
2007 Mercedes SLK-Class Sports Package
We have seen the SLK Black Series a couple of weeks ago that was tuned by the AMG Performance Studio, but here we have sport package that will be available for the 2007 SLK. It also has a lowered sports suspension with 18-inch wheels, a more beefy braking system, an AMG breakaway edge at the rear and, as an option, the new 7G-TRONIC Sport automatic transmission with steering-wheel shift paddles improve the agile handling characteristics of the Roadster even further. Here are some photos and a press release.
Press Release:
Available now: Sports package for the Mercedes-Benz SLK-Class: An exciting sporty look and a suspension for even more driving pleasure

Stuttgart, Aug 01, 2006 More dynamism and sportiness, in other words more driving pleasure, is what Mercedes-Benz now offers with the new Sports Package for the SLK. This package makes the sporty character of this attractive two-seater even more visible and tangible. A lowered sports suspension with 18-inch wheels, a more beefy braking system, an AMG breakaway edge at the rear and, as an option, the new 7G-TRONIC Sport automatic transmission with steering-wheel shift paddles improve the agile handling characteristics of the Roadster even further. In models equipped with V6 engines, a specially developed air filter accentuates these enhancements with an even more throaty sound. The most noticeable highlights in the interior include red seat belts, red topstitching, black roof lining and black trim, some of which is in carbon-look.

The SLK-Class Roadsters are the market leaders in their segment, and are among the world's most successful and exciting sports cars. Although sportiness is al-ready a designed-in attribute, Mercedes-Benz is now offering a special sports package for the two-seater which combines two aims: more incomparable driving experience and an even more potent visual impact.

This enhanced sportiness is immediately obvious to the driver in the form of a sports suspension, the large 17-inch braking system with perforated front discs and brake callipers bearing the lettering "Mercedes-Benz". With 225/40 R 18 tyres at the front and 245/35 R 18 at the rear mounted on 18-inch light-alloy wheels in a new 6-twin-spoke design, the running gear provides ample scope for a more sporty style of driving and even more driving enjoyment. The appropriate soundtrack to this enhanced driving pleasure comes via a special sports air filter (only for SLK 280 and SLK 350) with a powerful, throaty sound.

The even quicker, more direct gearchanges made possible by the M-mode of the optional 7G-TRONIC Sport seven-speed automatic transmission make for an even more singular driving experience, while the steering-wheel shift paddles accentuate the sportiness of the car even further. Exterior enhancements include headlamps with dark surrounds and a rear break-away edge adopted from the SLK 55 AMG. These not only underline the dynamic performance of the Roadster, but also improve its aerodynamic qualities even further.

The colour red provides unmistakable visual highlights in the interior of the SLK-Class equipped with the new sports package. Both the driver and passenger wear red seat belts, while the door armrests, seats, leather steering wheel and the gaiter of the leather gearshift lever are enhanced with fine, craftsman-like red topstitching. This concept is continued with floor mats edged in red and eye-catching red needles in the instrument cluster. A striking contrast is provided by black roof lining, black trim to the left and right of the steering wheel, and a carbon-look trim strip above the glove compartment.

The SLK is the acknowledged trendsetter and technological leader among sports cars in its class. In addition to the vario-roof, its outstanding features include a sophisticated design with cues from Formula One racing and standard head/thorax sidebags, adaptive front airbags and two-stage belt force limiters which are activated in two phases according to accident severity. Available optionally for the SLK-Class is the AIRSCARF neck-level heating system.

Mercedes-Benz is still the world's only manufacturer to offer such a feature. At the touch of a button AIRSCARF causes warm air to flow from the head restraints, enabling the occupants of the SLK to travel with the roof down even in cooler out-side temperatures and enjoy open-air driving all year round. Other technical innovations available optionally for the SLK-Class include automatic climate control, bi-xenon headlamps with cornering light function and the COMAND APS system.

Depending on the engine version, the ex factory cost of the sports package for the SLK-Class is between € 1,148.40 and € 1,612.40.
posted by Muamer Hodzic @ 8/01/2006 11:11:00 AM
DiggIt!
BREAKING: Mercedes Sales Up 4% in July
The numbers for the month of July are already here, and they don't look good for the DaimlerChrysler company. The company posted a 34% decrease in Sales for July by only selling 171,940 passenger vehicles. Total Chrysler sales in the month of July have decrease by 37% compared to last year. Meanwhile, the german sister company Mercedes reported its highest July sales on record with 21,591 new vehicles sold, an increase of 4% over last July. The new very popular S-class, selling 52% more than last year, contributed a lot to the Mercedes sales increase.
posted by Muamer Hodzic @ 8/01/2006 10:56:00 AM
DiggIt!
Previous Posts

Archives

Feeds