Tuesday, October 31, 2006
Mercedes CLK DTM Replica May Come to U.S.

Inside Line is reporting that Mercedes has plans on brining the CLK DTM to the States. According to Mario Spitzner, AMG-Mercedes director of marketing & sales/branding, the company would be willing to federalize the car if there were enough customers.

"I get a lot of pressure from our best customers to bring it to the U.S.," Spitzner said.

With 582 horsepower and suspension, brakes and bodywork derived from the company's fire-breathing German Touring Car racers, the CLK-DTM rockets to 62 mph in 3.9 seconds and reaches an electronically limited top speed of 200 mph. The initial run of 100 coupes was supplemented by another 80 cabriolets for sun-worshipers with a need for speed. As you will see in the video below, the coupes had an engraving stating that it is one out of 100 cars. Watch the video below and get a better look at the CLK DTM that was imported by some guy in SoCal.

Head over to Inside Line to read more about the car.


posted by Muamer Hodzic @ 10/31/2006 06:44:00 PM
DiggIt!
More details on the Mercedes-Benz S 600 Guard

Continuing our S600 Guard video show, I bring you another great video, but is unfortunately is in German. The video was created by the German TV channel 'Vox' and shows how the S600 is designed and manufactured. It also goes a bit into the history of armored vehicles.
posted by Muamer Hodzic @ 10/31/2006 09:34:00 AM
DiggIt!
Monday, October 30, 2006
Mercedes-Benz S600 Guard video


I am not sure if it is the music or the car itself, but I feel so pumped up that I think I could drive the S600 Guard through Baghdad and survive. This car is just amazing, not only is the regular (if there is a regular) S-class astonishing, but this Guard is definitely the King in the Automotive Jungle. The car can defend its occupants against machine-gun fire, grenades and other explosive devices. It is capable to run on flat tires; it's got its own air supply in case of a gas attack, it will let you breath fresh oxygen for awhile; and in case of a fire, it's got its own fire-extinguishing system and self-sealing fuel tank. So if you are a diplomat driving around Baghdad or just want to impress your neighbor, I would recommend it.
posted by Muamer Hodzic @ 10/30/2006 11:48:00 PM
DiggIt!
Sunday, October 29, 2006
More info on next gen C-Class



Update: I added new pictures that they didn't have yesterday. I guess they also require you to sign up; that is pretty easy to do and I recommend you do it, it may help in the future. You can enter any email you want, they don't check it.



Auto Express has more information on the next generation C-Class expected to be released sometime next year as 2008 model. They have also found out that a coupe is planned, probably on the same platform.

"Although it will share more of its components than before with the larger E-Class, the next C will be much sharper to drive and more distinctive as a range in its own right: Mercedes-Benz is to position it as a true small sports saloon, rather than simply a smaller answer to the E."

Read more at Auto Express
posted by Muamer Hodzic @ 10/29/2006 04:34:00 PM
DiggIt!
Friday, October 27, 2006
Mercedes-Benz 450SEL 6.9 vs. S65 AMG

Head over to Evo and check out a really cool video showing the Mercedes-Benz 450SEL 6.9 taking on the S65 AMG. I got to say that I was surprised how the well the 450SEL handled, and its 0-60 time was only 2 seconds away from the S65. There was not much of a contest between those the two, but it was nice to see how well an old Merc was built.
posted by Muamer Hodzic @ 10/27/2006 02:04:00 PM
DiggIt!
Mobile navigation systems from Mercedes (Garmin)
Mercedes-Benz Accessories is now offering two new mobile navigation units as a retrofit solution, aimed in particular at A-Class, B-Class and C-Class customers.

A special mount allows the Mercedes-Benz StreetPilot II units to be attached directly to the dashboard of the A-Class, B-Class and C-Class. This optionally available solution offers several advantages: the central positioning means that the unit is equally easy for both driver and front passenger to operate and read.

The units were developed in collaboration with Garmin, a renowned manufacturer of mobile navigation units. It definitely has the Garmin look to it, making it a bit out of place with the Mercedes interior. The StreetPilot II Plus also includes an integral MP3 player and a Bluetooth interface which allows it to act as a hands-free system in conjunction with a Bluetooth mobile phone. The user-friendly two or three-dimensional maps, with zoom function and the practical detour function, which helps the user to avoid tailbacks, will help the user navigate through the streets with ease. To make orientation even easier, the voice directions from the Mercedes-Benz StreetPilot units are even more precise.

The units, including mount, are priced at Euro 517 (StreetPilot II) and Euro 690 (StreetPilot II Plus).

posted by Muamer Hodzic @ 10/27/2006 01:15:00 PM
DiggIt!
Thursday, October 26, 2006
Mercedes GL450 falls victim to Art
These day it is not very clear who can create art and what is art. Looking at these picture you probably wouldn't have guessed that this is supposed to be art; that is what Michael Muller want us to believe, he submerged a $63k GL450 and let Eva Mendez swim around it. It's part of Muller's "Quiet" exhibit designed to raise funds for the non-profit The Art of Elysium.

Here is what he had to say about his creation:
"Let's be honest with ourselves, our minds are loud. A never-ending chatter of thoughts, schemes and fears. One of the most sought after treasures on earth is peace of mind. For myself, I have found only two avenues to this nirvana, and one is underwater. My mind goes quiet. Time stands still. The worries above sink below. I am at one with the universe without water, there could be no life. Every living thing needs water to live and every living thing is made of at least some water. The human brain is 75 percent water, So with bringing my subjects under water, I surrender. I have no control. I leave it to the universe to supply the magic I can only try to emulate on land. There is always movement, but always stillness. There is nothing between my subject and me but a mass of energy that I am powerless against. I love it."
I just can't understand this kind of art, for me it is just a waste of a beautiful car. Wouldn't it have made more sense to put the car on auction. I mean if Eva singed it and some more stars, he probably could have doubled or tripled the value of the car. He even requested a 1950s Mercedes-Benz 300 SL for the shoot, this man clearly has no heart nor a sense for art, but Mercedes being a nice company as they are gave him a pre-production 2007 GL450 instead.

Click to read more at Forbes


posted by Muamer Hodzic @ 10/26/2006 10:00:00 AM
DiggIt!
Smart fortwo coming to theaters
The Smart fortwo has truely become a movie star; It played Clouseau's cop car in "The Pink Panther," provided Tom Hanks with a quick getaway in "The Da Vinci Code - Sakrileg" and was a perfect vehicle for Garfield's "owner" Jon Arbuckle in "Garfield 2". Now the smart fortwo gets to play Cupid: the two-seater brings the lovers together in Ridley Scott's new film "A Good Year." The movie will be released in theaters on November 9th in Germany, no word if the movies will come to the states or other areas.

The movie, A Good Year, will have Russell Crowe as the main character who will play Max Skinner, a career-obsessed investment expert, in the movie. Life is turned on its head for him when he travels to France to sell a vineyard he has inherited from his great-uncle. Max's travels through Provence in a smart fortwo mark the start of a new life. But the usually successful businessman doesn't recognize it until much later. First he has to struggle with the navigation system and almost runs over an attractive young Frenchwoman, Fanny (played by Marion Cotillard), without noticing. But the smart fortwo brings about a reunion: Fanny recognizes the car outside the vineyard - and love gets a second chance. Then Max is offered a partnership by his boss. He has to make up his mind. Should he turn his back on the London business world?

High-profile product placements such as this are a highlight of smart's new communication strategy: "Focused Marketing" aims to minimize media coverage waste and to appeal directly to customers and potential customers, ensuring an integrated brand presence in Europe. For "The Pink Panther" smart organized a unique competition with an online preliminary round and a final rally in the original film locations. The game was flanked with a multitude of PR activities.
posted by Muamer Hodzic @ 10/26/2006 09:39:00 AM
DiggIt!
DaimlerChrysler will NOT sell Chrysler Group

Yesterday the news broke that Bodo Uebber, DaimlerChrysler's CFO, said that it may be possible that the Chrysler Group will be sold.

"We don't exclude anything here...we will do our analysis. Second, we will talk about measures. And third, we will draw our conclusions."

DiamlerChrysler was quick to release a Press Release denying that possibility. Hartmut Schick, Senior Vice President - Corporate Communications, DaimlerChrysler AG, released a statement saying:
DaimlerChrysler reaffirms its previous statements made to the media that there are no plans to sell Chrysler Group. ...the resulting coverage and comments made it clear that this "not-for-sale" statement needed to be reaffirmed.
Well there you have it, Bodo's ambiguous statement was clear up by Hartmut Schick by denying any possible sale of the Chrysler Group.
posted by Muamer Hodzic @ 10/26/2006 09:26:00 AM
DiggIt!
Wednesday, October 25, 2006
Videos on Wednesday
The 2006 F1 season has ended last sunday, and I can guarantee you that there is not one F1 fan that is happy about that. Not only does it mean there won't be any races until next year, it also means that many of the drivers will change teams or like Schumi did, retire. For today I got some really nice video clips all related to the F1.



Michael Schumacher - Das Wunderkind






Kimi Raikkonen - His time with Mclaren






2006 Formula 1 season



posted by Muamer Hodzic @ 10/25/2006 05:06:00 PM
DiggIt!
DCX achieves operating profit of 0.9 billion Euro in Q3
DiamlerChrysler has just released their third quarter numbers, and looking at them, they are not very good compared to last years profit and units sold. They achieved a third-quarter operating profit of 892 million Euro compared to last years 1,838 million Euro.

Net income amounted to 541 million Euro in the third quarter compared to 855 million Euro last year. Earnings per share amounted to 0.53 Euro, compared with 0.84 Euro in the third quarter of 2005.

DaimlerChrysler sold 1.0 million vehicles worldwide in the third quarter, not equaling the high level recorded in Q3 2005 (-14%).

As a result of the lower unit sales, the Group's revenues decreased from 38.2 billion to 35.2 billion Euro. Adjusted for currency-translation effects, the decrease was 5%.

At the end of the third quarter of 2006, DaimlerChrysler employed a workforce of 365,451 people worldwide (end of Q3 2005: 388,014). Of this total, 168,965 were employed in Germany and 95,647 were employed in the United States (end of Q3 2005: 185,288 and 98,945 respectively).

DCX is definitely in a better shaped then Ford or some others in the automotive industry; these numbers are not what was expected of them, but at least they are not in the red.
posted by Muamer Hodzic @ 10/25/2006 10:36:00 AM
DiggIt!
2007 Mercedes Benz S550 Brabus Review


Robert Hallstrom, from European Car Magazine, had the opportunity to drive the super tuned S-class by Brabus. He has writen a great review and everyone that like this car, can't imagine who doesn't, should read it. Here is a preview of what he experianced.
No sooner had I reached the first traffic light than this guy in the car next to me pulled out a camera cell phone and started snapping photos of the car like some crazed paparazzo. It was clear to me he was stoked, even going so far as giving me a thumbs-up. Even on the car-jaded streets of Beverly Hills, the Brabus S550 is a star attraction.

No stranger to fanfare, premier Mercedes-Benz tuner Brabus AG had its hands on the new W221 S-Class late last year and began developing a comprehensive styling package designed to enhance the car inside and out.

Easily more elegant than its predecessor, the car's sharper angles and cleaner lines are complemented by a full Brabus aero package that adds just the right amount of sportiness without taking away from its luxurious and beautifully crafted panels. The sportier front valance extends below the bumper and tastefully incorporates a large intake area, as well as integrated high beams and foglights. The rear features a bumper that also wonderfully matches the flowing exterior contours and is designed to accommodate the Brabus sport exhaust and its stainless steel quad tips. A subtle trunklid spoiler provides further accent to the rear, and a pair of side skirts complete the package. Later that evening, I discovered the side skirts and rear valance feature hidden custom LED ground illumination.
I had heard about this new feature and was initially on the fence about it, thinking it would remind me too much of the undercarriage neon glow lights made popular with some of the less gifted within the import crowd. But this lighting serves a true purpose, effectively illuminating the curb and rear area when triggered by unlocking the doors or trunk. The valet at the Velvet Margarita was surprised, having not seen anything like it, as were the valet girls we bumped into later in the evening. Yes, all the valets were girls, and car chicks at that.
Click here to read the full article
posted by Muamer Hodzic @ 10/25/2006 12:18:00 AM
DiggIt!
Tuesday, October 24, 2006
Video Blogging the Paris to Beijing Marathon: Lithuania

The E320Guy has put out another video of his journey from Paris to Beijing; in this part, they are driving from Berlin and through Poland to arrive in Vilnius, Lithuania. They have reached the halfway point of the first leg of their 26 day odyssey.
I will continue to post these videos as they come in to keep you up-to-day with what is happening.
posted by Muamer Hodzic @ 10/24/2006 06:12:00 PM
DiggIt!
Monday, October 23, 2006
Video Blogging the Paris to Beijing Marathon
The Introduction to the marathon

The beginning of the marathon

You've all probably read about the Paris to Berlin marathon that Mercedes-Benz has organized. 36 Mercedes-Benz E-Class vehicles, powered by the cleanest diesel in the world, started a long-distance journey of over 13,600 kilometers to Beijing, where they will arrive on 17 November.

I've come across a couple of videos on YouTube from a Guy who will actually be participating in the trip. The "E320Guy", as he describes himself, will be filming the trip and posting it on YouTube, which of course is a great way to show everyone else who is not there, how it is to drive almost 14,000 kilometers with an E-class.

Another lucky participant is Donald (aka Agent001) from Autospies.com; he has taken some amazing pictures at the start of the trip and will provide us with more during the race. Check out his photo gallery
posted by Muamer Hodzic @ 10/23/2006 08:22:00 PM
DiggIt!
Sunday, October 22, 2006
Brazilian Grand Prix 2006
This weeks race in Sao Paolo was definitely a race to remember; not only was it the last race this season but also the last race from the "best" Formula 1 driver ever, Michael Schumacher. I am not sure if the next season and the seasons after that will be as exiting or as interesting without Schumacher and his competitiveness, but we will see if Alonso and Raikkonen will give us the same excitement we have come to expect. Alonso's move to Mclaren and Raikkonen's to Ferrari has angered many fans, but we all wish them the best with their new teams. This site will of course continue to support the Mclaren team, no matter who the driver is, but Raikkonen and Ferrari may also be mentioned in future posts.

Here is what the Mclaren team had to say about todays race.



KIMI RAIKKONEN

"This was a very difficult race. My car was not easy to drive today because I didn't have much grip. The straight line speed could have been better as it was not easy to overtake slower cars. I ran wide once towards the end of the race which allowed Michael Schumacher to close in, and despite all my efforts I couldn't keep him behind. As this is my last race for Team McLaren Mercedes I want to thank everybody in the team who have supported me throughout my five years here."



PEDRO DE LA ROSA

"A very tough race for me. I was on a one-stop strategy and obviously this was a little too hard for the tyres. As a result I couldn't really attack, but at least I scored one point for the team. On the occasion of this last race of the season I want to thank my team for giving me the opportunity to race, it was a pleasure and an honour to compete for Team McLaren Mercedes this year. I would also like to congratulate my compatriot Fernando Alonso on winning his second Drivers' World Championship."



RON DENNIS

"A disappointing outcome and not the way to finish what has been a difficult season. However next season already starts tomorrow. Congratulations to Fernando for winning the World Championship again. We will work hard to give him the same opportunity next year. I would like to wish Kimi all the best for next year, but as you would expect we will be doing our very best to ensure that we beat him."



NORBERT HAUG

"The result is not what we expected today. Obviously we didn't have the race speed to achieve a better position from second place on the grid. We will now focus all our efforts on the next season in order to definitely do a much better job. Congratulations to Fernando Alonso and Renault on winning both the Drivers' and Constructors' Championships. I want to thank Kimi for the five years he has competed for us and we are looking forward to race against him next year. As this was Michael's last race of his career I would like to wish him all the best for his future life, Formula 1 will be different without him, but I always will have great memories of his 15 years in the sport."


posted by Muamer Hodzic @ 10/22/2006 04:40:00 PM
DiggIt!
Friday, October 20, 2006
Mercedes Benz Fashion Week- KushCush Fashion Show

Let's all take a 5 minute break from cars and watch a Fashion Show. So why would you do that, well lets just say that there are some nice looking girls walking around almost naked, is that enough. The show was sponsored by Mercedes, so it is perfectly fine for me to show it here.
posted by Muamer Hodzic @ 10/20/2006 10:28:00 AM
DiggIt!
Successful Start of New E-Class in All Markets
While not all cars can say this proudly, the E-class can. The new generation of the Mercedes-Benz E Class has taken over the lead in the upper-range segment worldwide immediately following its market launch by selling more than 21,000 vehicles worldwide.

Since its introduction in June, the E-Class is the best-selling upper-range model in Germany, with a current market share of about 45 percent. In September alone, sales rose by eight percent in Germany to more than 6,000 units. As a result, the E Class performed much better than its main competitors.

With a current market share of 34 percent and sales of more than 12,100 vehicles in September, the E-Class also maintained the leading position in Western Europe. The same holds true in the U.S. and Japan, where the Mercedes-Benz upper-range model is clearly in front of its German competitors in the premium segment

I am sure that the trend will stay like this for the near future, with the introduction of the BlueTec engines and its cleanest diesel in the world technology, the E-class and Mercedes in general will have a bright future ahead of them.

The only problem the BlueTec engines will have is probably convincing the public that this is not your ordinary diesel engine found in Ford pick-up trucks, but something that is fuel efficient, powerful and clean to the environment found only in the new BlueTec models.
posted by Muamer Hodzic @ 10/20/2006 10:21:00 AM
DiggIt!
Thursday, October 19, 2006
New Smart ForTwo Test Drive
The folks over at AutoExpress had the chance to test drive the new Smart ForTwo scheduled to be revealed on Novermber 9th. According to them, the car has been improved in every way and has grown in both length and width, by 20 cm and 9 cm respectively.

The ForTwo will be offered to consumers with three different engine choices; an entry-level 61 hp version, a more powerful 71 hp edition, and a flagship turbo with as much as 84 hp.

Here is what they had to say about the Smart:
The more miles we did, the clearer the benefits of the new seats and longer wheelbase became. While the current Smart is a surprisingly capable cruiser, the newcomer is more stable, and engineers report it's easier to drive, too. The upmarket cabin is airy and spacious, and while the switchgear and instruments are covered in black tape and test gear, they look and feel far more robust.

So the Smart really has grown up; it's now more downtown than toytown. But will this be enough to save a brand which has needed to fight harder than bosses ever thought it would for each and every sale? The answer won't be known until the newcomer is officially launched in a few weeks.
Continue reading more at AutoExpress
posted by Muamer Hodzic @ 10/19/2006 09:17:00 AM
DiggIt!
Wednesday, October 18, 2006
Videos on Wednesday
McLaren Mercedes MP4-21 Launch



For those that can't wait for the last race in Sao Paolo, where Schumie will battle it out with Alonso, here is a great video showing the McLaren MP4-21.



Mika Hakkinen does a commercial for Mercedes



Continuing with the F1 theme today, I bring you a somewhat funny commercial with Mika; he was definitely one of the nicest and best drivers that the Formula 1 has had, too bad he retired early.
posted by Muamer Hodzic @ 10/18/2006 05:31:00 PM
DiggIt!
Tuesday, October 17, 2006
2007 Mercedes-Benz CLS63 AMG
You either love it or you don't, but one thing is for sure, the CLS will definitely leave a big dent in your pocket; that is basically the only drawback that CarAndDriver had about the '07 CLS. The base price for the CLS is $95,575, and the AMG version (which they tested) will cost you $100,805. Here is a nice preview from the C&D review:
"...the CLS63 has lots of grip, decent steering, and is very entertaining once the traction control is turned off and the throttle is mashed. It isn't quite as sweet a chassis as a BMW M5's, but the CLS has the advantage of a fine automatic transmission in place of the M5's clunky Sequential Manual Gearbox and a torquier, more compelling engine. Only serious AMG-heads are going to be able to spot the difference between this one and the CLS55. Discreet 6.3 AMG badges on the flanks and tail are the only real external clues, while there is a new instrument cluster and a fabulous, race-car-like steering wheel. Otherwise, the gorgeous CLS shape and lush interior remain. Why mess with success?"
Continue reading at CarAndDriver
posted by Muamer Hodzic @ 10/17/2006 10:21:00 AM
DiggIt!
3 BlueTec powered models at launch
Mercedes has released details on their upcomming storm of diesel models. They have announced the availability of the ML320 CDI, suggested retail price of $ 44,455; the R320 CDI, priced at $ 44,775; and the E320 BLUTEC, that begins at $ 52,325.

The 3 models will get a 3.0L V6 diesle engine that has the power of V8 engine, but the fuel-economy of a 4 cyclined engine.

The 320 Bluetec with its 208 hp will get a 40 percent increase in fuel economy, taking the car to a 27/37 city/highway rating, wich means that it can go 700 miles before it has to refuel. Both the ML320 with its 21/27 mpg and the R320 with its 21/28 mpg can go over 600 miles before having to refuel.
posted by Muamer Hodzic @ 10/17/2006 09:46:00 AM
DiggIt!
Monday, October 16, 2006
Introducing the Mercedes-Benz S 600 Guard
If you are a head of state or are a millionaire who is afraid for his life, then this definitely the car for you. Introducing the all new redesigned Mercedes-Benz S 600 Guard, which offers Highest Protection and has been engineered to resistance level B6/B7, as tested and certified by state-approved organisations. Its armour resists military-standard small-arms projectiles and provides protection against fragments from hand grenades and other explosive charges. Additional safety features include run-flat tyres, a self-sealing fuel tank and a fire-extinguishing system.

Not only is the car safe against any terrorist attacks, but also offers all the features that you have come to expect from the S-class. These include Brake Assist PLUS and the PRE SAFE brake in combination with DISTRONIC PLUS, night view assist and the enhanced PRE-SAFE anticipatory occupant protection system.

For anyone with a deep pocket, this is for you; if you are asking what the price is, then you clearly can't afford it.


posted by Muamer Hodzic @ 10/16/2006 01:23:00 PM
DiggIt!
Sunday, October 15, 2006
DCX announces smaller Maybach
Source: AutoExpress


What's a luxury car manufacturer to do when it arch-rival announces a new model; well it simple does the same. The super luxuries Maybach has revealed that it is planning to develop a smaller model to directly compete against the newly announced smaller Rolls-Royce.

Auto Express has learn some details about the new Maybach and Dieter Zetsches plans with the mini-model.

Dr Zetsche told Auto Express: "Obviously, there is some space between the price range of the current Maybach and the top Mercedes. We are looking into that, and if there's a chance of filling it we have to decide if we want to.

"We also have to make a decision over whether we want to do it with a bigger Mercedes or a smaller Maybach. However, we feel under no pressure to make that decision soon."

This of course this is not just a rivalry between Maybach and Rolls-Royce, but between the two parent companies, Mercedes and BMW. It will be interesting to se how this plays out and if the smaller cars will be a hit with the super rich.
posted by Muamer Hodzic @ 10/15/2006 12:47:00 PM
DiggIt!
Friday, October 13, 2006
DaimlerChrysler at the Paris Auto Show

Autoblog has finally released some footage from their Paris Auto Show visit. In their DaimlerChrysler segment they are showing the Dodge Avenger, CL63, and the SLR 722. It is not the best video nor is it the best coverage on Mercedes cars, but it's better than nothing.
posted by Muamer Hodzic @ 10/13/2006 10:04:00 AM
DiggIt!
Wednesday, October 11, 2006
Mercedes CL63 and S63 AMGs in the Alps

You've probably seen pictures of the CL63 and S63 from the Paris Auto Show or at some other location, but here is a video from Germans best automobile website/magazine - Autobild. Since they (Autobild) are based in Germany, they are lucky enough to get the hands on everything new from Mercedes, like in this situation.
posted by Muamer Hodzic @ 10/11/2006 04:42:00 PM
DiggIt!
Videos on Wednesday
Wednesday is one of my favorite days, not just because it is a time for videos but also because it is the middle of the week and so close to Friday.



Faithful



This beautiful commercial was sent in by Moses, no not the prophet, and really reflects what Mercedes stands for. I wish they would have continued showing this commercial, maybe not the same one but the concept could be continued with other families and different stories.



Mercedes CLK DTM AMG Cabrio



Unfortunately it is German, but like always just enjoy the video. If you would like one and have the money (236,060 Euro), then you are out of luck because they are sold out.

Mercedes-Benz CLK DTM AMG Cabrio - 236.060 Euro
(limited to 100 Cars)
Leistung - 582PS(428KW)
Drehmoment - 800Nm
Vmax - 300Km/h, electroniclly limited



Urban Stealth Technology



This is definitely a cool idea, but I am not sure if people will be so distracted by the M&Ms that they won't notice the cars shape.
Here is what the editor from AdvertsingforPeanuts, very cool website, had to say
Elias Kouloures is a junior creative at BBDO Germany's 18 month creative-trainee-program . He and his team wrote and shot this video themselves. There's a very cool idea here. Urban Stealth as a concept could make a nice campaign starter. And there's an interesting cross branding going on with M&M that should be further explored. While I'm not a big fan of the announcery style voice over and the script should be tightened up, there's some forward thinking going on here that I wanted to applaud. What juniors lack most is polish. That's all this idea needs. You other juniors be sure to keep pushing to get your ideas out there - it doesn't matter how.
posted by Muamer Hodzic @ 10/11/2006 10:12:00 AM
DiggIt!
Tuesday, October 10, 2006
Autobild has more C-class illustrations
I am really sorry for not being able to show you the Illustrations, but I was forced to remove them. I will soon have more information on what happend, but for now please go to

Autobild

and see the pictures there.



-----------------

Autobild has released another round of computer illustrated photos of mid-class sedans from many of the top manufacturer. Mercedes is of course there with its C-class and the wagon as well. After all the illustrations we have seen so far, and there are many, they are starting to look pretty similar, which could mean that they actually might know what the next C-class will look like. I am not sure when Autobild was right the last time it released a CGI for an upcoming model, but we of course love looking at them along with spy shots.

Read more and look at other illustration at Autobild
posted by Muamer Hodzic @ 10/10/2006 10:48:00 AM
DiggIt!
Mercedes GL500 tuned by Carlsson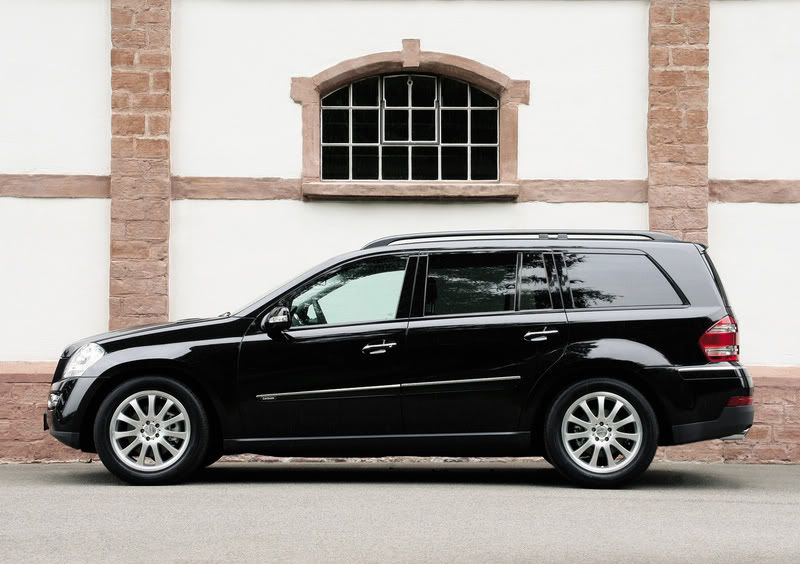 German car tuner "Carlsson" has releases information on their GL500 package that gives the giant more horsepower a long with other nice features. The Carlsson CK50 engine kit increases the horsepower to 435 with 6000 rpm and 600 Nm of torque at 2800-4800 rpm.

Along with the usual comfort that Mercedes offers in their cars, the Carlsson CK50 will have C-Tronic electronic suspension system that adjusts to road conditions. It will be able to lower the car height as low as 35 mm for a sportier feel. The outside adds some to the sporty image, with the body kit and custom wheels, along with the exhaust system.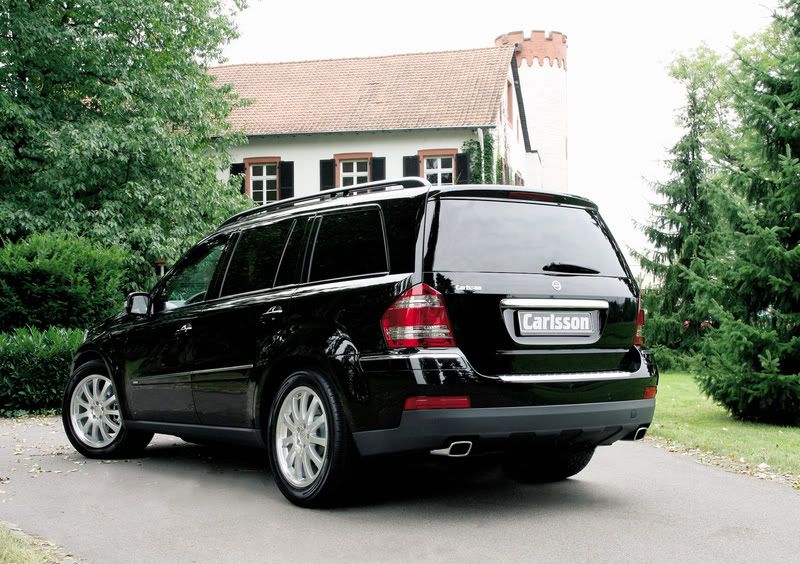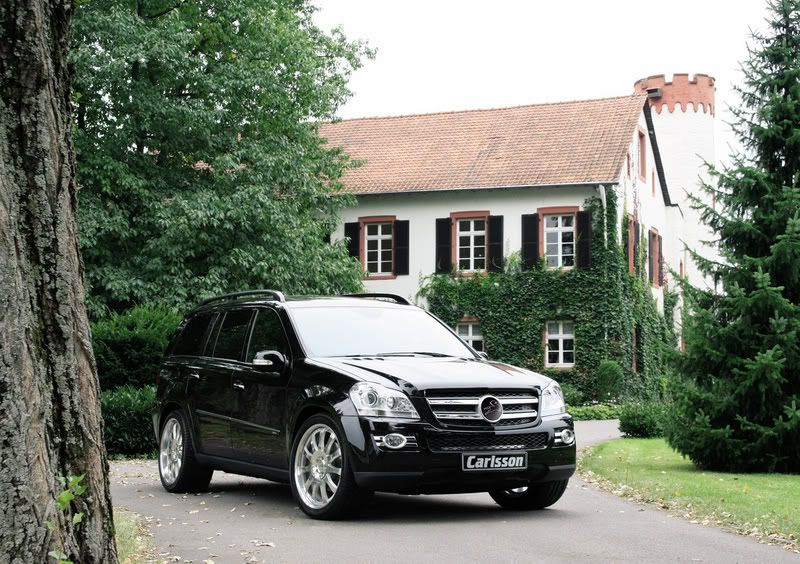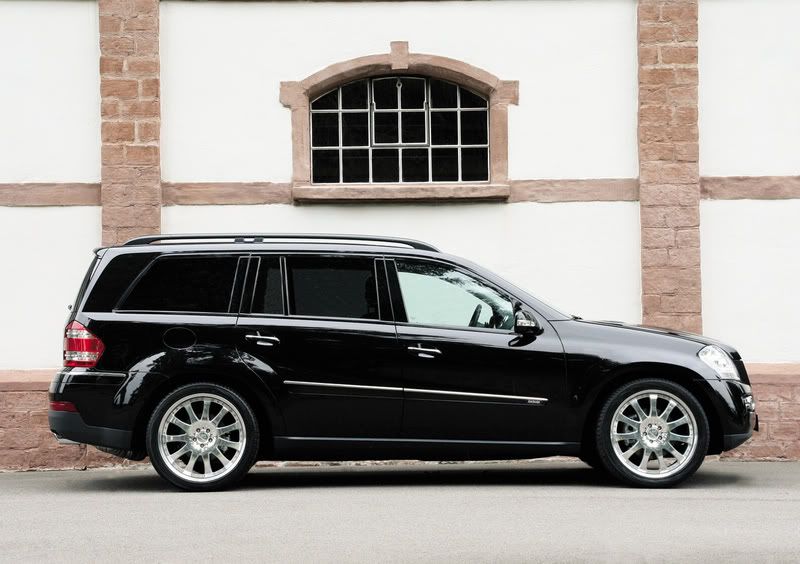 posted by Muamer Hodzic @ 10/10/2006 09:32:00 AM
DiggIt!
Monday, October 09, 2006
Top Gear - Mercedes Benz SLR vs. Boat
This must be one of the funniest and most entertaining Top Gear shows ever. Watch Jeremy drive from London to Oslo with an SLR, while May and Hammond take the Boat across the North Sea.


Part 1





Part 2





Part 3





Part 4





Part 5
posted by Muamer Hodzic @ 10/09/2006 09:51:00 AM
DiggIt!
F1 Japan: Kimi Raikkonen Fifth
This weekends F1 race at Suzuka was very exciting until the 36th round, after that, it became one of the most boring and frustrating races this season. Why 36th, well that is when the Schumie had his engine blow up, instantly ending the chance for us to see a last head-to-head fight in Sao Paulo. Other than Schumie's engine blowing up and Alonso winning in Suzuka, Raikkonen came in 5th and de la Rosa 11th.

Both cars carried a heavy fuel load for a long first stint. Pedro was running in 12th position when he made his first refuelling stop at the end of lap 20 (7.5sec) and lost one place when he rejoined the race. Kimi was fourth by lap 22 when he pitted for the first time (9.7sec) before resuming in eighth place.

On lap 40, Pedro was running tenth when he made his second refuelling stop (6.6sec) and lost the position as a result. Kimi was now running third. He came in for his second pit stop on lap 41 (5.7sec) and rejoined in fifth place.

Here are what Kimi and the rest had to say:


Kimi Raikkonen:

"That was a good result for where we started the race, but it is not really good enough to be fighting for fifth place, and not what we wanted out of the weekend. The car felt a lot better today especially in the long runs, but our race today was lost in qualifying yesterday where we just couldn't get the speed out of the car that was possible."



Pedro de la Rosa:

"That was really a difficult race for me today. Starting from 13th on the grid it was always going to be difficult to move through the field as everyone around me was on very similar strategies. I really struggled to get any pace out of the car as my tyres just had no grip. This weekend could have been a lot better if we had been on different tyres."



Ron Dennis, Team Principal:

"A tremendous race by Kimi, fifth place was the best he could do under the circumstances. Our race pace was not so bad and would have been even better with the right tyre choice. With that in mind, we are looking forward to Brazil where we expect to be more competitive. Pedro drove a solid race. However coming from this low grid position it was difficult to improve further through the field."



Norbert Haug, Vice President Mercedes-Benz Motorsport:

"The race speed was better than qualifying had indicated. This was shown by Kimi's fourth fastest lap of the race. However more than fifth place was not really possible, taking into account that he came from 11th on the grid and we probably didn't take the optimum tyre choice. We now focus all our work on being more competitive in the final race at Brazil."


posted by Muamer Hodzic @ 10/09/2006 09:32:00 AM
DiggIt!
Friday, October 06, 2006
Mercedes AMGs vs DTM vs F1

They are at it again, but with different cars. I am not sure if this clip is older or more recent than the first version, but it is very interesting. This time they have four cars; a C-class coupe AMG, SL AMG, CLK DTM and Coulthart's F1 car.
posted by Muamer Hodzic @ 10/06/2006 03:23:00 PM
DiggIt!
Mercedes sales unchanged, group sales down
Mercedes worldwide sales in September were not as good as same time last year. The car group sold 116,100 cars last month compared to 117,800 last year in the same month. Sales for the first 3 quarters saw a record figure of 934,200 units compared to last years 883,000 or a 5.8% increase.

After very strong sales in September 2005 as a result of the successful launches of the B-, M-, R- and S-Class, Mercedes-Benz managed to keep sales at the same record level in September 2006. The worldwide deliveries of 106,600 units matched the total posted in September 2005. During the first three quarters, sales at Mercedes-Benz rose by nine percent to the record of 846,300 passenger cars (Q1-Q3 2005: 773,800).

The response to the new generation E Class has been very positive, with demand for the vehicle climbing by two percent in September to 21,000 units worldwide. Since July, the E-Class has once again been the international market leader for upper-range automobiles.


posted by Muamer Hodzic @ 10/06/2006 09:42:00 AM
DiggIt!
Thursday, October 05, 2006
Mercedes CL63 AMG Review
Expected to arrive next year in March, this beast which CarMagazine says leaves the Bentley GT look frumpy and cumbersome will cost you £105,000 ($198,198); this was a simple currency conversion, but I am sure the price will be close to that figure.

The CL AMG has a lowered ride height, 19inch alloy wheels, a tarmac-touching body kit and four vast exhaust pipes. It also has a powerful 518 hp V8 with 6800rpm.

Read more at CarMagazine


posted by Muamer Hodzic @ 10/05/2006 09:44:00 AM
DiggIt!
Wednesday, October 04, 2006
The Axis of Diesel
A great article on CNN Money about the future of Diesel cars. As expected the Mercedes BlueTec system is the main focus of the article, along with a list of comapanies that are following Mercedes into the future with their own versions of diesel engines.

On the side of the article (photo below) they have a comparison test between the Mercedes E 320 BlueTec and the Lexus GS450h. Please take the time and look over it, you'll see something very interesting.


posted by Muamer Hodzic @ 10/04/2006 05:29:00 PM
DiggIt!
Details Emerge on 2008 Mercedes C63 AMG
Mercedes fans can hardly wait until spring next year and the Geneva Motor Show; there Mercedes is expected to introduce the next generation C-class that we all have been talking about for months. According to Inside Line, a special edition C63 AMG powered by a 6.2-liter V8 delivering upward of 450 horsepower will also be making a debut.

The guys over at Inside Line have learned from company sources that the C63 AMG should be able to outgun the 420-hp Audi RS4 as well as the upcoming BMW M3, which is rumored to deliver 415 to 420 hp. That should give the hotter C-Class a clear edge in the power sweepstakes.
Additional information from Inside Line


U.S. enthusiasts can only hope the new AMG-massaged C-Class will come to the States. The most potent C-Class model currently sold here is the 2006 C55 AMG, which features a 362-hp 5.4-liter V8.





The car will look the part of a compact muscle car too, promises Mario Spitzner, AMG director of marketing and sales/branding.





"It would be sportier and more crisp in the future," he said. But don't expect full-on German Touring Car regalia. "The world doesn't need two M3s," Spitzner said.





That likely means the C63 will remain understated compared to its Munich rival, with ride and handling that are suitably refined for the three-pointed star.





"If you drive our cars over long stretches, you don't get out of them with a backache," Spitzner said.





That means not only comfortable seats, but a smoother ride and steering that emphasizes stability. "It should tell me what it is doing, but it should not scream at me," Spitzner said.





A C63 AMG wagon variant is promised as well, but not before model-year 2009. The standard C-Class, in addition to all-new sheet metal and an upgraded cabin, will continue to offer 4Matic and a choice of gas and diesel power plants to customers on both sides of the Atlantic. The first cars should reach U.S. dealers in fall 2007.
posted by Muamer Hodzic @ 10/04/2006 05:10:00 PM
DiggIt!
Videos on Wednesday
Old Mercedes commercial



This is I just had to share; one of the funniest commercials in a while. It is perfectly fine to wonder how the commercial is relevant to Mercedes at the beginning, but the end has the secret.



Mercedes-Benz S-class history



Here is another clip showing the S-class; this time it is the cars history and how it has changed over the decades.
posted by Muamer Hodzic @ 10/04/2006 04:30:00 PM
DiggIt!
Tuesday, October 03, 2006
Mercedes Car sales up by 13.2%

Another great month for the Mercedes Benz Car Group; car sales in September were 19,873 compared to last years 17,552 or a 13.2% change. DaimlerChrysler said its overall sales decrease of 2.3 percent was mostly due to the Chrysler Group, where sales fell 3.8 percent to 168,888. At Chrysler, car sales plunged 26.6 percent, while trucks rose 4.3 percent despite an air bag and seat belt recall that limited sales of the Dodge Ram pickup.
posted by Muamer Hodzic @ 10/03/2006 06:20:00 PM
DiggIt!
Mercedes GLK unofficially announced
A day after I was wondering whatever happened to the GLK, we get the news that Klaus Maier has confirmed the release of a new SUV, which will be positioned below the current M-class. According to Autoweek, the GLK will launch in 2008 in Europe and 2009 in North America. Klaus Maier, Mercedes executive vice president of sales and marketing, said "The new SUV is a very interesting car for the US market," while speaking to analysts in Stuttgart September 19. I am not quite sure why it took the media 2 weeks to get the story out. Autoweek has some more details on its competitors, mainly the X3, Acura's RDX and possibly the rumored Q5 from Audi.



Additional info:


The GLK will be built at Mercedes parent DaimlerChrysler's plant in Bremen, northern Germany.

The SUV likely will be based on the Mercedes C-class platform. Spy photos indicate that the new car will resemble a smaller version of the GL class, Mercedes' recently launched large premium SUV.

To win the GLK contract against competition from Brazil, workers in Bremen had to agree to cut total production costs by 100 million Euro. GLK production will secure jobs for 2,000 to 3,000 workers in Bremen.

German press reports said D/C had threatened to build the GLK in D/C's plant in Juiz de Fora, Brazil. The plant was originally selected to build an SUV called the ForMore for D/C's Smart small-car brand.

D/C canceled the ForMore project in April 2005 as part its restructuring program for the loss-making Smart business unit.


posted by Muamer Hodzic @ 10/03/2006 04:40:00 PM
DiggIt!
The Ultimate Roadster Race Test


Six of the best and most expensive roadsters have been put in a race track to battle it out. It's definitely worth watching, since there may be some surprises that you didn't expect. It's certainly not all about the price as you will see; some of the cheaper cars are ahead of more expensive ones.
posted by Muamer Hodzic @ 10/03/2006 09:43:00 AM
DiggIt!
Monday, October 02, 2006
Mercedes working on a X6/Q6 competitor

The Forums are full of rumors that Mercedes-Benz is building an X6/Q6 competitor, since MB registered a trademark in Germany for the letters 'GLC.' Nobody is really sure what those 3 letters will be used for or if they will ever be used. Could the GLC stand for (GelaendeLuxusCoupe)? These are definitely signs of a new segment that all three are going for; it will be very interesting if all these rumors are true and to see them battle it out in the coming years. The above pictured GLK is said to compete against the Q5 and the X3, but no word if it is going to be produced.
posted by Muamer Hodzic @ 10/02/2006 12:56:00 PM
DiggIt!
How Mercedes Benz BlueTec Works


If you've read the previous post about the Mercedes-Benz E320 BlueTec, and are not sure how the system works, then this is definitely for you. This is probably the best way for someone to get the picture on how the fuel gets to the engine, certainly better than having to read about it.
posted by Muamer Hodzic @ 10/02/2006 12:49:00 PM
DiggIt!
2007 Mercedes-Benz E320 BlueTec

Car and Driver has writen a great little piece about the 2007 Mercedes-Benz E320 BlueTec. Here is an excerpt from C&D: "There is a lot to appreciate about the new 2007 Mercedes-Benz E320 BlueTec. For starters, it is powered by a technologically advanced 3.0-liter turbo-diesel V-6 that utilizes a sophisticated network of exhaust gas treatment devices that make the BlueTec the "world's cleanest diesel," according to Mercedes-Benz."

Car and Driver are definitely feeling the BlueTec technology, along with everyone else, and are impressed that the diesel version will only cost $1000 more than the regular version. This of course will give the Mercedes and advantage, since you are not paying thousands more just to save a couple dollars at the pump, like the Prius or similar others do. Although, the E320 BlueTec will cost you $52,325, but if you are already buying a luxury Sedan and is in that range, why not go for it.
posted by Muamer Hodzic @ 10/02/2006 12:38:00 PM
DiggIt!
Sunday, October 01, 2006
Chinese Grand Prix Race Report
Team McLaren Mercedes driver Pedro de la Rosa finished today's action packed Chinese Grand Prix in fifth place - gaining two places on the final lap. Team mate Kimi Raikkonen retired on lap 19 due to a failure of the engine throttle mechanism. Kimi had his pitstop on lap 16 (9.3 seconds) whilst Pedro came in on laps 17 (7.7 seconds) and 36 (10.3 seconds). Both drivers will now travel to Tokyo for a few days before heading to Suzuka for the Japanese Grand Prix

PEDRO DE LA ROSA
"A difficult race for everybody. I made a wrong call after the first stint when I asked my engineer for a different set of intermediate Michelin tyres. In hindsight I should have stayed on the ones I had, like Kimi, as the track was drying, and I suffered from graining. This lost me a lot of time but apart from that our pace was good. I didn't see much of what happened towards the end of the final lap. It had started raining slightly again, and we were all on dry weather tyres coming into what is a hard braking area. I was lucky to stay out of trouble and gained two places as a result. Our car seems to be on the pace. I'm sure we will win a race before the end of the year."

KIMI RAIKKONEN
"That was a shame as it was looking like we could achieved a win today. I don't know exactly what happened, but all of a sudden the throttle didn't react correctly and the engine went into safety mode and selected neutral. I made a good start and then got on the outside and gained a couple of places - it was a bit tight, so I didn't manage to get past Fisichella at that point. I overtook him later on and was gaining on Alonso before my first scheduled pitstop. I'm disappointed, but at least we showed that we have the speed, so I'm looking forward to Japan now."

RON DENNIS
"Obviously an action packed Grand Prix. Kimi's strategy and car set-up were more than capable of winning the race. Unfortunately a failure of the engine throttle mechanism forced him to retire. Pedro struggled with front-end grip and had a spin following his pitstop. However he did well to finish fifth, and the entire team now looks forward to the Japanese Grand Prix at Suzuka next weekend."

NORBERT HAUG
"An eventful race which began promising with Kimi running second. However a problem with the throttle activation system led to his retirement. The reason for this is being investigated. Kimi's lap times were strong and good enough to win the race. Pedro drove a solid race, had a spin after changing to grooved tyres and came home fifth. With two more races to go we want to clinch the victory we missed today."


posted by Muamer Hodzic @ 10/01/2006 02:26:00 PM
DiggIt!
Previous Posts

Archives

Feeds