Giancarlo Perlas
September 13, 2023
In the bustling city of Melbourne, a striking automotive gem has emerged for those with a penchant for rare and unconventional vehicles. Priced at $95,000, a custom 1987 Mercedes-Benz G-Class ute is currently up for grabs, promising a distinctive driving experience with its swapped engine.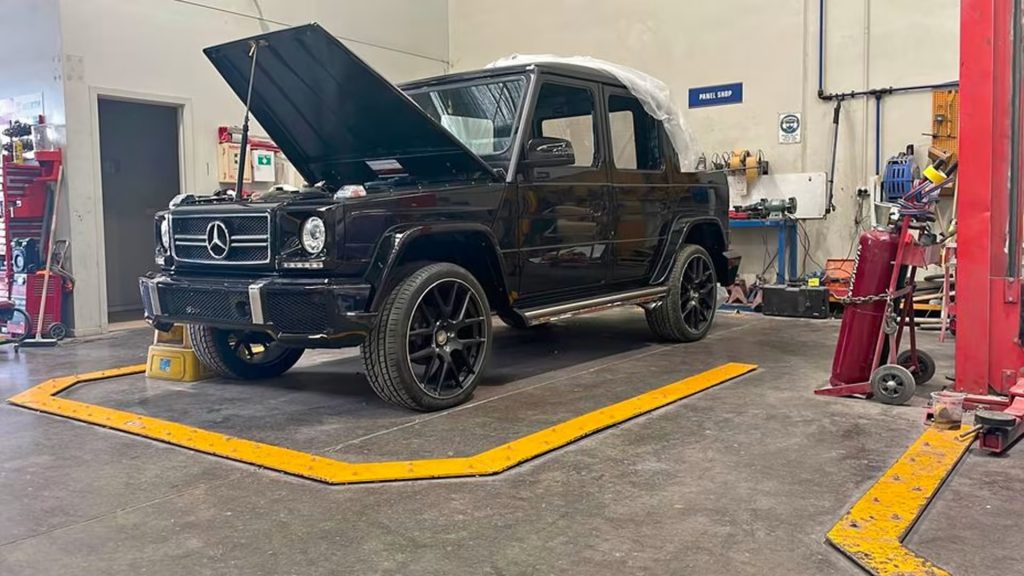 Customized Transformation
This iconic 1987 Mercedes-Benz G-Class being sold in Melbourne via Facebook Marketplace has undergone a remarkable transformation, defying its original design. According to Drive, it is equipped with a 462 Series AMG body kit, flaunting a fresh appearance with a revamped front end, new fenders, and updated rear lamps.
Yet, the most striking change is the conversion from a traditional G-Wagen to a utility vehicle. The rear portion of the vehicle has been meticulously reworked, removing the wagon body to create a space that now accommodates a compact tub.
Surprise Under the Hood
Beneath the bonnet of the G-Class ute lies an unexpected powerhouse. The original engine, whether a 3.0-liter five-cylinder diesel or a 2.3-liter four-cylinder petrol, has been replaced with a robust 5.7-liter Chevrolet LS1 V8 engine – the very same one found in the VT-VX Holden Commodore.
The engine cover itself has been seamlessly integrated, proudly bearing the Mercedes emblem in place of the Holden insignia.
The Catch
While this custom G-Class ute starts and drives, it's not quite a finished product. Prospective buyers should be aware that some finishing touches are required to bring this unique vehicle to completion.
Specifically, the interior needs re-upholstering and installation.
Final Thoughts
In a world where high-end tuning companies command premium prices for customized G-Class utes, this Melbourne find somehow offers a cost-effective alternative for those looking to stand out. While it may not come cheap, it's undeniably a distinctive way to make a statement on and off the road and a better alternative than the 385 grand Pit26 overlanding pickup or the over half-a-million Brabus 800 XLP conversions for the G-Wagen.