Giancarlo Perlas
September 7, 2023
A remarkable chapter in motorsport history is set to unfold as a 1984 Mercedes-Benz 190E 2.3-16 'Nurburgring' prepares to go under the hammer at RM Sotheby's St Moritz collection. This exceptional Mercedes 190E, which boasts a fascinating backstory, is poised to captivate enthusiasts and collectors alike, carrying with it a legacy intertwined with Formula One legends.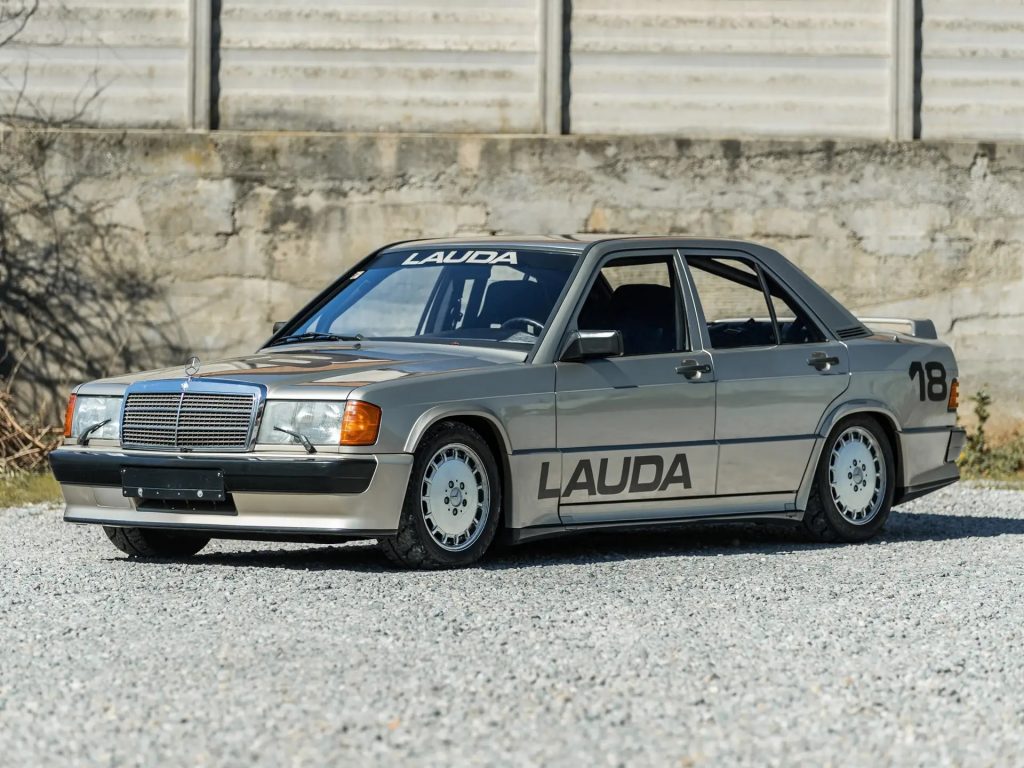 Revisiting History
The story has it that in the early 1980s, Mercedes, known for its renowned reputation for quality and durability, ventured into the realm of sports sedans with the 190E series. To demonstrate the 2.3-16's prowess as a performance car, the automaker hosted a Nurburgring Champions Cup. This event summoned 20 F1 icons to the Grand Prix circuit for an exhilarating one-make race, pitting legendary racers against each other in a thrilling showdown.
Among the luminaries participating in this extraordinary event were Alain Prost and the iconic Ayrton Senna, who ultimately emerged victorious. However, the second-place laurels went to the revered Niki Lauda. Fast-forward to the present day, and the Mercedes 190E being auctioned here is the very same car that Lauda expertly piloted on that memorable day, May 12th.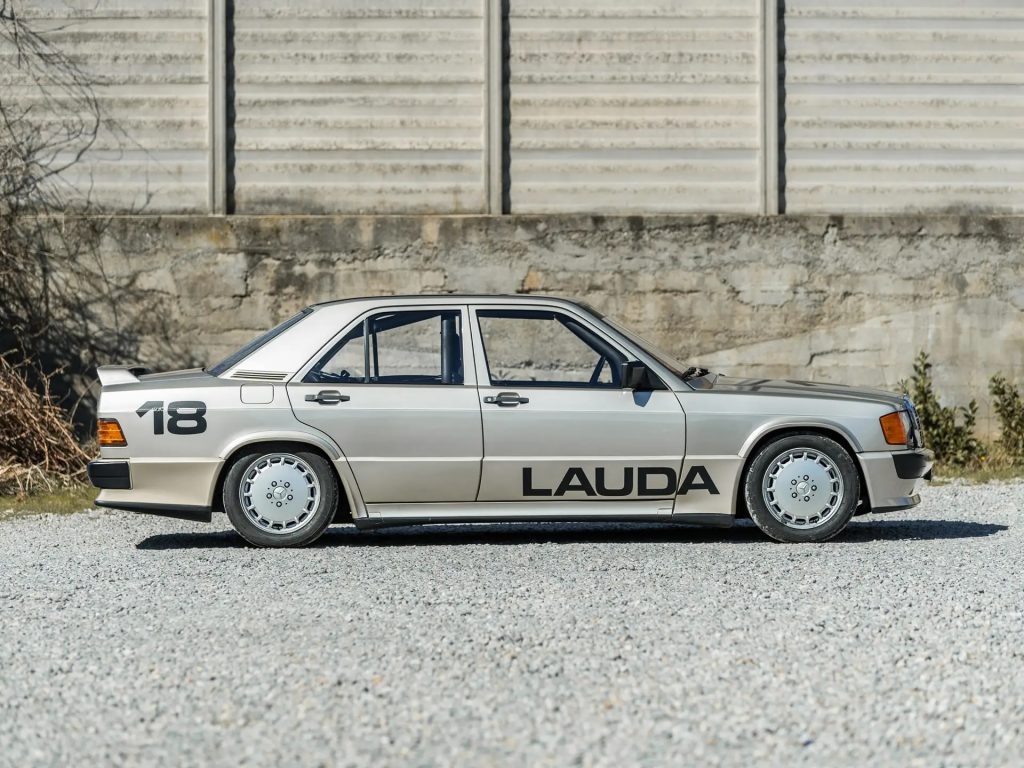 The race itself was nothing short of dramatic, with rain pouring down as the rear-wheel drive 2.3-16s maneuvered around the track, making the most of their advanced multi-link rear suspension. Prost, starting from pole position, faced misfortune when Elio de Angelis collided with the rear of his car after just four turns. Prost's woes continued as his long-time rival, Senna, executed an aggressive maneuver to force him off the track, allowing Senna to seize the lead.
Behind the wheel of the Smoke Silver example, Niki Lauda closely trailed Senna for the final eight laps, engaged in a fierce battle for the top spot. Senna ultimately clinched victory with a 1.58-second lead, further solidifying his reputation as a versatile and formidable driver.
1 of 21 Units Tuned by Mercedes-Benz Sport-Technik
According to the auctioneer, this Mercedes 190E sample is one of the 21 vehicles handpicked from the production line that later received specialized modifications, courtesy of Mercedes-Benz Sport-Technik. These enhancements encompassed a revised suspension setup, four-piston front brakes, and an upgraded exhaust system.
The interiors were meticulously outfitted with a bolt-in roll cage, Recaro racing seats equipped with six-point harnesses, and a fire extinguisher. The steering wheel was also swapped out for a smaller, more race-oriented diameter.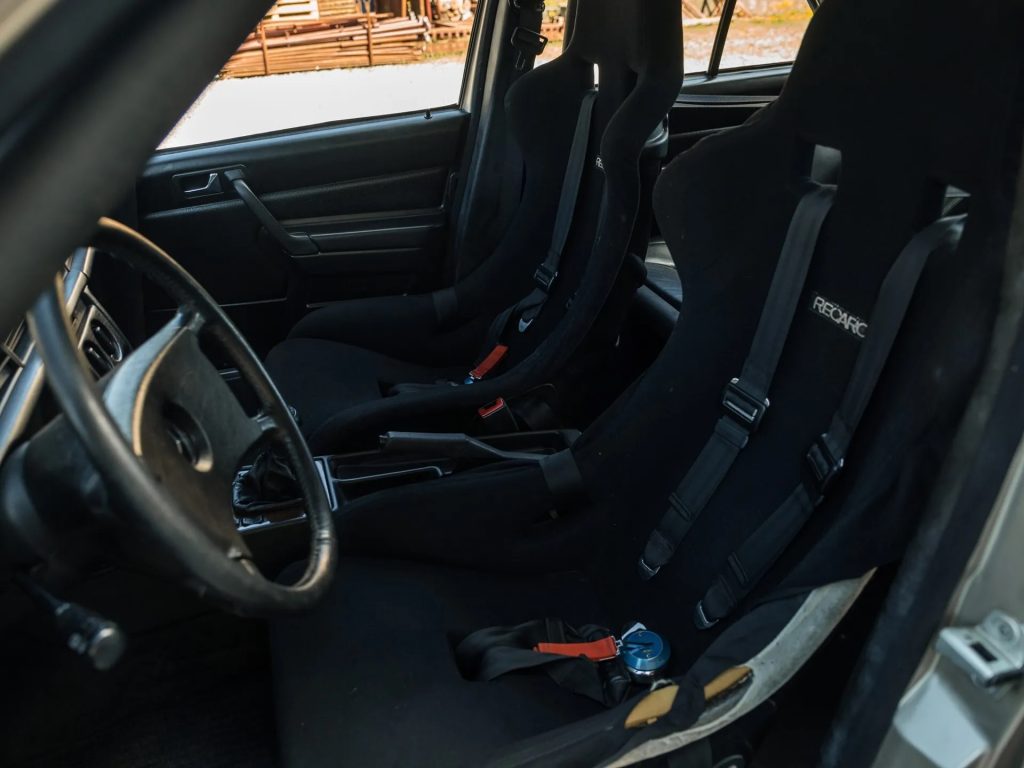 Additionally, Mercedes Sport-Technik equipped these vehicles with wider wheels and Pirelli P7 205/55VR15 tires. Interestingly, the official paperwork submitted to the German National Racing Commission reveals that these 21 190Es did not race with the engines listed on their factory data cards.
Ownership History
The uniqueness of Lauda and Senna's Mercedes 190E cars lies in their retained configurations, as they were the sole exceptions. The remaining vehicles were restored to factory condition and subsequently sold to Mercedes VIPs or dealers as used cars.
Senna's 2.3-16 found a permanent residence in the Mercedes-Benz museum, while Lauda's example became the exclusive privately owned specimen, residing within the esteemed Iseli Collection for many years. Consequently, this iconic vehicle is poised to command a substantial price at auction when it graces the block on September 15.
A Peek Under the Hood
Under the hood, this sporty Mercedes 190E boasts a 2.3-liter four-cylinder engine with 16 valves, fine-tuned by the renowned engine tuner, Cosworth. This tuning elevated its power output to an impressive 183 horsepower, coupled with 174 lb-ft of torque. Acceleration from 0 to 62 mph took less than eight seconds, with a top speed capped at 143 mph.
Notably, due to emissions regulations, US-spec models produced slightly lower power figures, with 167 hp and 162 lb-ft of torque. In 1988, the Cosworth received a more potent 2.5-liter engine, setting the stage for the iconic Evolution models, of which a mere 502 examples were crafted. The 2.3-16's remarkable endurance was underscored by its achievement of covering over 31,000 miles non-stop in just eight days at the Nardo Circuit.
Final Thoughts
For prospective buyers with a keen interest, a deep pocket will be essential. This Lauda-driven Mercedes 190E is expected to fetch a substantial price, with estimates ranging between $450,000 to $550,000.
As we reflect on this remarkable automotive chapter, it's clear that the 190E 2.3-16 has left an indelible mark on the world of motorsport, paving the way for future legends like the new C43 AMG, a high-performance sports sedan rooted in the C-Class luxury sedan lineage.