Giancarlo Perlas
September 27, 2023
Mercedes-Benz, the trailblazing automaker driven by its mantra "The Best or Nothing," is making waves once again as it unveils the DRIVE PILOT, a groundbreaking SAE Level 3 automated driving system for the US market. In a significant milestone, the company has received approval from California and Nevada, marking the first step toward revolutionizing the future of driving. The production-ready version of DRIVE PILOT is set to debut in late 2023 for the S-Class and the EQS, promising to redefine the driving experience as we know it.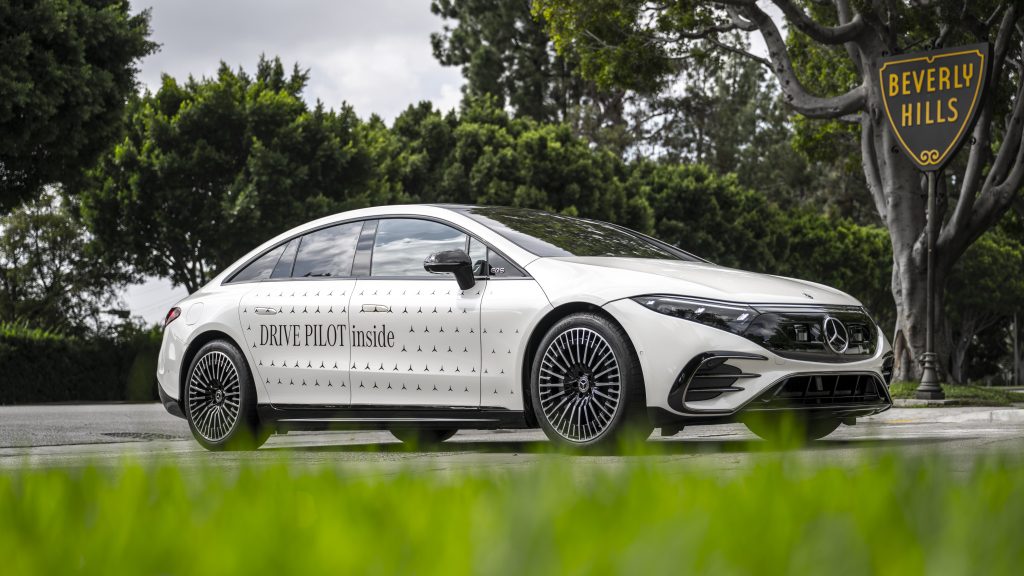 A Milestone in Automated Driving
According to the latest press release of Mercedes-Benz USA, it has achieved a major breakthrough by becoming the first automotive manufacturer in the world to introduce a Level 3 automated driving system in a standard-production vehicle for US customers. With state approvals in hand, California and Nevada have paved the way for the deployment of this revolutionary technology on major freeways.
While each state may have its own regulatory framework, the company is committed to expanding the availability of DRIVE PILOT to additional US markets in the near future.
Unleashing DRIVE PILOT
DRIVE PILOT is set to change the way we interact with our vehicles. This innovative technology lets the vehicle assume control of the dynamic driving task, offering relief to drivers in heavy traffic situations and on suitable freeway sections with speeds up to 40 mph.
Once activated, the system takes charge of speed, distance, and lane keeping, granting the driver the freedom to engage in other activities, transforming the daily commute into a more productive and enjoyable experience.
Safety at the Core
Safety is paramount in Mercedes' DRIVE PILOT system. It builds upon the foundation of the Driver Assistance Package, enhancing it with additional sensors that are crucial for safe automated driving. These sensors include LiDAR, a rear window camera, microphones for emergency vehicle detection, and even a road wetness sensor in the wheel well.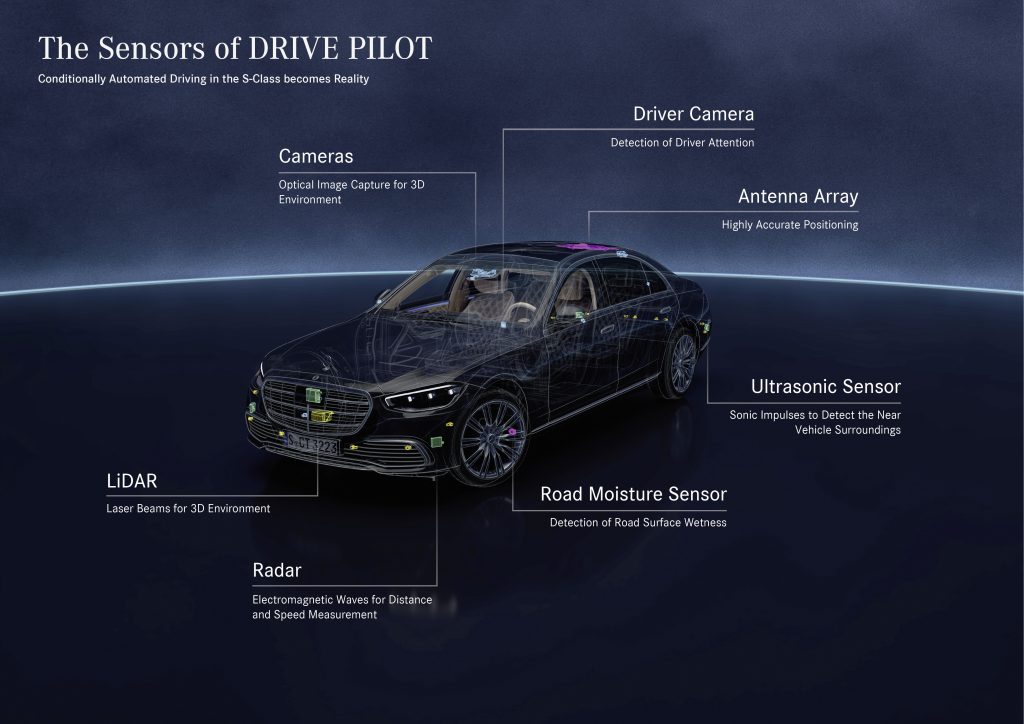 Furthermore, the system incorporates redundant steering and braking actuators, along with a backup electrical system, ensuring maneuverability even in the event of a system failure, thus guaranteeing a secure handover to the driver.
The Subscription Model
Mercedes understands that the future of driving is ever-evolving, and with that in mind, they are introducing a subscription-based model for the feature. Starting with the S-Class and EQS at a competitive price point, customers can activate this cutting-edge technology via the US Mercedes me connect store.
This approach ensures that customers are well-informed about the system's capabilities at the time of Level 3 activation. Moreover, it provides flexibility for users who may relocate to areas without access to Level 3-enabled freeways, allowing them to decide whether to renew their subscriptions.
Precision in Positioning
DRIVE PILOT employs a high-precision positioning system that goes beyond traditional GPS technology. It can pinpoint the vehicle's location with an incredible level of accuracy, down to inches.
This system, combined with data from LiDAR, cameras, radar, and ultrasonic sensors, creates a three-dimensional digital map of the road and its surroundings. This map includes vital information about road geometry, route characteristics, traffic signs, and real-time traffic events, such as accidents or roadwork.
Constantly updated, this map ensures that every DRIVE PILOT-equipped vehicle is operating with the most current information, enhancing both safety and reliability.
Ethical Considerations
Mercedes is not only revolutionizing technology but also taking ethical considerations seriously. To inform all drivers when the automated driving function is enabled, the company has developed distinctive turquoise-colored Automated Driving Marker Lights.
These lights serve as a visual indicator when DRIVE PILOT is engaged. While the implementation of this technology faces challenges due to the absence of a national regulatory framework, Mercedes is actively engaging with state and federal agencies to align the system with evolving standards.
Legally Compliant
Mercedes places a premium on legal compliance, ensuring that its technology meets all regulatory requirements. An interdisciplinary team has worked diligently to translate traffic regulations into software, aligning with provisions set forth by the National Highway Traffic Safety Administration (NHTSA) governing ADS-equipped vehicles.
This commitment to compliance underscores the automaker's dedication to safety and innovation.
Final Thoughts
The introduction of the Mercedes-Benz DRIVE PILOT system heralds a new era in automated driving. With safety, innovation, and flexibility at its core, this pioneering technology is set to transform the daily commute, providing drivers with a remarkable level of convenience and peace of mind.
As the groundbreaking feature hits the roads of California and Nevada in late 2023, it marks the beginning of an exciting journey towards a more automated and connected driving future.