Giancarlo Perlas
August 11, 2023
As the automotive world eagerly anticipates the next phase of the iconic Mercedes-Benz G-Class, recent sightings of camouflaged prototypes have ignited excitement among enthusiasts and industry observers. These clandestine tests offer a glimpse into the anticipated upgrades that might reshape the future of this venerable luxury SUV. Now, here's another spy video showcasing what we can expect from the vehicle.
Exterior Enhancements
Spy photographers have been hard at work capturing glimpses of the camouflaged prototypes as they glide through real-world testing scenarios. Revised fascias on both the front and rear hint at a refined aesthetic based on recent spy shots including the video here from CarSpyMedia. Meanwhile, a shift from the V8 engine to a potent inline-6 and mild-hybrid combination under the hood is rumored to elevate performance while embracing greener technology.
Interior Updates
Beyond the exterior, the prototypes have been meticulously designed to keep the interior changes shrouded in mystery. However, hints from industry insiders suggest that the incoming G-Class evolution could finally introduce the highly-acclaimed MBUX infotainment system, adding a layer of technological sophistication that aligns with the modern Mercedes-Benz ethos.
Powertrain
Notably, the shift towards a more eco-conscious approach is also reflected in the forecasted powertrain modifications of the G-Class. While the AMG G63 is expected to retain its V8 engine, the lower trims may incorporate a mild-hybrid or even a plug-in hybrid system to augment its impressive performance figures. Such technology has already graced other AMG models, setting the stage for an electrifying future.
A G-Class Evolution on the Horizon
As the prototypes continue their discreet tests on roads around the world, Mercedes-Benz aficionados are counting down the days until the updated G-Class officially makes its debut. Sources suggest that the grand reveal could come late this year or in the early months of the next, ushering in a new era for this enduring symbol of luxurious and off-road prowess.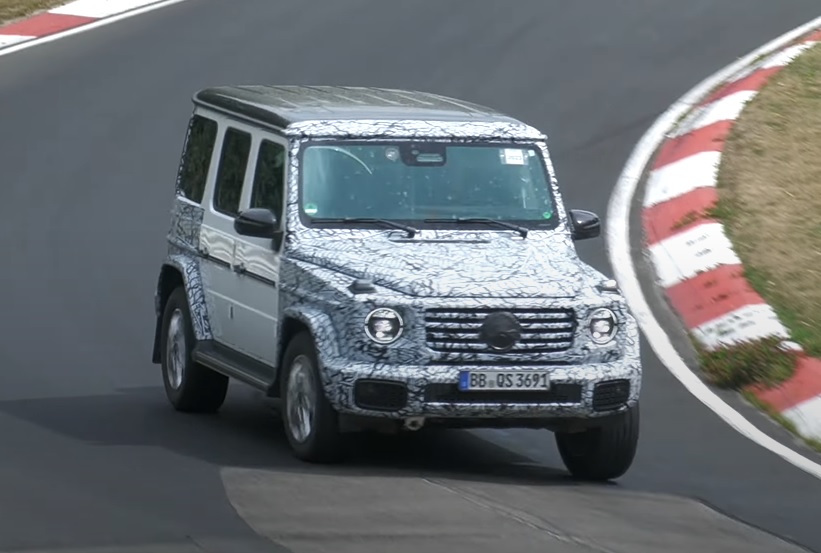 Beyond the petrol-powered evolution, another intriguing development has captured the attention of automotive enthusiasts: the forthcoming full-electric EQG. With testing underway, this electric iteration is poised to offer four motors, signaling a promising step towards a cleaner and quieter future for the iconic G-Class. How it will appeal to the traditional fans of the G-Wagen and other petrolheads remains to be seen, though.