Giancarlo Perlas
August 25, 2023
Diving into the realm of unparalleled German luxury car craftsmanship, the spotlight naturally falls upon the titans of the asphalt: Mercedes-Benz, BMW, and Audi. In a recent spectacle that ignites the passions of automotive aficionados, Throttle House recently pitted the quintessential mid-performance models of these iconic brands against one another, seeking to determine which has the superior mid-performance sedan. Prepare for a riveting showdown that will set your pulse racing, as we present the contenders—the bold 2023 Mercedes-AMG C43 Sedan, the unyielding 2023 BMW M340i, and the audacious 2023 Audi S5 Sportback.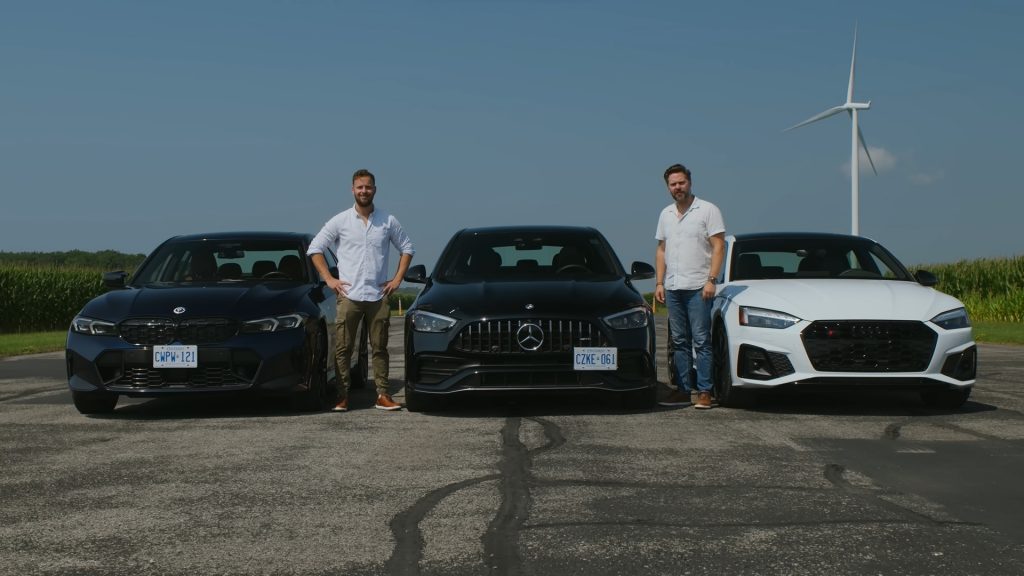 Buckle up and get ready for adrenaline-fueled drag and roll races involving the said cars, and join us as we unveil the electrifying verdict of this clash of automotive legends.
Tale of the Tape
Each contender boasts its own distinct highs and lows that distinguish it from its rivals. Here's a swift glimpse into the key specifications of these mid-performance marvels:
1. 2023 Mercedes-AMG C43 Sedan
This epitome of automotive opulence dons the emblem of the three-pointed star and commands attention with a starting price of $59,900. Carrying a slightly weightier demeanor at 4,092 lbs, it wields a 2.0-liter inline-four turbocharged engine that belies its compact size. Yet, it roars to the front with unrivaled might, boasting an awe-inspiring 402 hp and a spine-tingling 369 lb-ft of torque.
2. 2023 BMW M340i
The BMW contender stands tall, beckoning with a starting price of $59,600. It trims the weight down to 3,951 lbs, and beneath its hood rests a 3.0-liter inline-six turbo engine that fuels its ambitions. With an authoritative 382 hp and a dominating 369 lb-ft of torque, it stakes its claim with an undeniable edge in the competition.
3. 2023 Audi S5 Sportback
Representing Audi's audacious spirit, this contender enters the fray with a modest starting price of $56,800—an alluring proposition. Weighing in at a sleek 3,924 lbs, it carries the mantle of the lightest among the trio. Its heart beats to the rhythm of a 3.0-liter V6 turbo engine, wielding torque that matches its peers. Yet, with a dynamic horsepower of 349, it embraces a spirited challenge.
The Grand Showdown
Now, amidst this symphony of remarkable specifications, the inevitable question looms—which reigns supreme? Venture forth to witness the captivating drama unfold in a thrilling video by Throttle House, as each contender struts its prowess in drag and roll races. This isn't merely a clash of engines; it's a test of legacy, innovation, and the unrelenting pursuit of automotive excellence.