Giancarlo Perlas
May 7, 2023
German carmakers have been at the forefront of electric vehicle innovation, and this is evident in the recent drag race organized by Carwow. The top-spec EVs from BMW, Porsche, and Mercedes-AMG were pitted against each other to determine which car packs the most punch in terms of performance.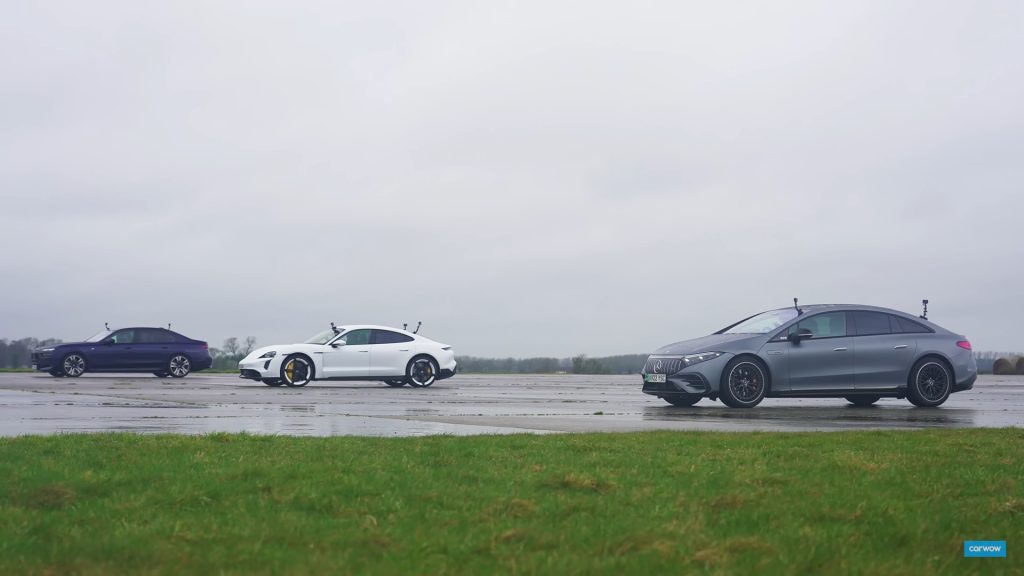 Breaking Down the Numbers
Before going further, let's crunch down the numbers of the cars here. According to the video presenter, here are their key specs:
1. Mercedes-AMG EQS 53
The Mercedes-AMG EQS 53 is the first contender in this electrifying drag race. It's powered by two electric motors that produce an impressive combined output of 649 horsepower and 700 pound-feet of torque. The car's launch control feature and equipped package can boost this output to a maximum of 751 hp and 752 lb-ft of torque. Despite its exceptional performance, its weight of 5,688 pounds is a serious setback for the EQS 53.
2. Porsche Taycan Turbo S
Next up is the Porsche Taycan Turbo S, a true performance-focused machine that weighs in at a slightly lighter 5,060 pounds compared to the EQS. The Taycan Turbo S is powered by two electric motors that deliver an impressive 751 horsepower, but its torque output is even more remarkable, at 774 lb-ft, which is sent to all four wheels. With this power and torque combination, this is the most formidable contender among the three.
3. BMW i7 M50 xDrive
Finally, the BMW i7 M50 xDrive, the underdog of the group, has the lowest output of the three cars, with 537 hp and 549 lb-ft of pull from its two electric motors. It's also the heaviest car, weighing in at 5,820 lbs. In short, don't get your hopes up for this one.
The Results
So, who emerged victorious in this epic drag race? The Porsche Taycan Turbo S consistently came out on top in the competition to no one's surprise. Interestingly, the Mercedes-AMG EQS 53 always trailed behind the first placer while the BMW i7 M50 xDrive tended to finish last.
Final Thoughts
What we have just witnessed is a clear indication of how these German manufacturers are pushing the boundaries of EV technology to create high-performance vehicles that can rival their petrol-powered counterparts. The drag race highlights the capabilities of these EVs and showcases their impressive acceleration and speed. Overall, it's a testament to the innovative engineering and design that goes into the production of these high-performance EVs.