Giancarlo Perlas
May 24, 2023
In a bold move towards environmental sustainability, Mercedes-AMG Petronas Formula 1 team has announced its commitment to powering its race car transports trucks with biofuel. This move for the Mercedes F1 trucks aims to reduce the team's overall emissions and pave the way for a more eco-conscious future in motorsport.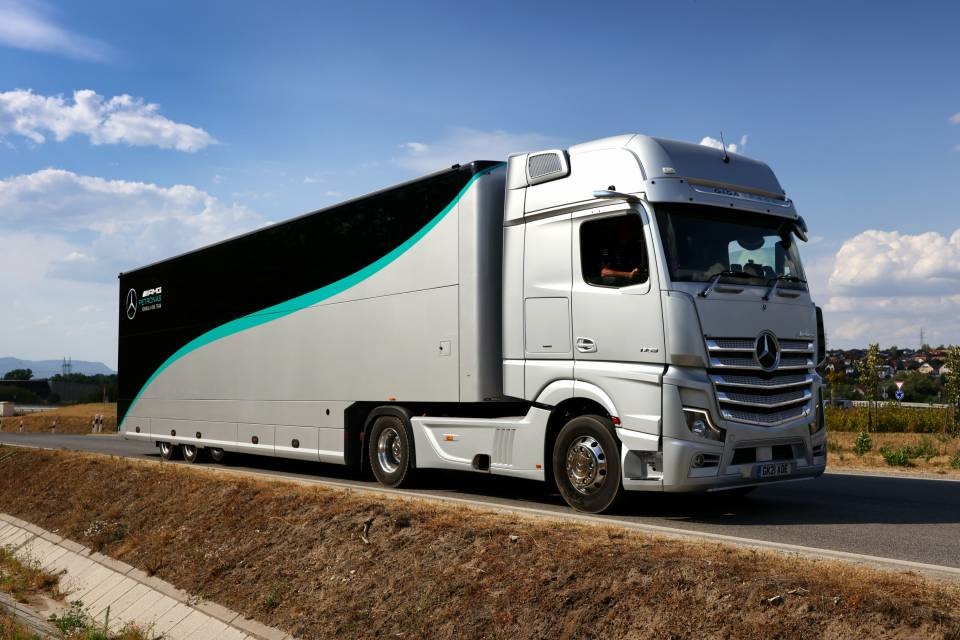 Mercedes' Biofuel Trial Success
At select Grand Prix events in 2022, Mercedes conducted a successful trial of biofuel usage for its transporters, achieving an astounding 89% reduction in emissions compared to traditional fossil fuel based on a press release by Mercedes-Benz Media. Encouraged by these promising results, the team sought to overcome a significant hurdle: the cost cap limitations imposed by F1.
Overcoming Cost Cap Hurdles
Previously, under the cost cap rules, fuel expenses for race transporters were required to be included in teams' annual budgets. Due to its higher costs, this obstacle prevented Mercedes from fully committing to using sustainable biofuel for an entire European season. However, recent discussions within the F1 Commission have resulted in a significant change.
Sustainability Initiatives Drive Change
F1 introduced a series of sustainability initiatives, designed to incentivize teams to embrace environmentally friendly alternatives without sacrificing their resources for car development. One crucial change allows the costs of biofuel to be exempt from the cost cap, enabling teams to invest in sustainable fuel options without compromising their budgets.
Extending Biofuel Usage to Road Transport Operations
Embracing this opportunity, the German automaker, in collaboration with title sponsor Petronas, has unveiled plans to power its road transport operations for nine European F1 events with biofuel. With each Mercedes F1 truck covering approximately 10,000 kilometers, the team aims to maximize its use of biofuel throughout the entire season, minimizing its environmental footprint.
Mercedes' Vision: Leading the Charge in Environmental Responsibility
Mercedes' team principal, Toto Wolff, expressed the team's commitment to using their platform to be pioneers in sustainability. By reducing emissions by 89% for each kilometer traveled, Mercedes aims to achieve a remarkable feat through collaborative efforts with Petronas and logistical partners, setting an example for the motorsport industry.
Final Thoughts
As Formula 1 continues to evolve, sustainability takes center stage. The switch to biofuel for the Mercedes F1 trucks marks a significant step towards a greener future in motorsport. With the cost cap revision and other sustainability initiatives, the sport is embracing change, encouraging teams to adopt eco-friendly practices and inspiring others to follow suit.