Giancarlo Perlas
May 4, 2023
Mansory, a German brand known for its extensive tuning packages, has done it again with its latest creation — the P900 Mercedes-AMG G63. This powerful SUV boasts impressive performance upgrades, a striking exterior, and a luxurious interior.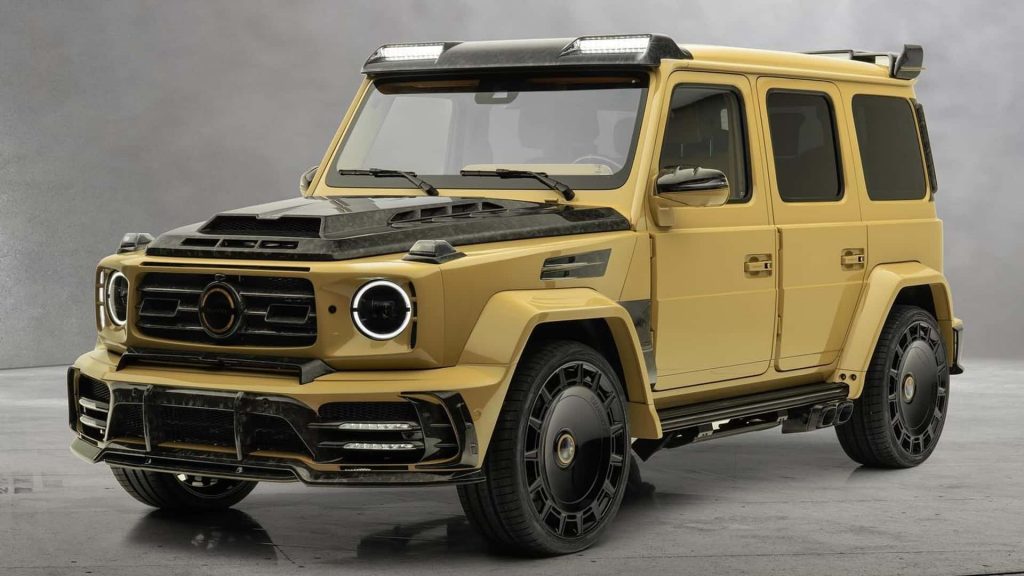 P900 Performance Upgrades for the Mercedes-AMG G63
Starting things off under the hood, Mansory's powertrain upgrades have pushed the P900's output to an impressive 899 horsepower and 885 pound-feet of torque. This is a major upgrade over the stock AMG G63, which makes 577 hp and 627 lb-ft.
The P900 can reach 62 miles per hour in just 3.5 seconds and has a top speed of 155 mph. These upgrades make it one of the most powerful SUVs out there on the market.
Sandy Exterior
The P900's gold-like color is called "Sand Desert Gloss". It has a desert sand shade contrasted by exposed, forged carbon fiber elements. This type of material is applied to sections like the hood, rear wing, and many trim pieces that totally transform the G-Wagen into something else.
All these are topped off by a set of monoblock-style wheels with 24-inch diameter. The integration of these surely contributes to the SUV's imposing presence on the road.
Luxurious Interior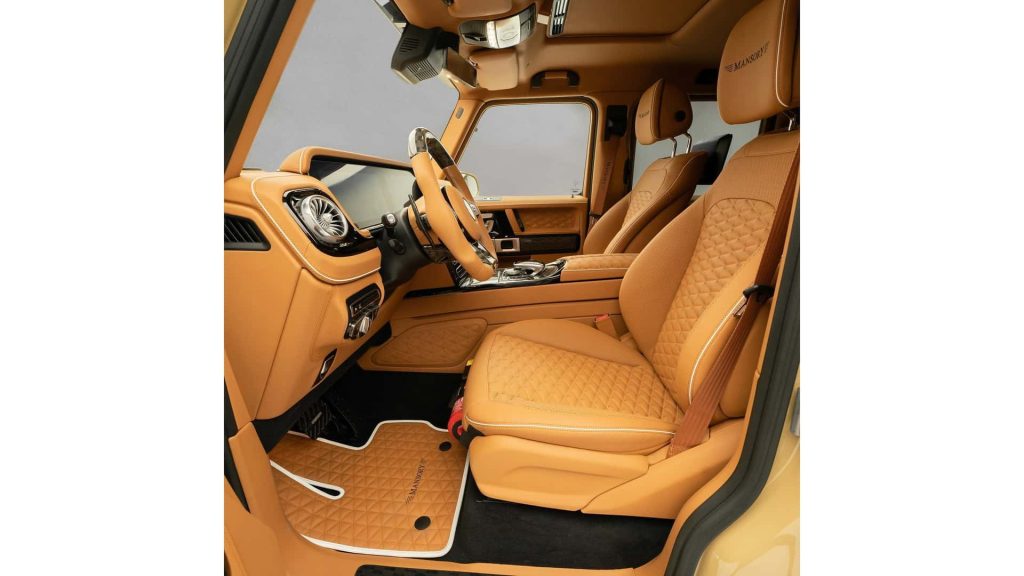 The P900's interior follows the same color scheme as its exterior. It features a sandy shade with a more tang of orange than the color on the outside. White piping accents the look, adding a touch of sophistication.
Meanwhile, the seats are wrapped in high-quality leather, ensuring a comfortable ride. Nothing fancy is introduced in the infotainment system of the auto, but the state state-of-the-art technology brought about by the MBUX system is already more than enough to make it a pleasure to drive.
Final Thoughts on the Mansory P900 Mercedes-AMG G63
Being from Mansory, all bets are off that the design of the P900 based on the Mercedes-AMG G63 is anything but subtle. Its powerful performance upgrades, too eye-catching exterior, and luxurious interior make it truly stand out on the road whether you like it or not.
For those who are looking to make a statement on the road or just want to enjoy the thrill of driving, the AMG G-Class with the P900 package is an ideal choice.