Giancarlo Perlas
May 11, 2023
Klassen, a renowned tuner and vehicle customizer, has taken the Mercedes-Benz Sprinter to a whole new level of luxury with its latest project. This chauffeur-driven mobile office is designed to provide its passengers with the comfort and convenience of a high-end office space on wheels.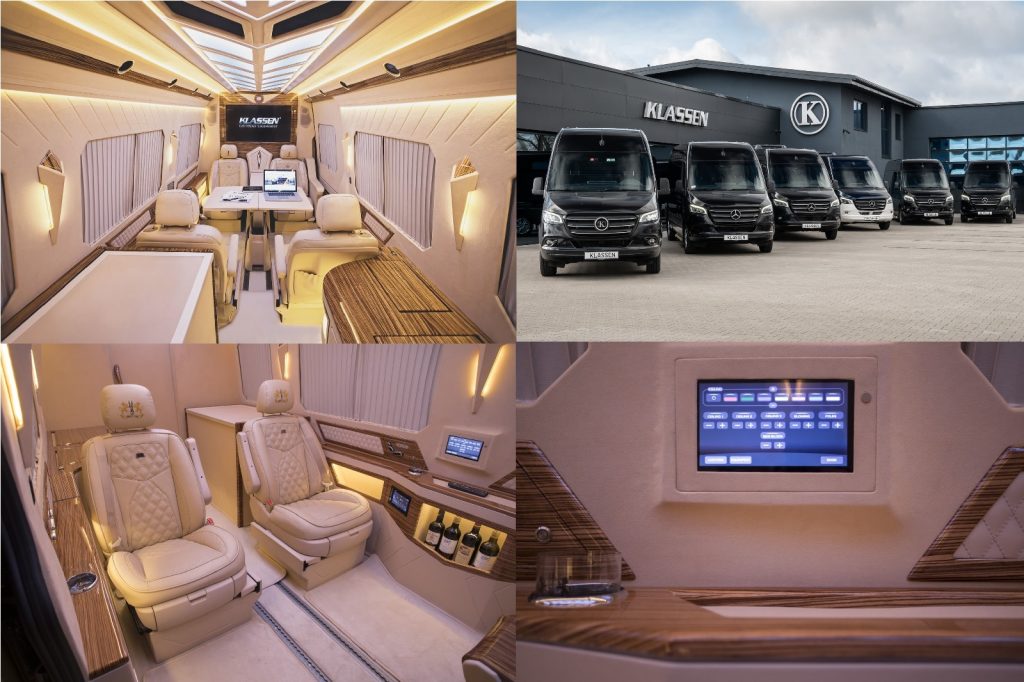 Luxury Features
The Klassen Sprinter is equipped with a plethora of features that make it stand out from the crowd. The vehicle's interior is adorned with high-end leather and features four individual seats with electric adjustment and heating and ventilation functions. The seats are wrapped in premium leather with special quilting, offering comfort that's unmatched in other vehicles of this class.
Meanwhile, the partition wall separates the driver from the passengers, offering complete privacy and noise isolation. The wall also features a large screen that can be used for presentations or entertainment purposes. Then, the vehicle's windows are equipped with blinds, providing added privacy and comfort for its passengers.
Additionally, the mobile office includes a bar and coffee machine, allowing passengers to enjoy their favorite drinks while on the go. The interior is bathed in artificial light, with an ambient mode for more relaxed driving. The vehicle's table, mounted between the seats, can be folded in and out and used for signing important documents.
Lastly, the luxurious van comes with its own toilet and sink, eliminating the need for frequent stops during long trips. Storage spaces are abundant, too, providing passengers with ample space to store their belongings.
Customization
Klassen Sprinter mobile office is not a one-size-fits-all vehicle. Each vehicle is customized to the owner's preferences and needs, and the conversion process takes roughly two to three months to complete. The company offers a wide range of layouts and leather hues to choose from, ensuring that each vehicle is unique and personalized in accordance with the needs and preferences of its owner.
Price of the New Klassen Mercedes-Benz Sprinter
Judging from the lavish materials used in the Klassen Mercedes-Benz Sprinter, it's no rocket science that it comes with a hefty price tag. The company does not reveal the price upfront, but it's safe to assume that it's about an extra zero higher than the base price of the vehicle, which starts at $43,000.