Giancarlo Perlas
April 4, 2023
The three-pointed star marque has officially unveiled the new 2024 Mercedes-Benz EQE SUV, a versatile variant of the EQE executive sedan. This all-electric SUV offers an array of advanced features and innovative technologies that make it stand out in its class.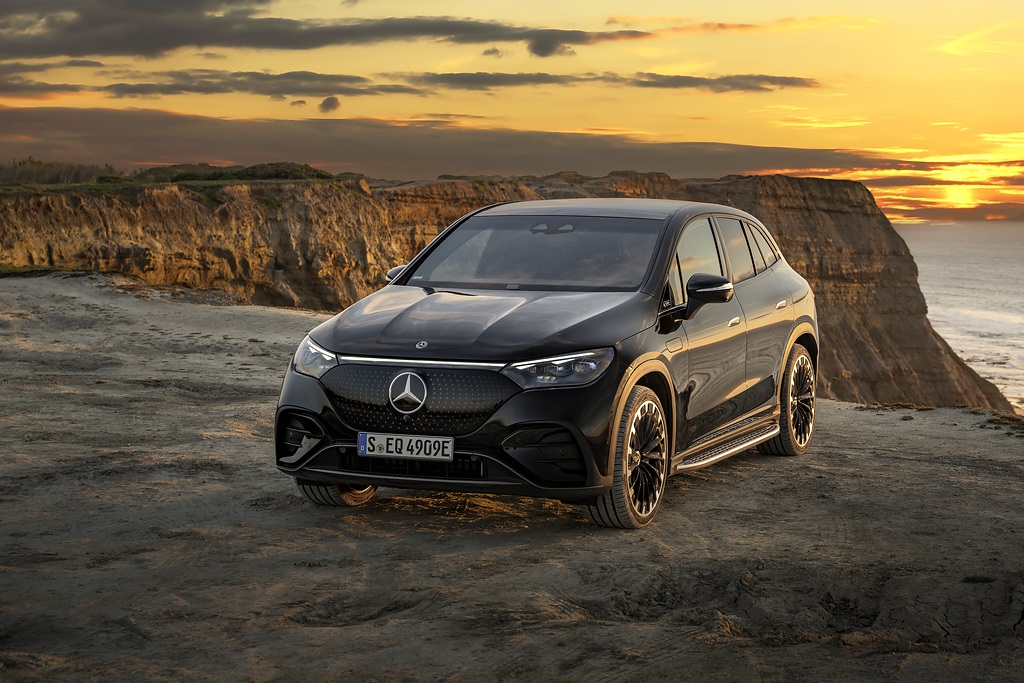 Exterior Design
The EQE SUV boasts a stylish and dynamic design, with a wheelbase that is nine centimeters shorter than the EQE Saloon, making it more compact while still providing ample space for the comfort of its occupants. According to Mercedes-Benz Group Media, the external dimensions of the vehicle are 4,863 mm, 1,940 mm, and 1,686 mm in length, width, and height, respectively. Its overall appearance showcases a perfect combination of modern tech and luxury.
Power and Range
The EQE SUV's modular drive concept enables it to deliver a wide range of outputs throughout the EQE 300 up to the EQE 500 trims. The electric vehicle's (EV) power goes from 180 kW to 300 kW, depending on the configuration.
The range that the SUV can go on a full charge is particularly impressive. Based on its European models' WLTP ranges, it could achieve over 590 km before running out of juice.
The long mileage of the auto is made possible by its lithium-ion battery consisting of ten modules. This is further boosted by Mercedes' innovative battery management software that can be updated over the air (OTA).
Driving Assistance
There's no shortage of driving assistance systems in the EQE SUV for the maximum safety and convenience of its occupants and other road users. Its notable standard equipment for enhancing its driving dynamics, comfort, and safety include Attention Assist, Active Brake Assist, Active Lane Keeping Assist, Parking Package with reversing camera, and Speed Limit Assist. More advanced driving features can be unlocked by the optional add-ons, namely the Assistance Package and the Driving Assistance Plus Package.
Chassis and Suspension
The latest model of EQE SUV boasts a state-of-the-art four-link suspension system at the front and an independent multi-link suspension at the back. The car's shorter wheelbase and suspension calibration allow for better agility and handling, even without extra features.
If desired though, customers can opt for the AIRMATIC air suspension with ADS+ continuously adjustable damping as an add-on, which can elevate the car's height up to 30 millimeters. For off-road driving enthusiasts, the Offroad program is available for EQE SUV models with 4MATIC. Moreover, drivers can choose to add a rear-axle steering system as an optional feature.
Interior and Infotainment System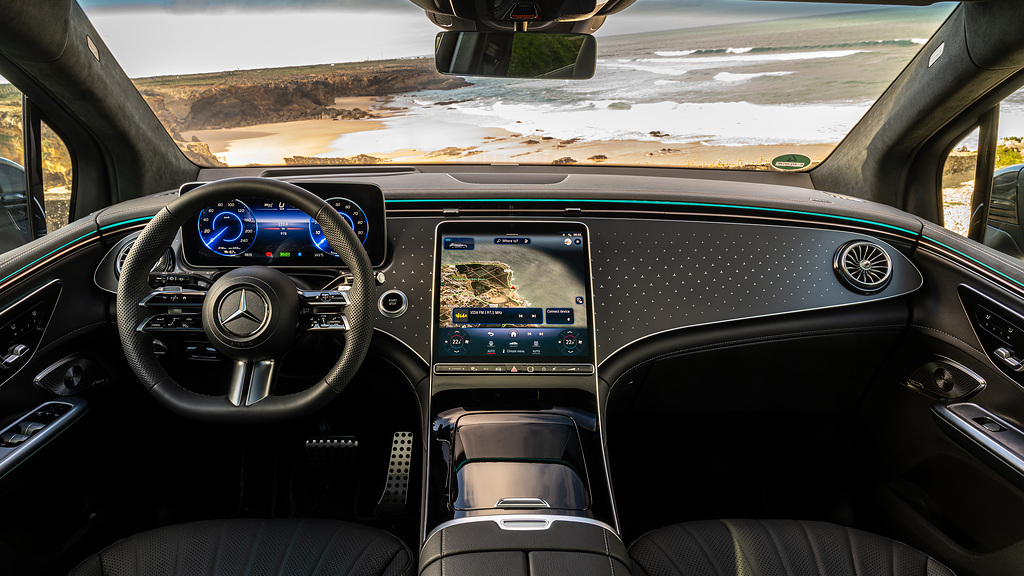 The interior of the EQE SUV is designed to provide a spacious and modern feel. It has a legroom of 1,030 mm and clad in premium materials plus customizable finishes. The vehicle's MBUX display and operating system offers a wide array of functions, from infotainment to vehicle settings, providing a seamless and intuitive user experience. For added personalization, the optional MBUX Hyperscreen is available, which integrates three displays into one band that spans over 141 centimeters in width.
Additionally, the system incorporates an optional 12.3-inch OLED screen with a unique interface for further customization. To protect the driver against distractions, an intelligent camera-based blocking logic is utilized, dimming dynamic content when he/she looks toward the front-passenger display.
Innovative Technology
As mentioned earlier, the EQE SUV comes equipped with advanced tech capable of taking OTA updates. The system enables drivers to easily activate and customize various vehicle functions like its battery optimization.
Furthermore, the vehicle's Navigation with Electric Intelligence is a highly innovative feature, which plans out the quickest and most convenient route for drivers, complete with charging stops, based on numerous factors. This system can also dynamically adapt to changing traffic conditions, ensuring a smooth and hassle-free driving experience.
Conclusion
To sum it all up, the 2024 Mercedes-Benz EQE SUV is a stylish, powerful, and spacious electric vehicle that offers an array of advanced features and innovative technologies. With its sleek design, impressive range, and cutting-edge technologies, it is sure to attract discerning buyers who demand only the best from an electric SUV.