Giancarlo Perlas
April 28, 2023
Mercedes-Benz just introduced the MANUFAKTUR range, which is exclusively available for the new Mercedes-AMG S-Class in Europe.
According to Mercedes-Benz, this offers customers an extensive range of customization options that complements the high-performance engineering of the top-of-the-line luxury car. It includes exclusive paint finishes and high-quality interior trims, adding an extra level of individuality and exclusivity to the vehicle.
Exterior Customization
The MANUFAKTUR range offers a variety of unique exterior color options that customers can choose from if the standard black paint with chrome liners of the S-Class does not meet their preferences. Among the options are two solid paint finishes in vintage blue uni and silicon grey uni, which can be paired with metallic paints such as graphite metallic, mystic blue metallic, olive metallic, and rubellite red metallic.
If a matte finish is preferred, the range also offers night black magno and kalahari gold magno paint finishes. This selection allows customers to create a one-of-a-kind look for their AMG S-Class based on their liking.
Interior Customization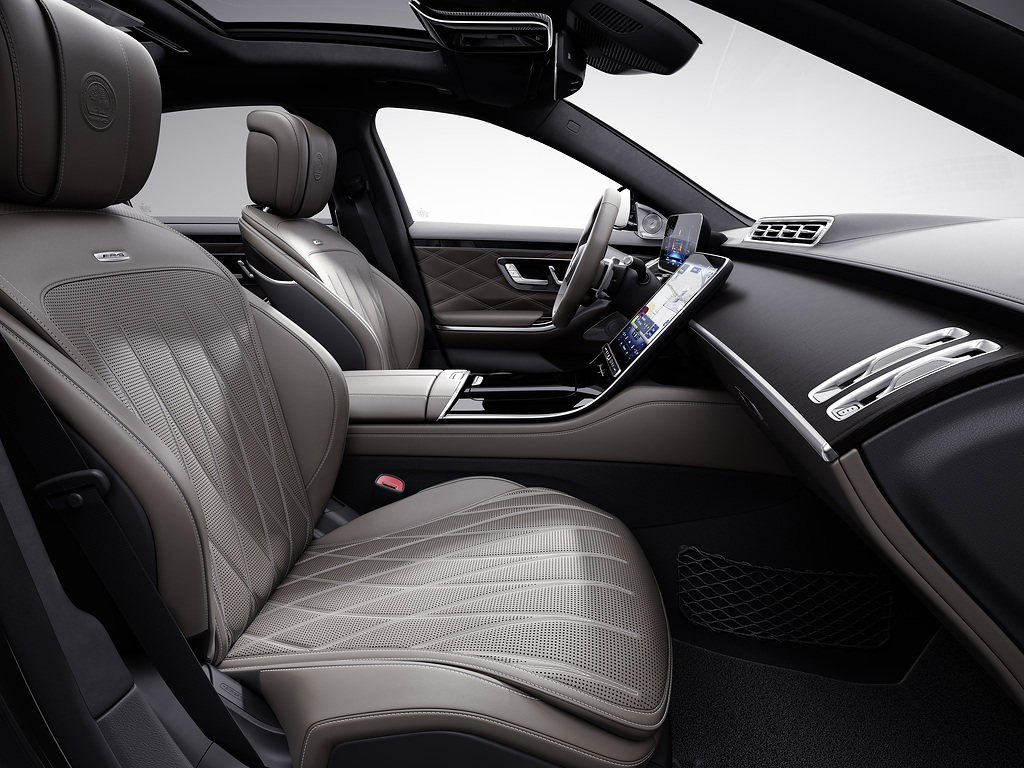 The MANUFAKTUR collection presents an exclusive interior package that showcases front and back seats upholstered in high-quality Nappa leather with diamond stitching patterns. The package also includes AMG Performance MANUFAKTUR's signature steering wheel, a center console with armrests, and the lower part of the dashboard. Likewise, the plush floor mats come in black and bordered in Nappa leather with AMG logo embellishments.
Meanwhile, the door sills are illuminated and come with the AMG lettering and a MANUFAKTUR exclusive pattern. The special MANUFAKTUR package provides five distinctive color combinations that give customers the option to customize the interior of their vehicle. The color choices include yacht blue/black, nut brown/black, deep white/black, truffle brown/black, and pastel yellow/black.
Emblem Package
The MANUFAKTUR selection presents an Emblem Package, too, that provides a higher level of cabin customization featuring a choice of platinum or gold finishes. The package features embroidered AMG logos in the corresponding colors on the floor mats.
Furthermore, the package comprises ambient lighting on all four doors that displays an animated projection of the AMG logo for an added personal touch.
Final Thoughts
The introduction of the MANUFAKTUR range offers customers of the new Mercedes-AMG S-Class an extensive selection of customization options for both the exterior and interior of their vehicle. Overall, it further enhances the high-performance engineering of the car with an added level of personalization and luxury.