Giancarlo Perlas
March 25, 2023
Adventurers and classic car collectors will surely appreciate the recently auctioned 1984 Puch 230GE 4×4 by Cars & Bids. Covered in Cactus Green with a tan interior, this left-hand drive, Swiss-market SUV boasts a solid build and remarkable off-road capabilities.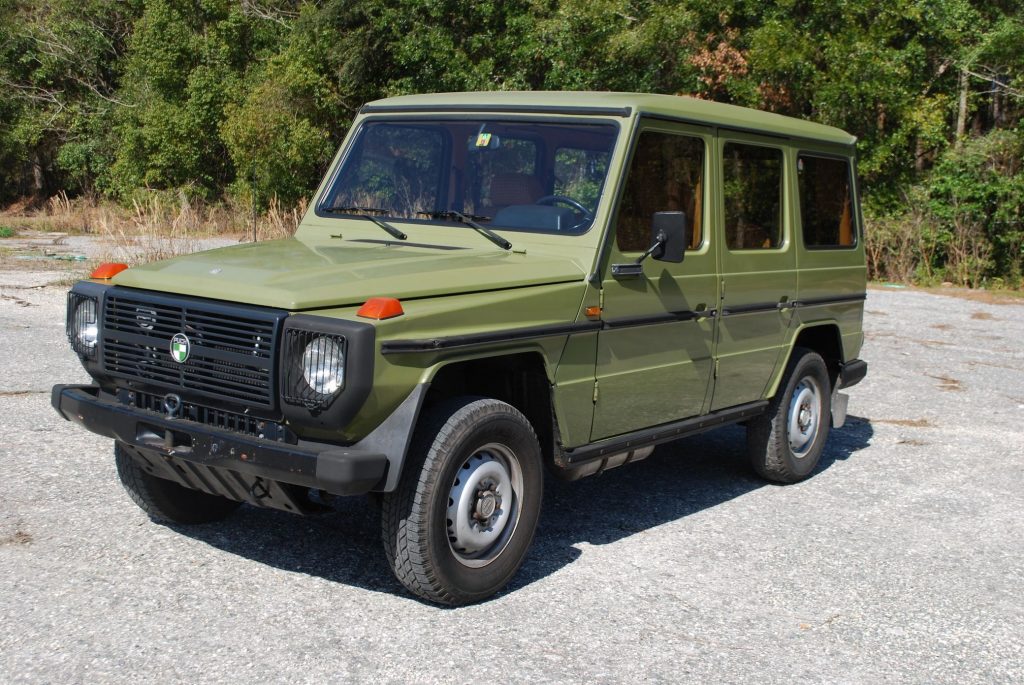 Here are the features that make this classic adventure SUV a rare find:
Design
Built in collaboration with Mercedes-Benz and Steyr-Daimler-Puch, the Puch 230GE 4×4 was part of the original G-Class (W460) that debuted in 1979. This specific model was tailored for farmers and adventurers alike. It was distributed by the Puch brand in Austria, Switzerland, and Eastern European markets.
This particular product still comes with its original locking front and rear differentials, skid plates, cloth upholstery, and manual windows. However, there have been some modifications introduced by its former owner along the way. Additionally, major wear and tear issues are already very visible on its surfaces.
Performance
Under the hood, the Puch 230GE 4×4 is powered by a 2.3-liter four-cylinder engine that produces about 125 horsepower and 142 lb-ft of torque. It is mated to a four-speed manual transmission and a two-speed transfer case. The SUV can run on either a rear- or four-wheel drive system.
Equipment and Modifications
The Puch 230GE 4×4 is equipped with 16-inch steel wheels, headlight guards, a rear wiper, a trailer hitch, manual locks, and a Blaupunkt cassette player. The seller reports that this unit has some modifications such as an air brake system, a Hirschi hitch, a VDO air brake system pressure gauge mounted on the dashboard, and metal trim on the bottom of the trunk door.
Issues and Recent Service History
The seller states that the SUV's odometer has rolled over and currently shows around 55,500 kilometers, which does not display its accurate mileage. Others include the fuel gauge and radio no longer functioning.
Meanwhile, the cosmetic flaws on the body include scratches, chips, spots, and faded paint. There are also dings, dents, and cracks on the surfaces, especially on the body accessories.
Likewise, the tires already show expired dates. Major signs of wear and tear are present in the interior upholstery and dash, too.
The recent work done on the SUV includes a battery replacement, timing chain replacement, and rear differential replacement/servicing.
Ownership History and Seller Notes
The selling dealer imported the Puch 230GE 4×4 in October 2022 in the US. The seller warns that the buyer may need to check if the SUV can pass emissions testing in their state of residence. The dealer will also have to collect sales tax, title fees, and tag fees if the buyer is a Florida resident.
Auction Results
The auction for this 1984 Puch 230GE 4×4 already ended last February. Unfortunately, no one was able to match its steep reserve price of $17,000. Whether or not it will be offered again on the market is unknown at this point.
Final Thoughts
The 1984 Puch 230GE 4×4 is a rare and solid adventure SUV that can handle any off-road terrain. Notably, it is the precursor of the current G-Wagen.
The Puch 230GE here is equipped with reliable factory features and some notable modifications. The flaws may be present, but they add character and are crucial to the history of this classic vehicle.
If you're a fan of adventure and classic cars, this Puch 230GE 4×4 is definitely worth a look. However, you may want to think twice about its hefty reserve price before anything else.