Giancarlo Perlas
March 10, 2023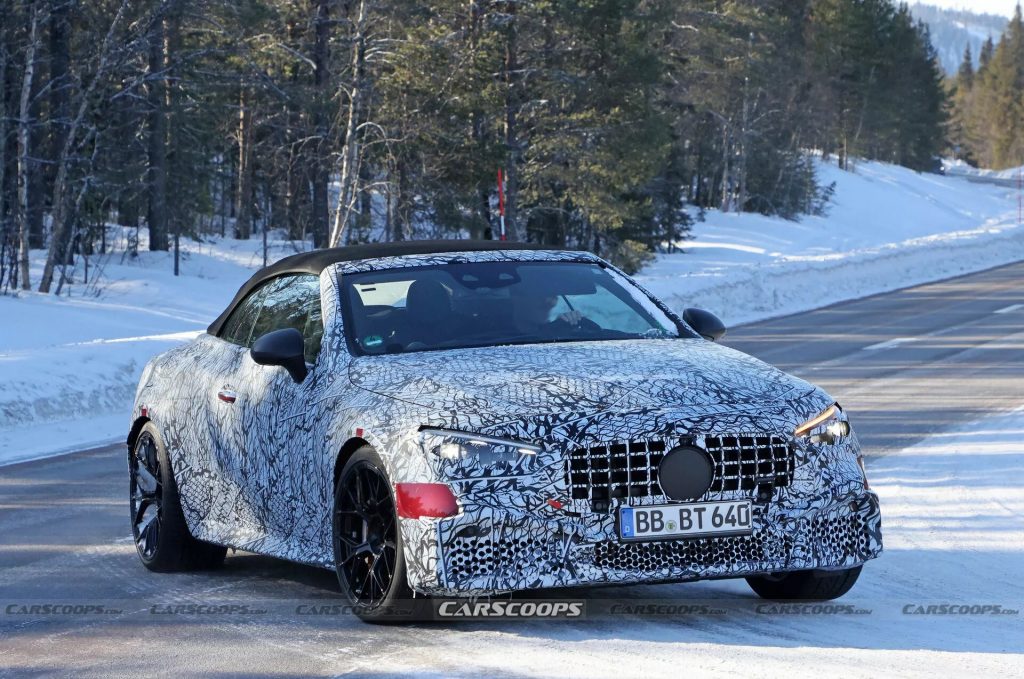 Mercedes-Benz is preparing to launch a new model to replace the C-Class and E-Class coupes and convertibles, which will be known as the CLE. The most potent version of the all-new range will be the AMG CLE 63, and it was just spied during a cold climate test drive.
Design
The AMG CLE 63 prototype in the spy shots of Carscoops appears in heavy camouflage. However, the outline of its corners, exposed areas, and bulging lines somehow provide us hints of what to expect from it.
The soft fabric on top definitely suggests that what we are looking at is the convertible version of the auto. From the looks of it, the CLE's body styling will borrow many design elements present in the C-Class.
The AMG CLE 63 model further pushes the envelope with its more muscular body, wider track, chunkier brakes, sporty wheels, and a more aggressive front bumper. Of course, the high-performance car enjoys the customary Panamericana front grille with vertical slats reserved for the AMG badge as well as the quadruple square exhaust tips exclusive to the 63 trims of the brand.
Powertrain
The powertrain for the AMG CLE 63 will likely mirror the configuration of the Mercedes-AMG C 63. As a recap, the auto features a 2.0-liter turbocharged inline-four engine matched with a rear-mounted electric motor powered by a 6.1 kWh battery for a plug-in hybrid setup. This lets the car produce up to 671 hp and 752 lb-ft of torque.
Unlike the AMG C 63, the AMG CLE 63 had its charging port relocated in the rear bumper. This adopts the specification found in other plug-in hybrid AMG models like the upcoming AMG GT PHEV and the SL PHEV.
Mercedes has not officially confirmed the exact debut of the CLE-Class yet. Based on sources though, its expected launch is later this year as a 2024 year-model product. The standard Benz models will come in first followed by the AMG variants. There are rumors going on that the range has a shooting brake model in the works, too.
Final Thoughts
Overall, the AMG CLE 63 looks like an exciting addition to the Mercedes lineup, with its aggressive styling and powerful PHEV system. Car enthusiasts and Mercedes fans alike will be eagerly anticipating its official debut.