Giancarlo Perlas
March 16, 2023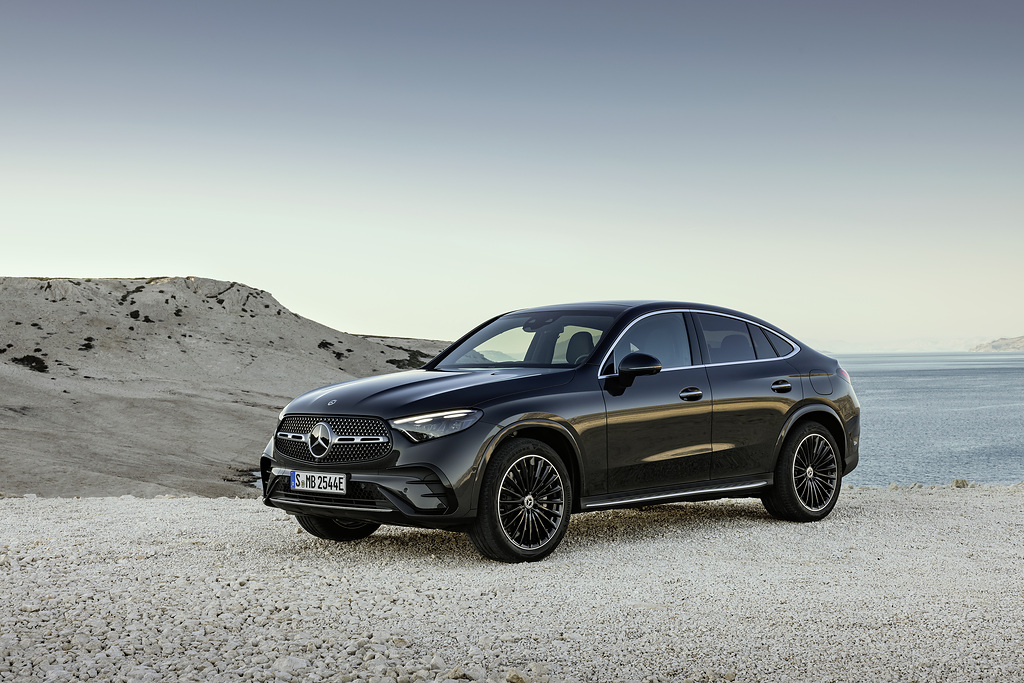 Mercedes-Benz just unveiled the new GLC Coupe, a stylish and powerful crossover with more dramatic styling and sportier performance. The GLC Coupe is the compact version of the GLC SUV, which is designed to offer a combination of luxury, comfort, and sportiness that will appeal to drivers who want a unique and engaging driving experience.
Exterior Styling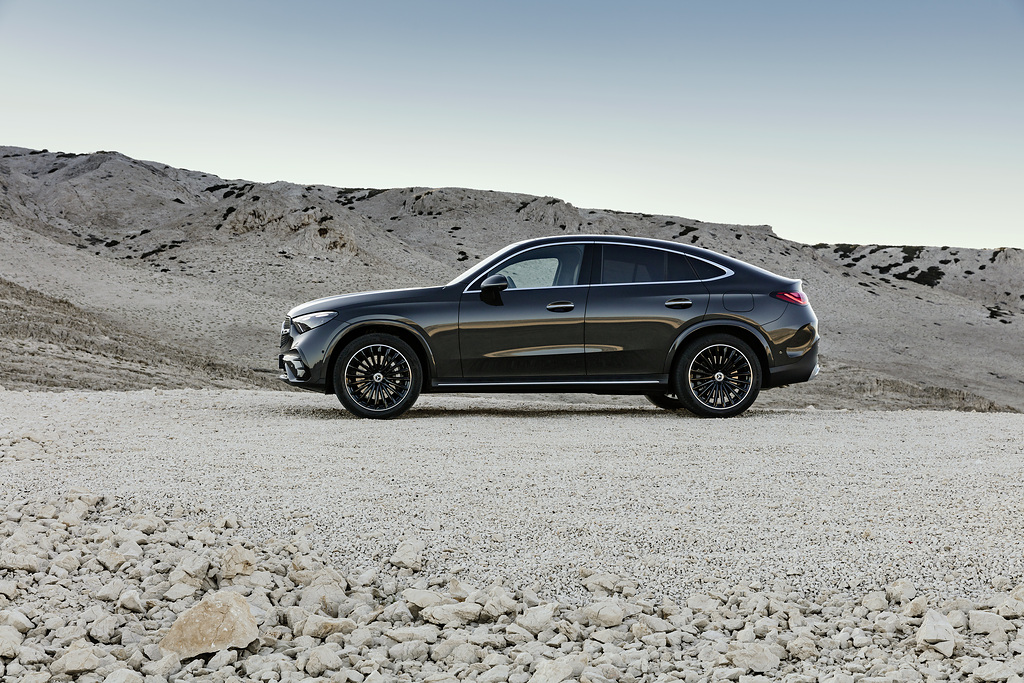 One of the key features of the GLC Coupe is its sporty and dynamic exterior design, which is in line with the "Sensual Purity" philosophy of its maker. The combination of these elements is tailored to deliver better visuals and higher efficiency in the compact SUV.
The 2024 model is 187.5 inches long, which is 1.2 inches more than its predecessor. It sports a 0.2 inches higher roof, too. However, the width is kept at 74.4 inches.
These are further accentuated by its coupe roofline that seamlessly slides down to the liftgate, giving the vehicle a sleek and aerodynamic look. Meanwhile, the muscular body and bolder front grille exude higher levels of confidence and power compared to its predecessor.
Interior and Tech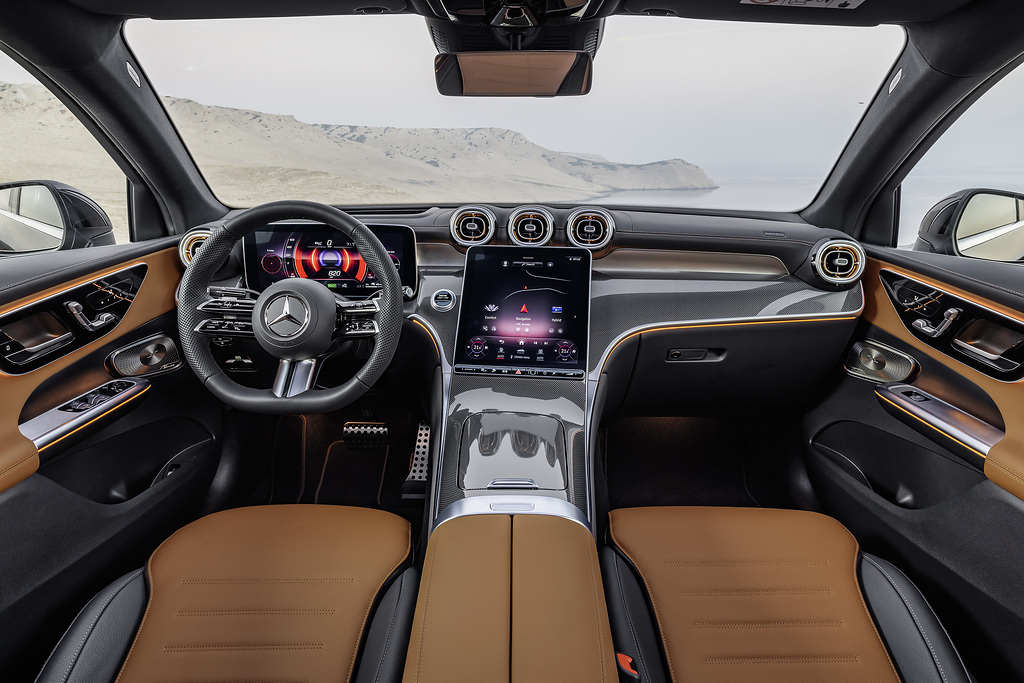 The interior is also crafted with premium materials matched with advanced technology, creating a comfortable and sophisticated cabin that drivers and passengers will love.
The other notable features of the GLC Coupe include a range of driver assistance systems, including active brake assist, attention assist, and adaptive cruise control, which help keep drivers safe and secure on the road. The vehicle also comes with a range of navigation, entertainment, and connectivity features highlighted by a 12.3-inch instrument cluster and an 11.9-inch touchscreen central display powered by the latest version of the MBUX infotainment system with Apple CarPlay and Android Auto compatibility.
Powertrain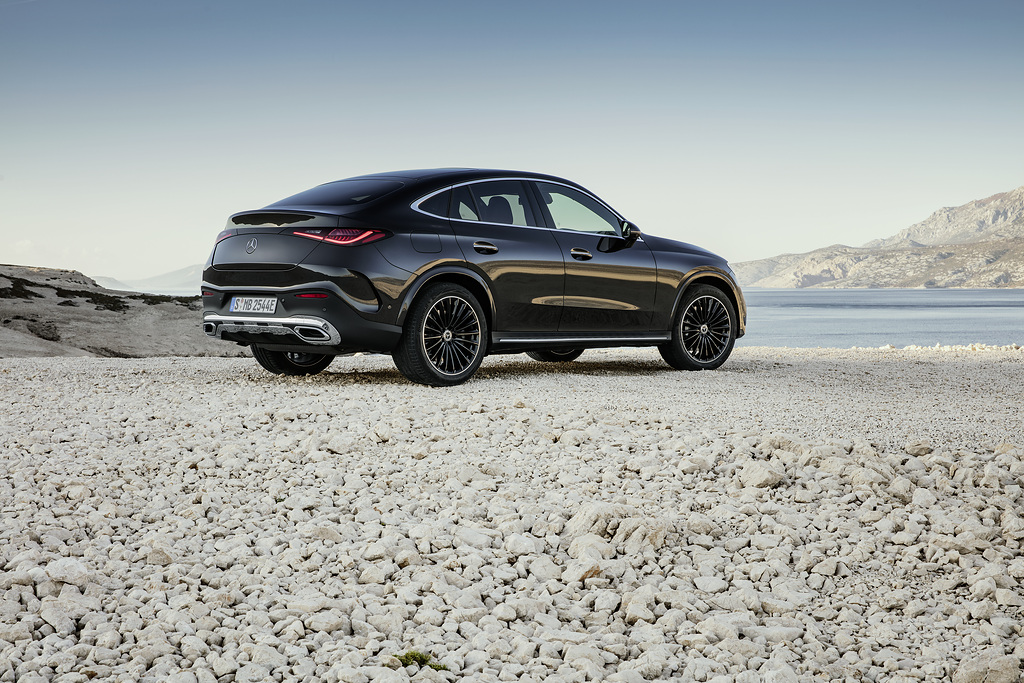 Under the hood, the GLC Coupe is powered by a range of powerful and efficient engines, including a selection of mild-hybrid and plug-in hybrid 2.0-liter turbocharged four-cylinder engine variants. These are configured to deliver 204 hp up to 269 hp across its various Benz trims starting with the GLC 200 4MATIC up to the GLC 300 d 4MATIC.
The vehicle also comes with a nine-speed automatic transmission and all-wheel drive, ensuring a smooth and responsive driving experience. The said specs allow it to sprint from 0 to 62 mph between 8.1 to 5.6 seconds.
Pricing
The starting price of the new GLC Coupe is yet to be revealed, but it is expected to go north of $50,000 similar to its outgoing model. This makes it an affordable option for drivers who want a luxury SUV coupe that offers a balance of style, performance, and comfort.