Giancarlo Perlas
February 23, 2023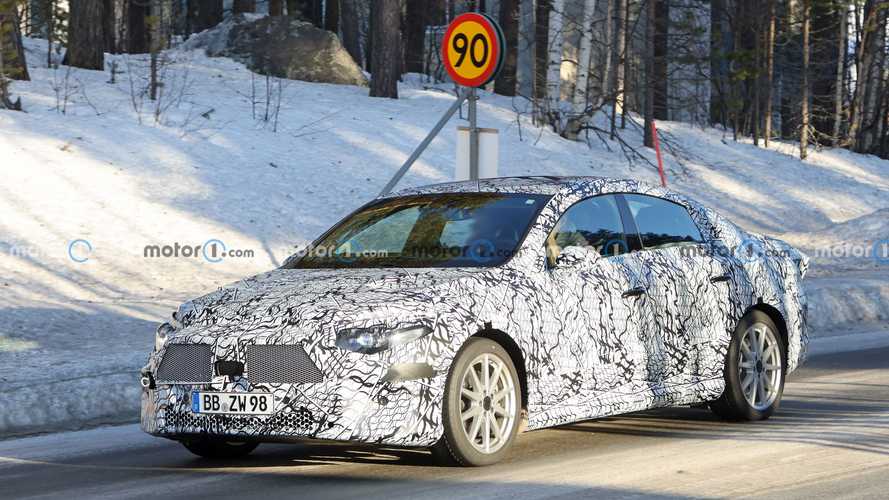 Some prototypes of the next-generation Mercedes-Benz CLA were recently spied on while undergoing testing in cold weather. Despite the heavy camouflage of the cars, one was revealed to be in its full electric format.
The next-gen CLA will ride on the new Mercedes Modular Architecture (MMA). The same platform will be used by the upcoming electric vehicles (EV) models of Mercedes, which will eventually trickle down to the plug-in hybrid EV (PHEV) and internal combustion engine (ICE) models of CLA, GLA, and A-Class.
Based on the outline and dimensions of the spied prototype, we are clearly looking at a CLA model here. However, they seem to be of different trims.
One car that particularly stood out from the bunch was what appeared to be the CLA EV. This can be confirmed by the open charging port of the auto on the images.
It's not clear though if the driver just accidentally left the cover open or if it suddenly popped up during the trip. However, it's also possible that it was intentionally left exposed for testing purposes. We'll never know for sure.
It should be noted that some sources refer to the said car as the EQA. However, due to the fact that the EQ moniker will likely be discontinued by the time the next-gen CLA is out, the next model of the EV may be absorbed by the revamped CLA badge.
We couldn't make out the variants of the other two because it's hard to spot their charging ports from the resolution of the pictures and from the angles where they were taken. Stickers indicating their electric nature are lacking, too. So, it's possible that these may be the ICE and PHEV trims of the auto.
In addition, one of the test vehicles was seen sporting flush door handles similar to the ones found on the S-Class and EQS. Meanwhile, the others had conventional grips.
The MMA platform-based Mercedes models will likely have their launch in late 2024 or early 2025. Depending on the market conditions at that time, it may include the CLA EV shown here.