Giancarlo Perlas
January 22, 2023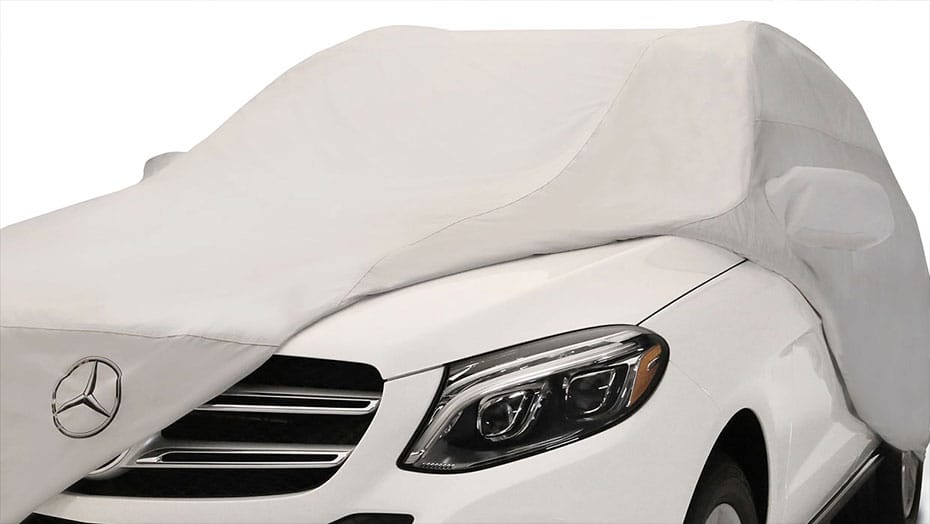 Owning a Mercedes-Benz vehicle comes with accompanying responsibilities for you to ensure that your investment is safe and secure from various elements that could affect its quality. A good way to start taking care of your auto is to choose among the best car covers out there that will provide the protection it needs.
The Importance of Getting the Right Car Covers for Your Mercedes Cars
When it comes to owning a Mercedes-Benz car, keeping it in top condition is essential for preserving its value. But without the right protection, paint quality, parts corrosion, scratches, and other damages can quickly accumulate and affect the car's worth.
One of the most common causes of wear and tear on cars without a protective cover is UV damage from direct sunlight. The rays can cause fading or discoloration of the paint while also leading to cracking or peeling of the clear coat.
Additionally, all unprotected surfaces are vulnerable to pollutants such as bird droppings, tree sap, acid rain, or road salt which will lead to severe damage over time if left unattended. Likewise, when parked outdoors these surfaces can be easily scratched by branches or other sharp objects.
Another major issue is parts corrosion caused by moisture. Exposed metal surfaces can start to rust if not protected from the elements, and salty air at the coast will speed up the process considerably. This kind of damage may become quite costly if left untreated as it often requires complete panel replacement in order to return a car's bodywork to pristine condition.
Fortunately, all these issues can easily be avoided with the right car cover which provides direct protection against sun damage and keeps pollutants away while also acting as a shield against scratches when parked outdoors. Furthermore, a quality cover will also prevent moisture build-up on components such as brakes, spark plugs, and battery posts which could lead to further problems down the line.
Things to Look for in a Car Cover
By taking the necessary steps to protect your Mercedes-Benz car from damage, you can be rest assured that it will remain in optimal condition and preserve its value for years to come. Investing in a quality car cover is certainly one of the best ways to achieve this goal. Not only does it provide essential protection against UV rays, pollutants, and scratches, but also helps keep out moisture which would otherwise lead to costly parts corrosion. All in all, installing a protective cover is one of the simplest yet most effective ways to ensure that your beloved Mercedes-Benz stays in great condition for years to come.
When looking among the car covers out there, be sure to take into account the following factors to get the most out of your purchase:
1. Compatible Fit
It's important to choose car covers that are designed specifically for the make and model of Mercedes you own. Measuring your car beforehand will allow you to order a cover with an exact fit, ensuring it fits snugly and securely without any unpleasant bagging or sagging. Be sure to keep note of the dimensions of your vehicle before looking in the market and/or placing your order to save yourself time and the inconvenience of getting the wrong product.
2. Resistance to Harmful Elements
Depending on where you live, rain, snow, wind and other environmental conditions can take their toll on an exposed vehicle. These commonly contribute to the fading of your paint or corrosion in some parts of your auto. Choose car covers with good weather resistance properties to keep your Mercedes protected from the elements all year round.
3. Durability
Look for covers made from high-quality materials that can stand up to regular use over time. Make sure the material is tear-resistant so it won't rip or fray, and opt for a cover that is UV resistant to protect against fading or discoloring.
4. Non-Abrasive
It's important to choose a car cover with a non-abrasive inner lining, as this will help prevent scratching the surface of your Mercedes while it's covered up as well as when the cover is removed or put on.
5. Breathability
Look for covers made of breathable materials such as cotton or polyester that allow air to circulate around the vehicle so moisture doesn't accumulate underneath. This will also help keep mold and mildew away. Exposure to too much moisture can result in corrosion that can eat up the metallic parts of your car including its critical components if left unchecked.
Conclusion
By following these tips, you can rest assured that your Mercedes will be well protected under the best car covers. With a little research, you'll be able to choose the right cover for your needs and budget while ensuring the protection of your car to preserve its overall value and quality in the long run.