Giancarlo Perlas
January 27, 2023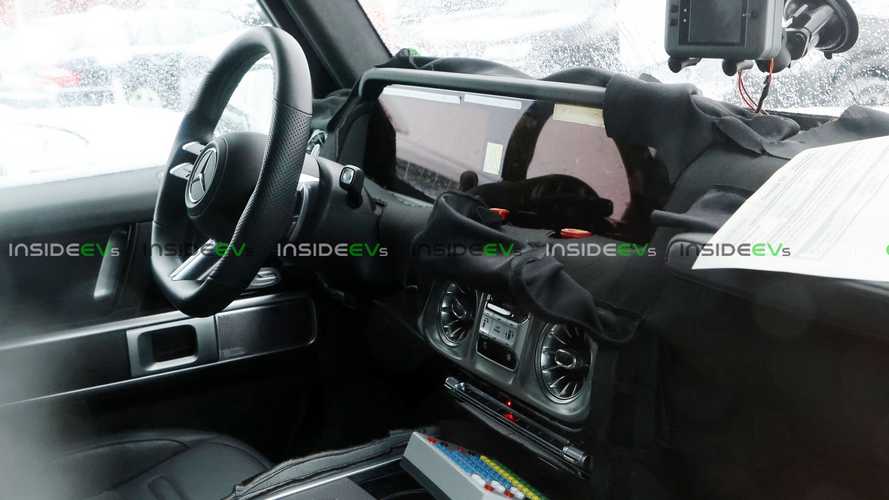 Since the Mercedes-Benz EQG concept was unveiled at the Munich Auto Show in September 2021, we have been eagerly anticipating more updates about its production version. Recently, the electric SUV was once again spotted, and this time, it's taking a break from testing. With that, we finally get a glimpse of its cockpit.
Aside from its boxy shape mimicking the G-Wagen, the concept version of the EQG looked nothing like its iconic predecessor. The preview saw the natural inlets and outlets found on the front grille and front bumpers sealed off and replaced by their faux counterparts similar to the other vehicles under the EQ sub-brand of the three-pointed star marque. It also adopted a two-tone exterior in black and silver for its exterior finish.
However, recent spy shots of the EQG production version's prototype reveal that its maker may not be steering away too much from the established styling of the G-Class after all. This appears to be the case as well in its interior as shown in the recent spy shots of InsideEVs.
If the latest spy shots are to be believed, it seems Mercedes is keeping the layout of the G-Class cockpit. This includes retaining the circular air vents, large twin displays on the dash, and the multi-function steering wheel. There's a seemingly out-of-place dashcam sticking on the windshield in the images, too, but we think that this is simply an add-on likely for testing purposes and not standard on the EQG.
The source claims that although the configuration of the EQG cockpit appears to bear a strong resemblance with that of the G-Class, some of the buttons in the controls have been remapped while others have been integrated somewhere else. In addition, the new layout paves the way for an exciting feature debuting on the EQG, which is the Tank Turn function.
In a nutshell, the Tank Turn function mimics the capability of tanks to turn 360 degrees without leaving their spot. The video in the Tweet below displays just that.
There's no official statement as of yet about the deadline for the Mercedes-Benz EQG. Nonetheless, we expect it to come out before 2023 ends.