Giancarlo Perlas
November 2, 2022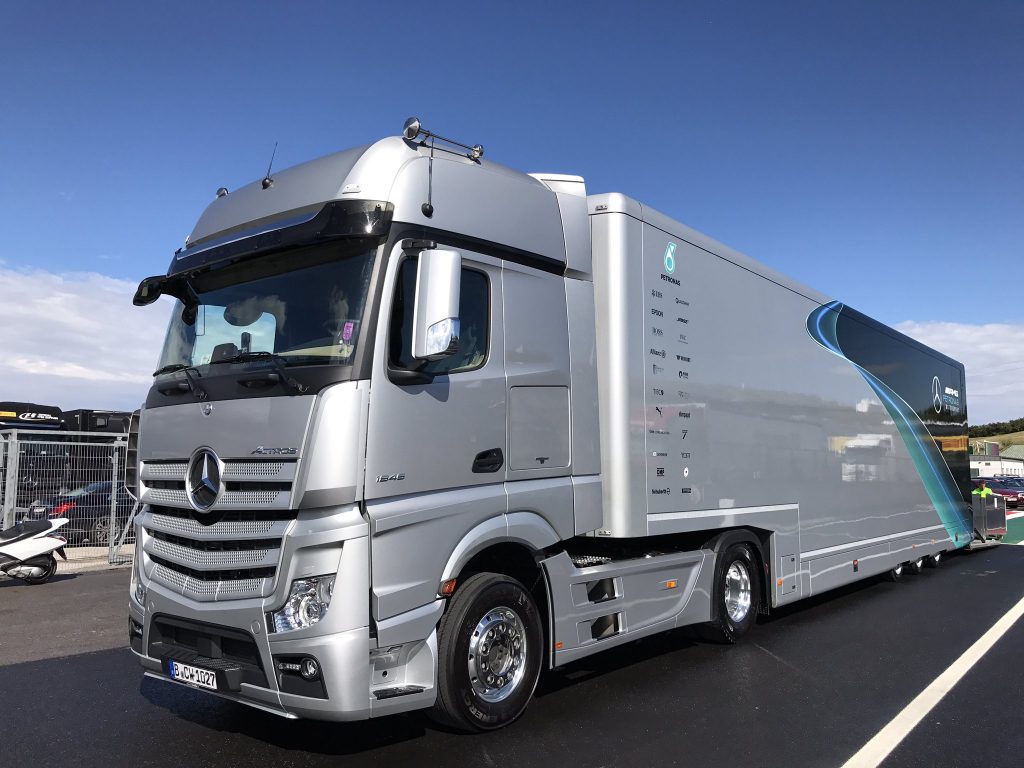 Companies across the world use different types of commercial trucks to move their goods from point A to point B. Most of these trucks have distinctive truck names, and designs with equipment integrated into them to help with particular jobs. The specific use of a commercial truck may significantly impact the type of truck required for any given fleet. With that thought, let's examine the different kinds of commercial trucks on the market today, along with their unique capabilities.
Semi-trailer truck
A semi-trailer truck is a combination of a tractor unit with one or more semi-trailers to transport freight. It is sometimes referred to as a semi-truck or just a semi. With a fifth-wheel coupling, a semi-trailer is connected to the tractor while the tractor bears the majority of the weight of the trailer. This has the effect of giving both the tractor and the semi-trailer a structure that is very distinct from that of a rigid vehicle and a trailer.
The standard tractor unit has two or three axles. However, models designed to transport heavy-duty commercial equipment may have up to five axles.
One steering axle, two drive axles, and a forward engine make up the most typical tractor-cab configuration. Most tractor trucks include a fifth-wheel trailer coupling that can be moved forward and backward to change how much weight is placed on the rear axle.
Cement mixers
Specialty trucks called cement mixers or concrete mixer trucks are used to convey the supplies needed to pour concrete to a project site. These trucks are utilized by the landscaping and road work sectors. These trucks stand out because their mixing barrel keeps the cement mixture in motion and prevents it from setting up before being poured.
The time-consuming manual cement mixing process has been transformed into an instantaneous procedure that can be delivered on-site with the help of these contemporary vehicles.
Box trucks
Box trucks are vehicles with a chassis cab and an enclosed cargo area attached to the back. A box truck often has a separate cabin with no access to the back.
Box vans, cube vans, and cube trucks are other common names for these vehicles. A box truck often has a rear roll-up door and unibody construction. When moving merchandise that cannot be exposed to the outdoors, box trucks are quite useful.
Flatbed truck
Trucks with rigid designs include flatbed trucks. It has a flat-shaped back body that makes loading and unloading cargo simple. The flatbed truck is typically used to transport bulky, wide, and heavy items like construction materials, machinery, or equipment. The cargo being transported with the truck must not be susceptible to rain because of its open body.
A flatbed has a sturdy, typically made of wooden planks, bed. Both the roof and fixed sides are absent. As a "drop-side" truck, there are frequently low sides that may be hinged down for loading to keep the load.
Refrigerator truck
A refrigerated truck is a van that is equipped with refrigeration and allows for the controlled transport of perishable goods. These trucks come in an insulated and ventilated system (often used to transport fruit) equipped with a cooling device.
Several options for the refrigerator trucks include ice cooling; mechanical refrigeration systems powered by tiny diesel engines; or carbon dioxide (either in the form of dry ice or liquid) as a cooling agent.
Garbage truck
A truck specifically made to collect municipal solid waste and transport it to a facility for treating solid waste, like a landfill, is referred to as a garbage truck. In the United States, this type of truck is also known as a trash truck. Other known names also include rubbish truck, dumpster, bin wagon, trash can truck, or bin truck. Vehicles that gather waste and refuse are known by their technical nomenclature. Most urban regions frequently see these trucks.
Septic trucks
Septic trucks are specialist vehicles made for vacuum-assisted septic system emptying. These trucks have a tank and a sizable pump at the back. The suction is run on this pump. A hose is introduced into the septic system from a septic truck that has been towed up to a septic tank. The truck then pumps and empties the septic system after the pump is turned on.
Grapple truck
A vehicle with a grapple loader fitted to its frame is referred to as a grapple truck and is used to load and occasionally move large amounts of garbage.
Municipal sanitation or public works departments, as well as garbage collection firms, frequently use grapple trucks. In addition, grapple trucks can occasionally be used for constructing or maintaining roads.
Rear-steer systems, roll-off systems, rear-mounted loader and haul truck systems, rear-mounted loader and trailer systems, and transfer systems are the different types of bulky garbage collection systems that employ grapple trucks.
Make the right choice
Ultimately, it all depends on your demands and what is necessary for each task and business. This frequently requires you to consider your particular needs, including the equipment you utilize, the products you must transfer, the number of people you must move, etc.
The ideal commercial vehicle can meet all of these requirements without being too expensive to purchase or maintain. Set the budget as soon as you know what you need from a commercial vehicle so that you can be sure you won't be spending more than is necessary for your company. As you start your investigation and see what is available and what you receive for the price, you can always adjust this budget.
A project's financial success or failure can be determined by the choice of a commercial vehicle. Finding the correct car will make tasks simpler to do with less effort. Spend some time outlining your requirements, investigating your choices, and selecting the best course of action to help your organization.
Author Bio:
Gjorge Stinikliev has been in the trucking business since 2011. He was then in charge of the day-to-day operations of the transport department, and since 2017, he has been leading a team of recruiters and managing daily recruiting and hiring decisions at Road Legends. He is also directly involved with the company's growth strategies daily.