Giancarlo Perlas
August 23, 2022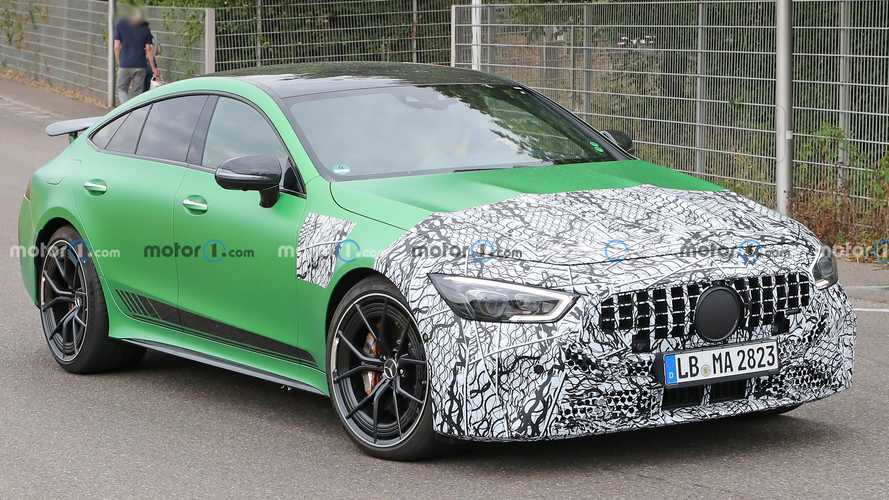 Around three years since the Mercedes-AMG GT 4-Door was officially rolled out on the market, a partially camouflaged version of the car spotted recently on track suggests that it is about to get a major cosmetic update.
One reason why automakers like Mercedes wrap their test cars in camouflage is to prevent them from being easily recognized. This supposedly helps keep the car's design a secret until it is ready to be unveiled so as not to spoil the fun. In cases like these though where an existing model is only gearing for a facelift, only the parts that will be updated are wrapped in camo. With that, the covered areas indicate where the potential changes in the design of the AMG GT 4-Door will happen.
Looking at the spy shots provided by Motor1, it appears that only the fascia and a little portion on the sides are getting cosmetic enhancements. Based on the peeking areas and bulges on the skin-tight camo hugging the body of the AMG GT 4-Door, it will be getting a redesigned front grille and revised air vents on each corner of the front bumper. Strangely, the badges indicating the engine type of the car on top of the front fenders are also hidden, which may mean either it is only getting a key design element in that area or its maker is planning on updating its engine.
The rear of the AMG GT 4-Door does not have the same zebra-patterned camo, which may translate to its exclusion in the facelift. However, it is also possible that since the updated model is still in its early stage of development, Mercedes is yet to introduce revisions there.