Giancarlo Perlas
February 16, 2022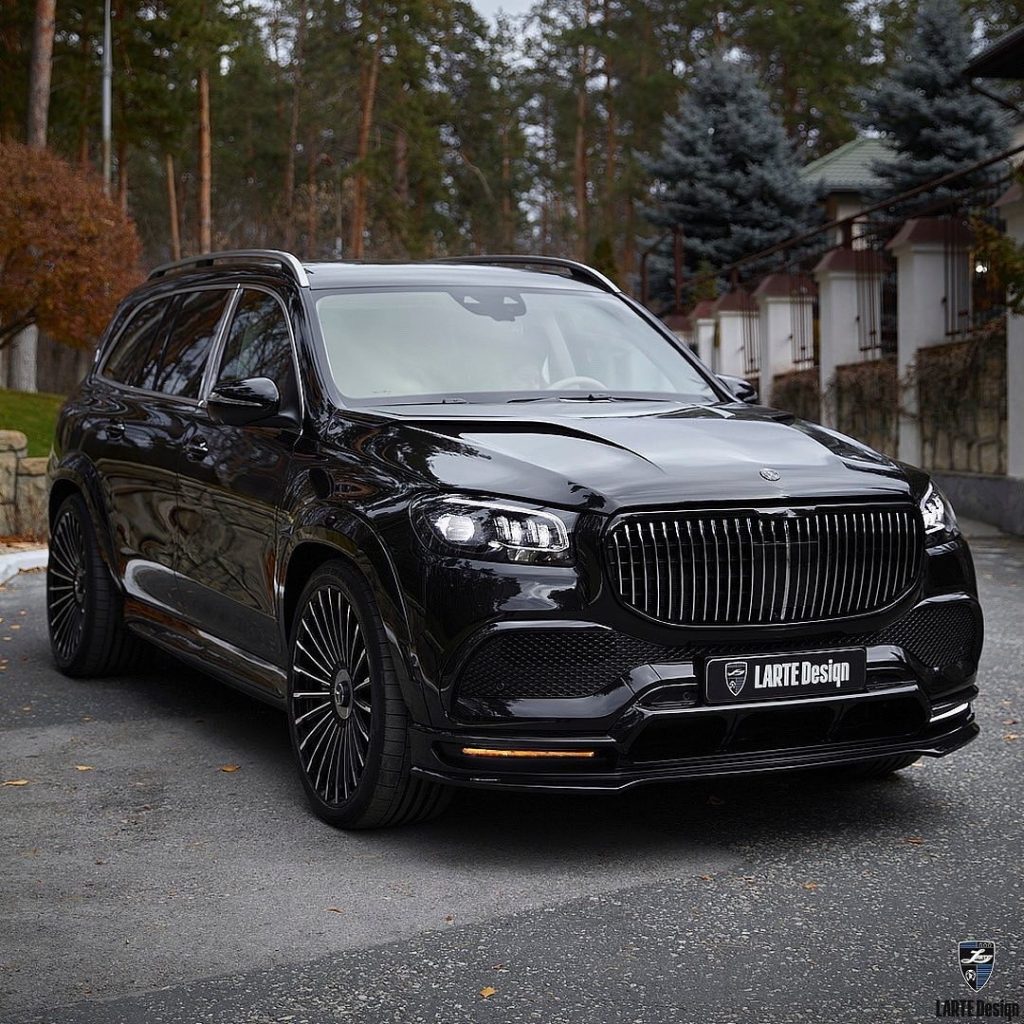 The Mercedes-Maybach GLS luxury SUV is considered to be a strong challenger to the Bentley Bentayga, Rolls-Royce Cullinan, Range Rover, and the Lamborghini Urus. Each has features that make it stand from the others though. As for the Maybach GLS, it seems that Merc has struck a balance between classy and sporty. However, it comes with a hefty price tag that is more than double its regular Benz version.
Recently, Larte Design released a new body kit that transforms the standard Mercedes-Benz GLS to make it look like its Maybach variant. This presents a better alternative for those who don't want to shell out the full $160,500 for the Maybach GLS 600 in the United States.
Larte integrates a new body kit to the GLS that includes a new grille with vertical slats similar to the one carried by Maybach cars, extended wheel arches, side skirts, roof spoiler, front bumper with custom attachments, rear diffuser with F1-like brake lights, AMG-inspired quadruple exhaust design, and 24-inch wheels wrapped in Continental tires. The aftermarket tuner retained the original logos of the auto though, except the roundel on the hood.
Aside from the facelift, everything in the interior of the vehicle is intact. The engine remains untouched, too. Under the hood of the GLS is a 4.0-liter twin-turbo V8 combined with a 48-volt system peaking at 550 hp and 538 lb-ft of torque. All that power goes to a 4MATIC all-wheel-drive system and is distributed via a nine-speed automatic transmission. The setup allows the SUV to sprint from 0 to 62 mph in just 4.9 seconds with a max speed of 155 mph.
"After talking with GLS 600 owners and automotive design experts, it became clear that the appearance of the Mercedes-Maybach GLS did not quite match the ideas and expectations of its owners," Larte said in a social media post accompanying the pictures of the new product. Thus, the specialist stated that it "tried to get away from chrome as much as possible, and make the car more exclusive and charismatic," while "maintaining its status and solidity."
The price of the new body kit from Larte is not publicly available, but we have the impression that it is much cheaper than the starting price of the Mercedes-Maybach GLS. So, those who want more info about the matter should place their personal inquiries on the official website of the tuner.