Giancarlo Perlas
January 15, 2022
AZUTO specializes in creating high-quality products designed specifically for Mercedes G-Class. The Japan-based company's products are carefully crafted to work and appear as genuine accessories for vehicles bearing the three-pointed star logo.
G-Class offers great utility as a vehicle but it could also use more cup holders. AZUTO cup holder is designed specifically for the G-Class to match the design of the interior. Unlike generic cup holders, it uses an installation kit to ensure a perfect fit and to make sure that it attaches flush against the vent.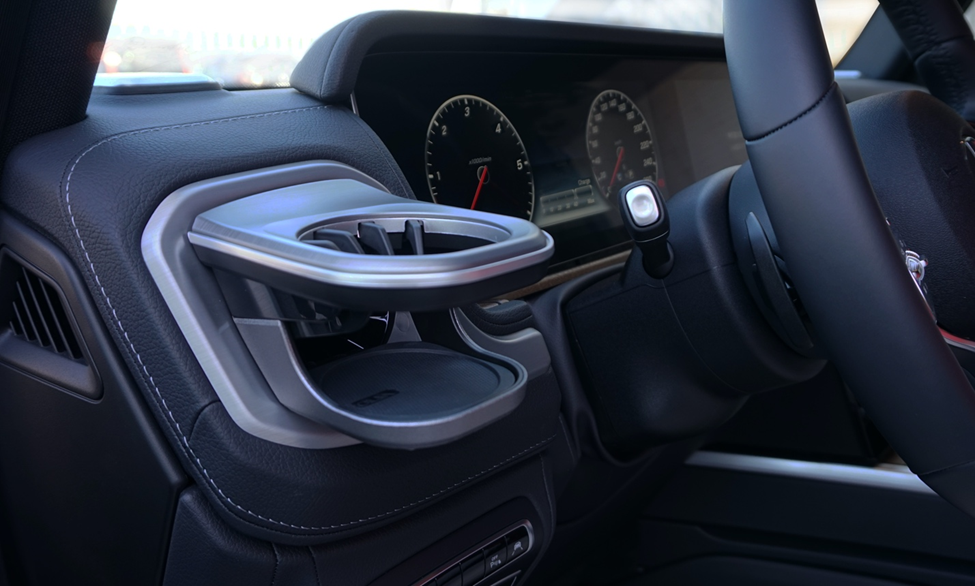 We had a chance to interview Rio Izumikawa who is a Senior Manager for the company's Product Development Department and asked him about how the AZUTO cup holder for the new G-Class (W463A) was developed. (Product is called MHG-027.)
What kind of work do you do at the company?
I am in charge of design and development for AZUTO brand accessories.
Please tell us the original intention of developing this product.
The objective was to develop a dedicated drink holder for the new G class. From the driver's point of view, we focused on the fact that the drink holder needs to be close to the hand on the steering wheel for safety and convenience. So, we decided to develop a cup holder that attached well to the air vent.
Please tell us about the design of this product.
The design closely matches the finish of the new G-Class's interior design. In the manufacturing process, the surface of the cup holder is painted twice and textured to match the G-class's dash trim as much as possible. Once installed, our cup holder is designed to look like a genuine accessory.
How is it different from other common cup holders?
A key feature of the cup holder is the flap mechanism that supports the drink, which remains very stable while driving. You will notice that the flaps closely match the design of the G-Class's air vent.
Also, by installing our cup holder directly to the air vent, you are able to maintain the temperature of the drink by turning on the air conditioner or the heater. This is another neat feature.
Do you have any plans to evolve this product in the future?
We are currently planning a variation of this cupholder which is trimmed with genuine leather. This product is going to look really nice inside the G-Class. We would like to continue to design AZUTO products that match the quality and design of each luxury car that it is designed for. Please stay tuned!
To purchase AZUTO cup holders for Mercedes G-Class:
Cup Holder for W463A (Post 2019 redesign) – Find HERE
Cup Holder for W463 (Prior to 2019 redesign) – Find HERE