Giancarlo Perlas
August 10, 2021
A classic car is a must for a memorable wedding day. In Hook, Hampshire, UK, one bride chose to drive at the venue of her wedding using a classic Mercedes-Benz 190 SL foregoing the traditional chauffeur-driven limousine ride. It would have been a grandiose entrance, but the car didn't make it when flames suddenly burst from its hood. Thankfully, the bride made it to the ceremony after the incident.
According to MBWorld, the unnamed bride was just a few miles away from the hotel where her wedding was booked when the unfortunate turn of events happened. Fire came out from the bonnet of the convertible, which scorched its engine and hood.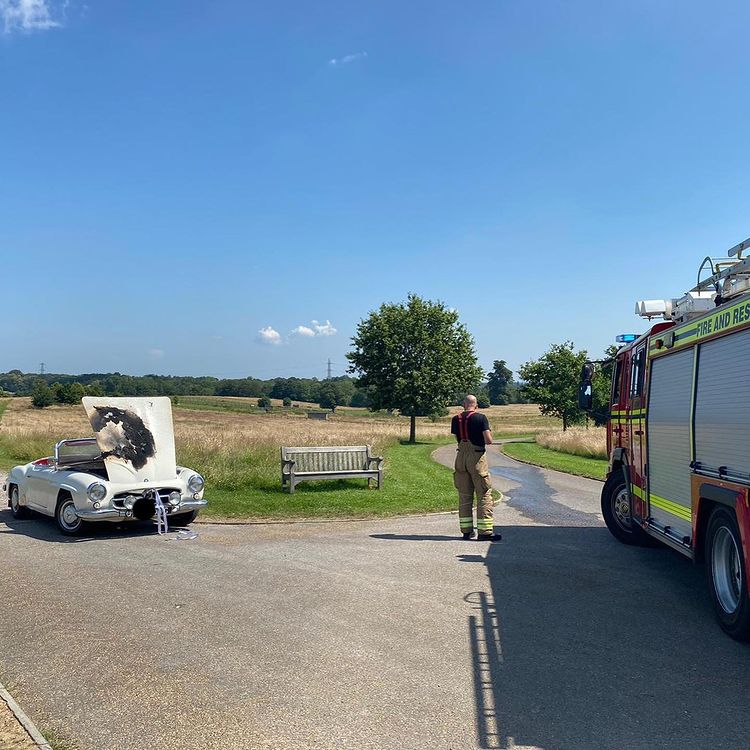 There was no mention about the cause of the fire, but the temperature might have contributed to it. The report said that it was 86 degrees Fahrenheit in the area when the incident happened. The fire department was called, but the flames were already extinguished when the firemen arrived. Luckily, no one was hurt during the event.
The bride was eventually picked up by a modern BMW car. She arrived more fashionably late than expected though.
The 190 SL was produced between 1955 and 1963. In that period, the three-pointed star marque built 25,881 units of the sports car.
The Mercedes-Benz 190 SL bridal car in the images here appears in its stock configuration. So, in its unadulterated state, it is powered by a 1.9-liter inline-four engine with 104 hp and 105 lb-ft of torque. The top speed of the car maxes out at 107 mph.