Giancarlo Perlas
July 21, 2021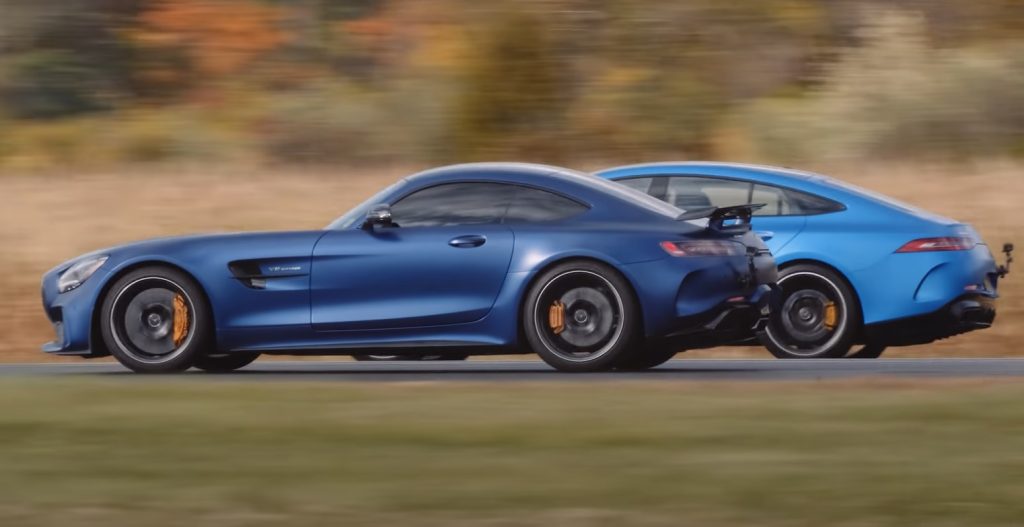 The Mercedes-AMG GT R and the Mercedes-AMG GT 63 S 4-Door may be positioned on the same range, but in reality, the cars are from different breeds. The two-door is a pure standalone sports car while the four-door is more like a roided version of the CLS but with the same face as the two-door AMG GT R. With those things out of the way, the video here compares both cars and takes them on a half-mile drag race to find out which one is quicker.
Mercedes-AMG GT R
The AMG GT R houses a 4.0-liter twin-turbo V8 capable of delivering up to 577 hp and 516 lb-ft of torque. All that power goes to a rear-wheel-drive system and is distributed via a seven-speed dual-clutch transmission. With its 3,600 lbs weight and a power-to-weight ratio of 6.23:1 plus launch control, it can go 130 mph in 7.6 seconds.
Mercedes-AMG GT 63 S 4-Door
The AMG GT 63 S 4-Door coupe has the same engine as the AMG GT R but with 630 hp and 664 lb-ft of torque. Unlike the two-door, this one is equipped with an all-wheel-drive system and nine-speed automatic transmission. The mentioned specs pose a significant advantage against its rival but the auto's heavier frame at 4,500 pounds and 7.14:1 power-to-weight ratio with 8.6 seconds to a 130 mph run may play a key role in balancing things out during the race.
The Race
The drag race involves a couple of rolling starts and a half-mile sprint from start to finish to test how the respective launch controls and power configurations of the cars will influence the results.