Giancarlo Perlas
June 5, 2021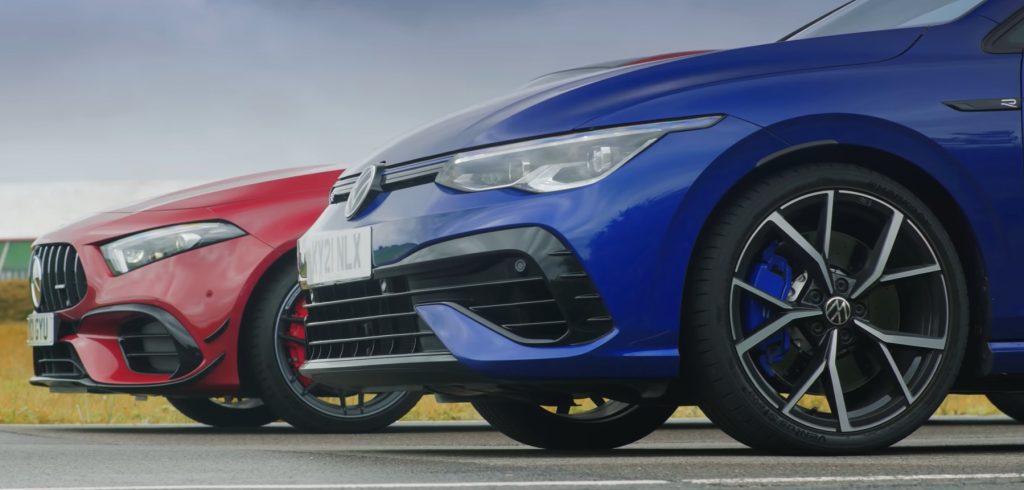 The Mercedes-AMG A45 S currently owns the bragging rights as the most powerful hot hatch in the world. The car can easily beat the Volkswagen Golf R in a drag race given its power advantage, but what happens if the two are pitted against each other in a Drift Mode battle?
Powertrain
Both the Merc and the VW hatches are equipped with 2.0-liter turbocharged four-cylinder engines. However, the high-performance car with the three-pointed star emblem is configured to deliver up to 415 hp and 369 lb-ft of torque while its German rival only has 315 hp and 310 lb-ft, so it's a no-brainer who will win in a drag race here.
Drift Modes
One of the key highlights of the two includes their Drift Modes. Compared to the AMG A45 S that has no limit to the power it directs to the rear wheels, the Golf R can only deliver a maximum of 50 percent to that area when the program is activated. Again, the Merc appears to benefit more from such a feature.
With that, the high-performance A-Class comes as the favored hot hatch in this Drift Mode battle. The new video from AutoTrader puts our expectations to the test by putting the two on the same track.
The Super-hatch Drift Battle
Check out the video below to see whether the Mercedes-AMG A45 S hatchback has better cornering abilities than the Volkswagen Golf R.