Giancarlo Perlas
June 4, 2021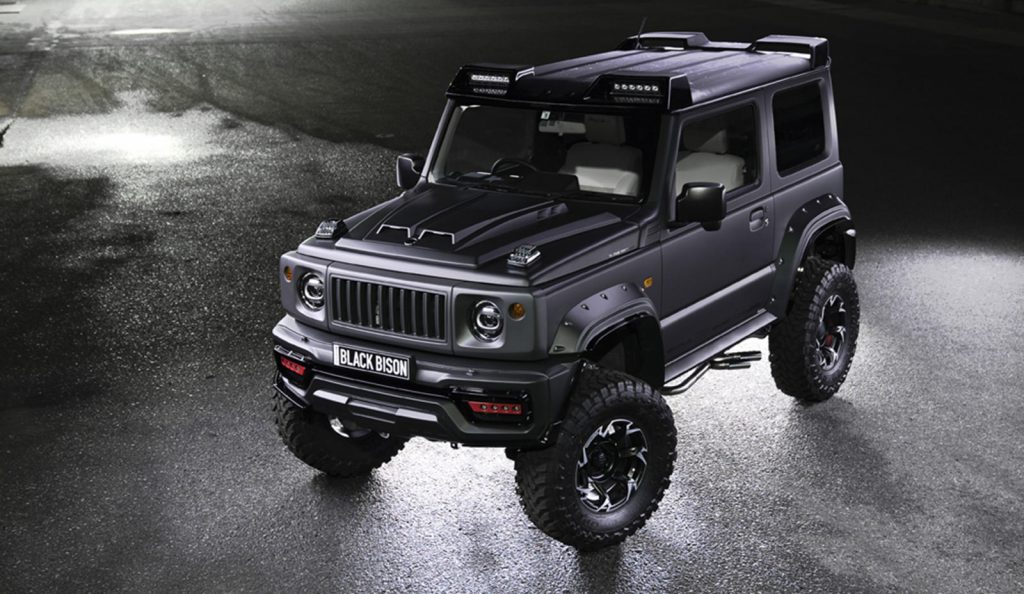 For $131,750, people can already buy the 2021 Mercedes-Benz G 550. For those with a very limited budget though, the Suzuki Jimny with mods presents a much cheaper alternative.
The Jimny has been on the receiving end of a forbidden technique from modders over the years, which turn the little SUV into a Baby G-Class. Just last year, Supercar Blondie placed the Brabus G-Class and Jimny with a copy of the same body kit found in the Merc side by side, and the resemblance of their exteriors was just uncanny.
Recently, Wald International took a bite of this forbidden fruit again to produce the Black Bison Jimny with the blings found in the iconic G-Class. Like the previous works of the Japanese tuner with the GLE Coupe, C-Class, and GLC, the SUV gets a chunky body kit with a blacked-out look.
The exterior of the Wald package for the Jimny features a muscular hood with air vents, a front skid plate, extended wheel arches, a roof light bar, a rear roof spoiler, a front bumper with LED on each side, and 15- to 16-inch wheels wrapped in large tires. That's not all because it's also equipped with twin-exhaust pipes on the side and a front grille with vertical slats to keep up with the semi-Mercedes-AMG G63 flavor.
The modifications extend to the compact SUV's interior too. It includes high-end perforated leather seats with special stitching patterns, colored surrounds, special floor mats, and a leather-covered steering wheel.
The pricing of the entire G-Class-inspired package for the Suzuki Jimny from Wald is not available to the public. However, the company said that the side exhaust system costs $1,212 and the leather seat covers can cost $520 to $710 each.