Giancarlo Perlas
June 5, 2021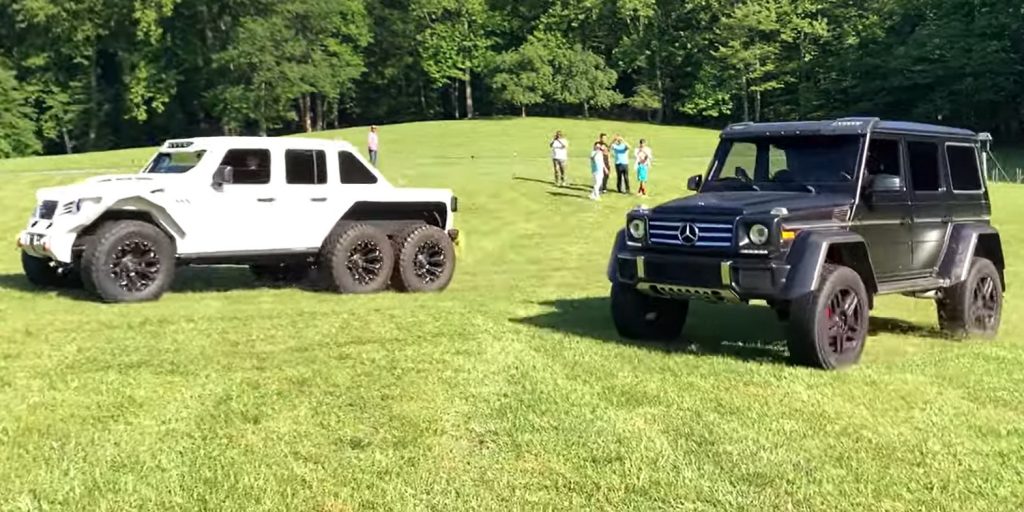 The Mercedes-Benz G550 4×4 Squared is the successor to the limited-series Mercedes-Benz G63 AMG 6×6, which is defined by its versatile features and capability to conquer obstacles that standard SUVs couldn't. That's thanks to its elevated suspension and big tires that give it 18 inches of ground clearance and a fording depth of 36 inches.
Last year, we have seen the Mercedes-AMG G63 go on a tug of war against the likes of the Tesla Model X, Lamborghini Huracan, and Land Rover Range Rover. As expected, the Merc bested the competition in this field. Now, a more formidable opponent has arrived to challenge its 4×4 Squared version in the form of a 6×6 Jeep.
Not much information was revealed about the 6×6 Jeep by the vlog of Dobre Cars except that it has three axles, 7,000 pounds weight, bulletproof Kevlar plating, and a 3.0-liter turbocharged engine with less than 400 hp but with 450 lb-ft of torque. Based on the given hints, the heavily modified truck is likely based on the Gladiator with a 3.0-liter EcoDiesel V6 turbo engine that has an output of 260 hp and 442 lb-ft of torque paired to an eight-speed transmission. The logo on the front bumper suggests that the modifications were performed by SoFlo Jeeps.
In the opposite corner, the G-Class appears to be in its stock configuration so it still carries a 4.0-liter twin-turbo V8 with 416 hp and 450 lb-ft of torque distributed via a seven-speed automatic transmission. Despite its smaller frame compared to the 6×6 Jeep, it should be noted that it uses the platform of the G63 AMG 6×6.
Check out the video below to find out how the Mercedes-Benz G550 4×4 Squared fared against the 6×6 Jeep in a tug of war and drag race: