Giancarlo Perlas
June 2, 2021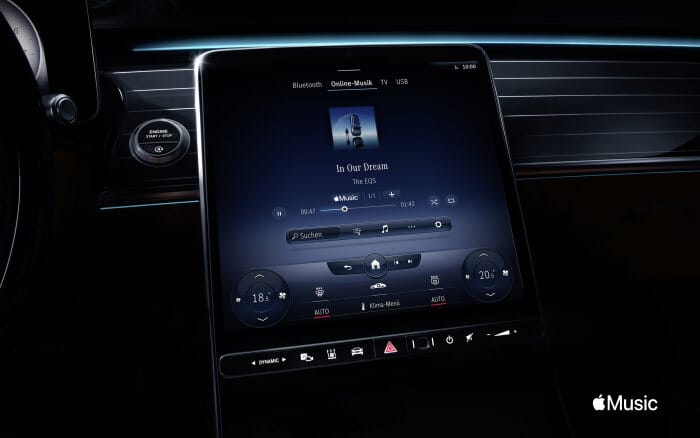 Mercedes-Benz recently partnered with Apple Music to allow the integration of the Cupertino-based mobile phone maker's music app to the EQS, C-Class, and S-Class cars. The feature will now come as standard through the MBUX infotainment system of the said cars.
The integration of Apple Music to the mentioned Mercedes models unlocks the "Online Music" of Mercedes me connect service and the MBUX system. It lets Apple Music subscribers stream up to 75 million songs directly to their cars without ads. The service also includes thousands of curated playlists, and live radio shows hosted by artists on Apple Music 1.
The seamless combination of Apple Music with the MBUX system will let drivers control the app with Merc's voice assistant too. It's as easy as saying "Hey Mercedes" via the voice assistant of Mercedes using the steering wheel control followed by naming the song, album, playlist or radio station that you want to listen to.
Apple Music can be installed via the Mercedes me account of Mercedes-Benz C-Class and S-Class owners starting next month while EQS owners will get it by summer. Over the air updates are also available after that.
The service is dependent on the owner's data plan in the Mercedes me portal "Internet in the Car" even for people with older Mercedes models using MBUX. Only the ones with the latest C-Class, S-Class, or EQS can use the data of their smartphones while the device is tethered to the car's system though.