Giancarlo Perlas
May 31, 2021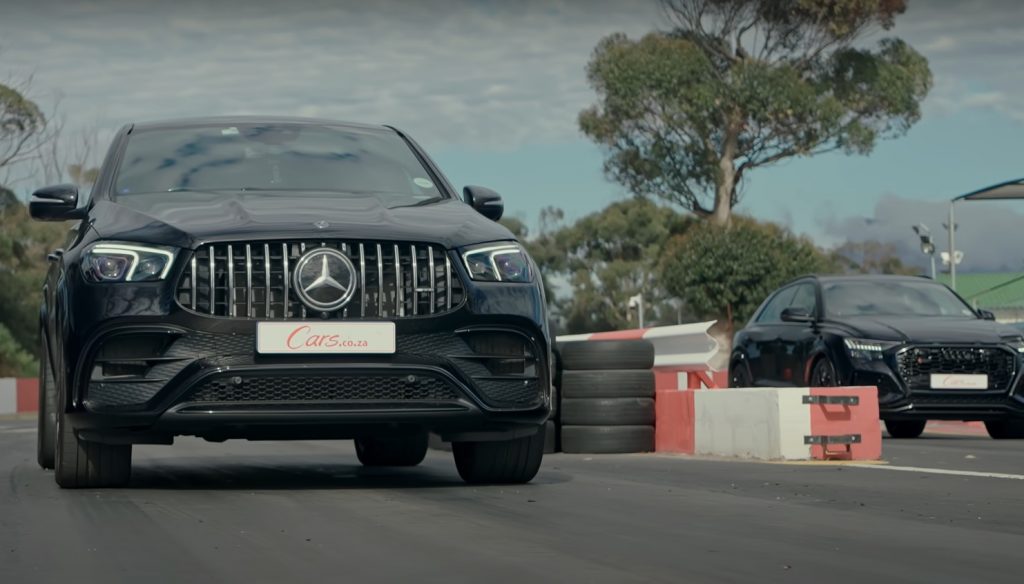 The Mercedes-Benz GLE Coupe goes a long way back in the three-pointed star brand's portfolio. It started in 1997 as the M-Class until it was rebranded into its current name in 2015. Meanwhile, the Audi Q8 is relatively new in the crossover SUV scene as it was only introduced in 2018.
Fast-forward today, the GLE and the R8 are positioned in the same segment of the market. With that, the two are often compared to each other. When it comes to autos, one of the measuring sticks of performance comes in terms of speed. So recently, Cars.co.za raced the top trim units of the two, namely the Mercedes-AMG GLE 63 S Coupe and the Audi RSQ8, to find out which one is superior in a quarter-mile drag race.
The AMG GLE 63 S carries a 4.0-liter twin-turbo V8 engine capable of producing 612 hp and 850 Nm of torque. Meanwhile, the RSQ8 is not far behind with its own 4.0-liter twin-turbo V8 engine producing 600 hp 800 and Nm of torque.
The Merc has a trick up its sleeve in the form of its EQ Boost that adds 16 kW and 250 Nm boost upon acceleration. However, the Audi compensates for the difference by its frame which is less than 200 kg than its rival. On paper, the two are evenly matched because each promises a 0 to 60 mph acceleration time of 3.7 seconds.
Ciro de Siena seems to favor the AMG GLE due to its higher power rating when the EQ boost kicks in. On the other hand, Ernest Page believes that the lighter RSQ8 will have a bigger advantage in the race.
Without much ado, below is the quarter-mile drag race between the Mercedes-AMG GLE 63 S Coupe and the Audi RSQ8 so we can finally see which one of them is quicker.