Giancarlo Perlas
May 31, 2021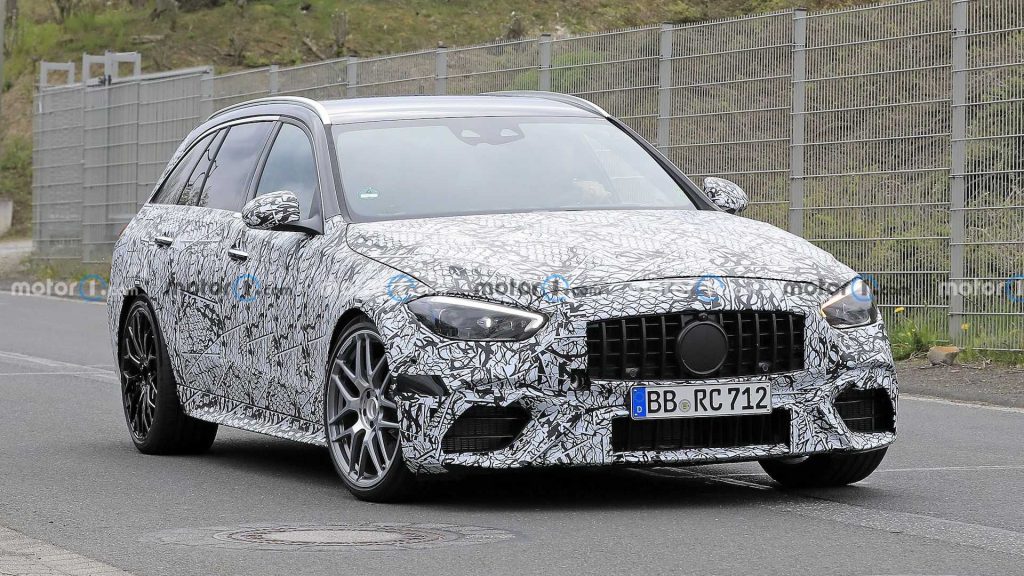 After the launch of the 2022 C-Class sedan and wagon, Mercedes-Benz immediately confirmed that the range will be ditching the V8 engines in favor of a high-performance 2.0-liter turbo four-pot. Despite the downgrade, new spy shots confirm that a Mercedes-AMG C63 is still in the works.
The spy photos of Motor1 feature what looks like a wagon variant of the C-Class cruising down the road near Nurburgring. It may be covered in full zebra camouflage but the profile of the car is all too similar with the standard C-Class Benz shown earlier this year.
The prototype noticeably carries a Panamericana front grille with vertical slats, which is the signature of AMG vehicles. However, the wheels appear to be mismatched. One pair sports a black Y-Spoke design while the other pair is fitted with silver twin-spoke styling.
There's no definite update yet about the mechanical configuration of the new AMG C63, but reports claim that its engine will be partnered with an electric motor. The mild-hybrid setup will provide the car up to 550 hp and 590 lb-ft of torque, which is 47 hp and 74 lb-ft more than the outgoing AMG C63 S. Even with the smaller engine, the addition of an electric motor will surely add to the weight of the next top-trim high-performance C-Class.
The new Mercedes-AMG C63 Wagon is expected to be unveiled before the current year ends either during or just after the debut of its sedan counterpart.