Giancarlo Perlas
May 31, 2021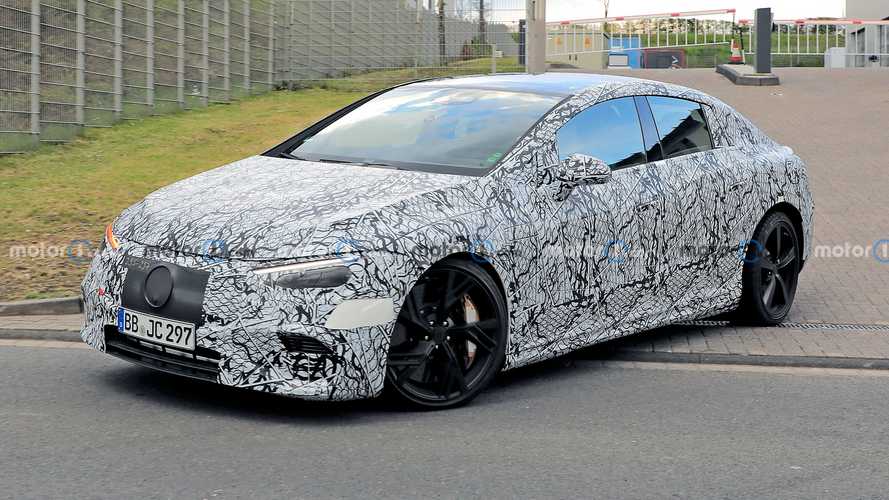 Mercedes-Benz is yet to unveil the EQE in September, but new spy photos confirm that the Mercedes-AMG EQE is already in the works. Previous patent filings with the European Union Intellectual Property Office also hint at the trims that we can expect from the range.
Information about the EQE is scarce as of the moment, but Motor1 claims that the spy shots here show the prototype of the car. We have a strong reason to believe that the source is right.
Here are the things that support our suspicion that the car is indeed the AMG EQE:
Mercedes already unveiled the EQA, EQB, EQC, and EQS. What remains to be seen is the EQE.
A closer examination will show that the spied auto bears some resemblance with the profile of the EQS. The only obvious difference between the two is the shorter front overhang of the prototype here, and its sedan-like trunk compared to the liftback styling of the EQS.
The closed front grille is definitely an indication that this is from the EQ line.
The chunky high-performance wheels are from AMG cars.
The brake discs and brake calipers are also standard fittings in high-performance Mercedes models.
Patent documents reveal that the three-pointed star brand trademarked the EQE 43, EQE 53, and EQE 63 names.
The car here is possibly the entry-level AMG EQE 43 because of its subtle visual enhancements. But then again, we haven't seen the base EQE yet, so there is no point of comparison in this area at present. This is merely a huge guess as of now.
We will surely update this story as soon as we dig more details about the Mercedes-AMG EQE from our insiders and our fellow auto journalists.