Giancarlo Perlas
February 15, 2021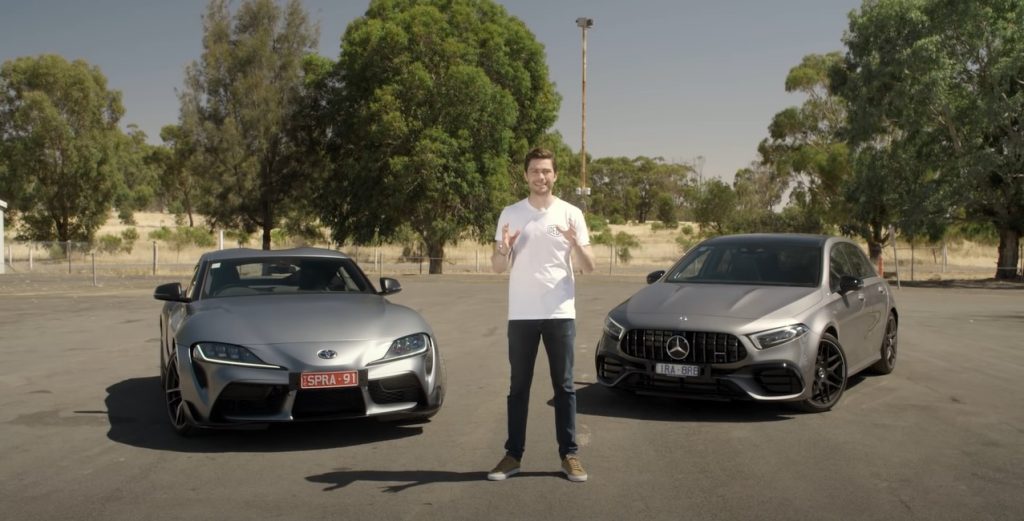 The Toyota Supra GTS and Mercedes-AMG A45 S come from a different breed. They may be an odd pairing but the two should not be taken lightly on the race track. After smoking the Alfa Romeo Giulia at some point, find out how the AMG hot hatch will fare against the Japanese sports car.
We may be looking at a coupe versus a hatchback, but a careful examination of their features reveals that both cars valued below the 100,000 AUD mark may be evenly matched.
The updated Supra possesses a 3.0-liter turbocharged inline-six engine that produces 285 kW (382 hp) and 500 Nm (369 lb-ft) of torque. The sports car is fitted with a rear-wheel-drive system.
On the other hand, the 2.0-liter turbocharged four-cylinder engine of the AMG A45 S is at an advantage against its rival because of its 310 kW (416 hp) output but with the same level of torque according to the presenter. The all-wheel-drive system of the hatch is also expected to play a major role in the race.
It should be noted though that the Toyota is capable of reaching 500 Nm at only 1,800 RPM compared to the 5,000 RPM needed by the Merc to get those numbers. In addition, the Supra is about 130 kg lighter than the AMG A45 S. But then again, the German hot hatch boasts a better launch control mechanism than its Japanese rival.
Now, without spoiling much the results, check out the video below to find out which one is quicker in a drag race from a total halt and rolling start. The end of the 17-minute clip demonstrates the braking capabilities of the Toyota Supra GTS and Mercedes-AMG A45 S too.