Giancarlo Perlas
February 3, 2021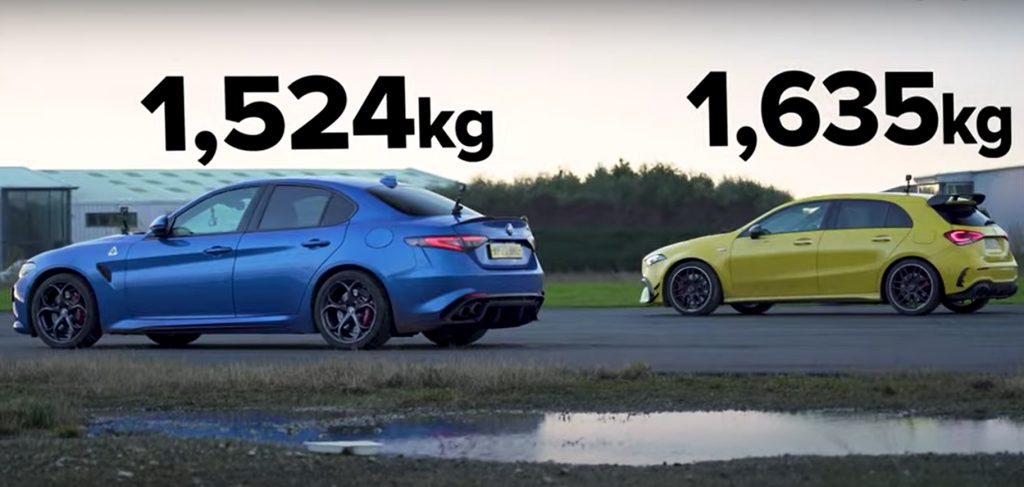 The Mercedes-AMG A45 S may be the most powerful hot hatch in production, but that does not necessarily mean it's the fastest. Although belonging in different categories, the Alfa Romeo Giulia QV was recently pitted against it in a drag race.
Before getting the show on the road, let's take a look at the key specifications of the two that may have a huge effect on the outcome of the race:
Mercedes-AMG A45 S
The most potent A-Class with a price tag of £50,595 packs a 2.0-liter turbocharged inline-four engine that produces 421 hp and 500 Nm of torque. All that power goes to an all-wheel-drive system and distributed via an eight-speed automatic gearbox with launch control. Despite being a smaller car, it weighs 1,635 kg.
Alfa Romeo Giulia QV
The Italian sedan worth £67,195 has a more powerful engine being a 2.9-liter twin-turbo V6 with an output of 510 hp and 600 Nm of torque. The car only drives on rear-wheels with an eight-speed automatic gearbox managing its power. It has a torque converter but it has no launch control. Overall, the vehicle is 1,524 kg heavy.
The Race
In comparison, the AMG A45 S is heavier but its launch control and all-wheel-drive system will surely provide it a huge advantage against its rival in the video. On the other hand, the lighter Giulia QV has more power than the hot hatch.
With those things out of the way, let's enjoy the race between the Mercedes-AMG A45 S versus the Alfa Romeo Giulia QV in the video below: