Giancarlo Perlas
December 10, 2020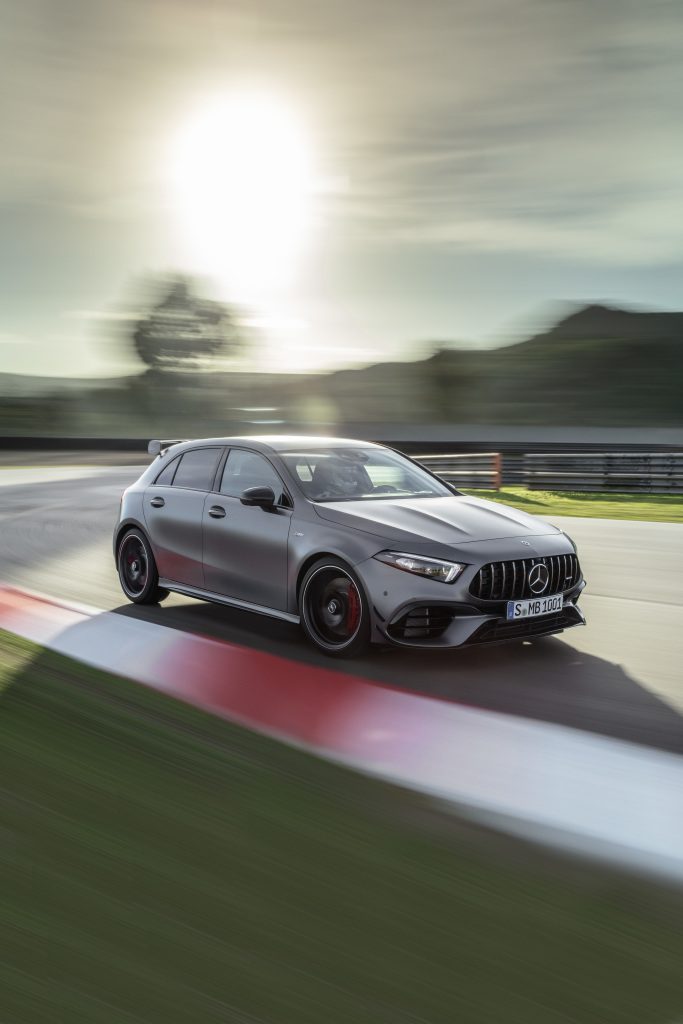 The Mercedes-AMG A45 S 4MATIC is one of the most affordable cars of three-pointed star marque within its high-performance division but it is considered to be the most powerful hot hatch in series production today. It comes with a new engine, an ingenious all-wheel-drive system, balanced handling, good interior design, advanced tech, and many more.
The AMG A45 S hot hatch starts at £50,570 in the UK, which can drive you back a lot if you are on a tight budget. However, there's a way for you to own one without dishing out that much cash.
For as low as £472 per month, you can already get behind the wheel of the world's most powerful hot hatch. If you're in the UK and considering a new A45 AMG then we'd suggest checking out Orangewheels Leasing to see the latest deals.
Among the things we loved while driving the AMG A45 S are as follows:
Strong Engine for a Hatchback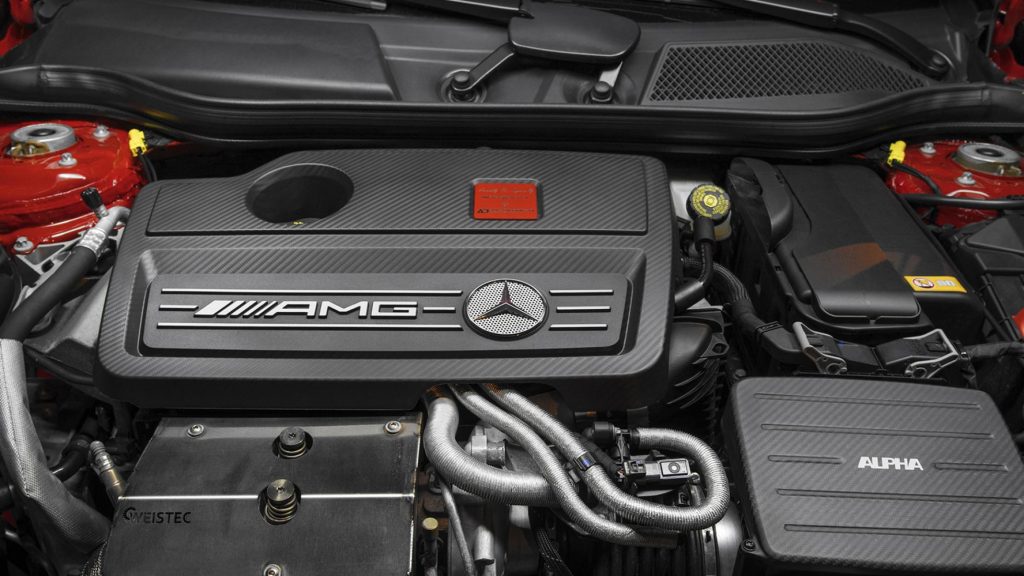 The hot hatch raises the bar with its petrol-fed 2.0-liter turbocharged four-cylinder engine. It produces 415 bhp at 6,750 rpm and 368 lb-ft of torque at 5,000 rpm. The eight-speed dual-clutch transmission partnered with the all-wheel-drive system of the auto propels it smoothly from 0 to 100 km/h in just 3.9 seconds. Putting the pedal to the metal lets it rip with an electronically-limited top speed of 270 km/h.
Balanced Driving Dynamics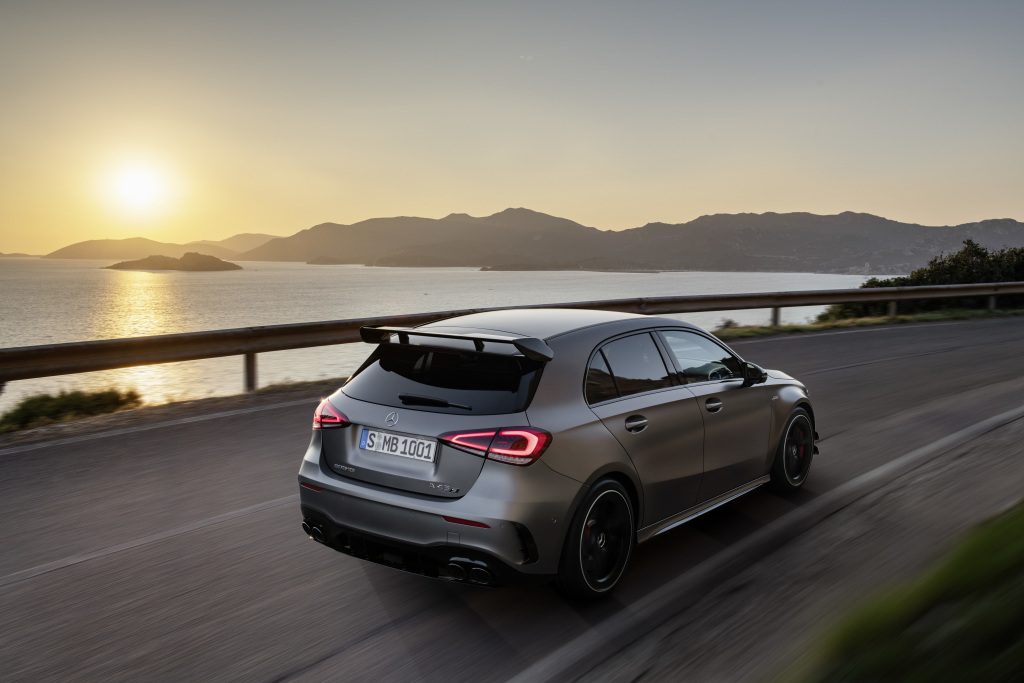 The AMG A45 S features seven driving modes. It starts with Comfort mode if you prefer the most relaxing way to get to your destination, and Sport+ or Race modes if you want to optimize its performance.
Sporty and Luxurious Interior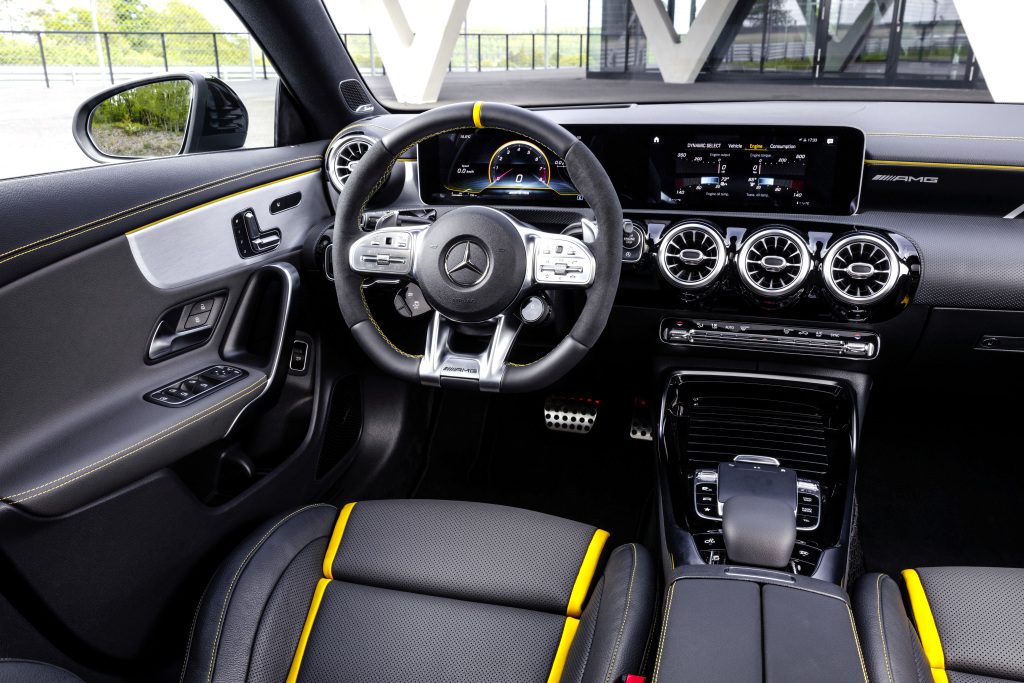 The AMG A45 S features a sporty interior that does not compromise Mercedes' signature luxurious touch. Its top configuration includes sports seats in black Artico leather and Dinamica microfiber. It has a multifunction steering wheel, circular air vents, and two large displays too.
User-Friendly Technology
The tech within the AMG A45 S is pretty complex. However, it is very user-friendly, thanks to its enhanced MBUX entertainment system with touch and voice control capabilities.
If your hands are too preoccupied in commandeering your car on the road, you can activate its key functions using your voice by uttering "Hey Mercedes" followed by the instructions to your vehicle.
Stylish Exterior
The AMG A45 S boasts Mercedes' latest design philosophy that features smooth surfaces and no longer relies on too many body lines to emphasize its proportions. Instead of rigid body lines, it integrates artistic indentations on its panels for visual effects. It combines those with AMG's signature Panamericana grille with vertical slats, aggressive bumpers, rear diffuser, and rear wing.