Giancarlo Perlas
November 9, 2020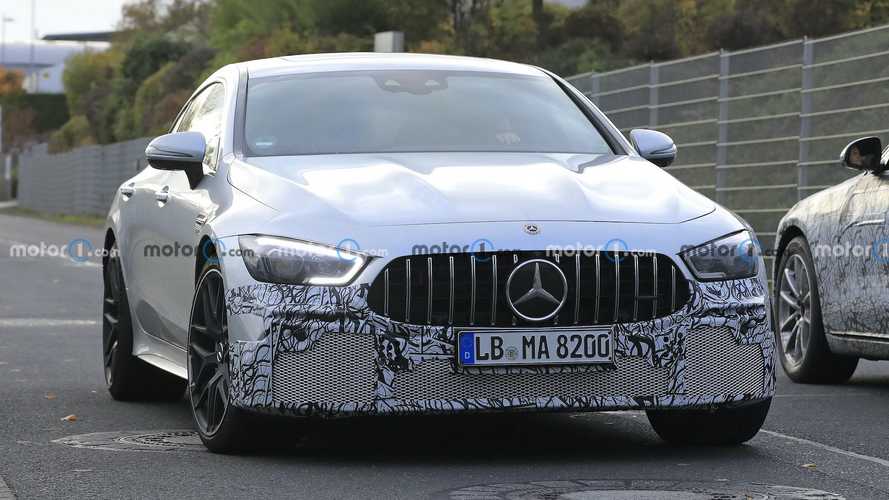 The Mercedes-AMG GT 4-Door Coupe just entered the production line in 2018 but a new set of spy shots reveal that its maker is already working on its facelifted model to keep it fresh for more buyers. The car is still in its early prototype stage and its production version is expected to be unveiled sometime in 2021 with a 2022 model year badge.
The spy photos of the AMG GT 4-Door taken by Motor1 show the vehicle with only its front bumper covered in zebra camouflage, so that should be an indication of where the change will take place in its facelifted version. Then again, the subject is still in its initial development phase so there might be more to it. Moreover, it could benefit from more stylish and more advanced headlamps as well as some S-Class tech like the latest MBUX infotainment system and a head-up display.
It's too premature to make assumptions at the moment so we will be updating these details once more information surfaces from Mercedes, company insiders, or news sources.
Speaking of the AMG GT 4-Door line, a hybrid model of the auto is currently in the works. For now, we will refer to the upcoming product as the Mercedes-AMG GT 73e 4-Door. The hybrid car is expected to produce at least 800 hp by combining the AMG GT's 4.0-liter twin-turbo V8 with an electric motor.
The AMG GT 73e 4-Door will probably arrive late this year or early next year prior to the launch of the facelifted series.