Giancarlo Perlas
July 9, 2020
Last year, Mansory with the help of German fashion designer Phillip Plein made the Star Trooper based on the Mercedes-AMG G63 20th Anniversary Edition. The sport utility vehicle takes a camouflaged finish with extensive upgrades in styling and a boost in performance. Fast-forward to the present, the Star Trooper is making a comeback in a limited edition, two-door pickup truck form.
It's not clear what version of the Mercedes-Benz G-Class was used as a platform for the two-door Star Trooper pickup. Mansory likely made a massive overhaul to the present G-Class by cutting its rear passenger section and converting it into a pickup bed, or it simply used the older cabriolet version of the auto.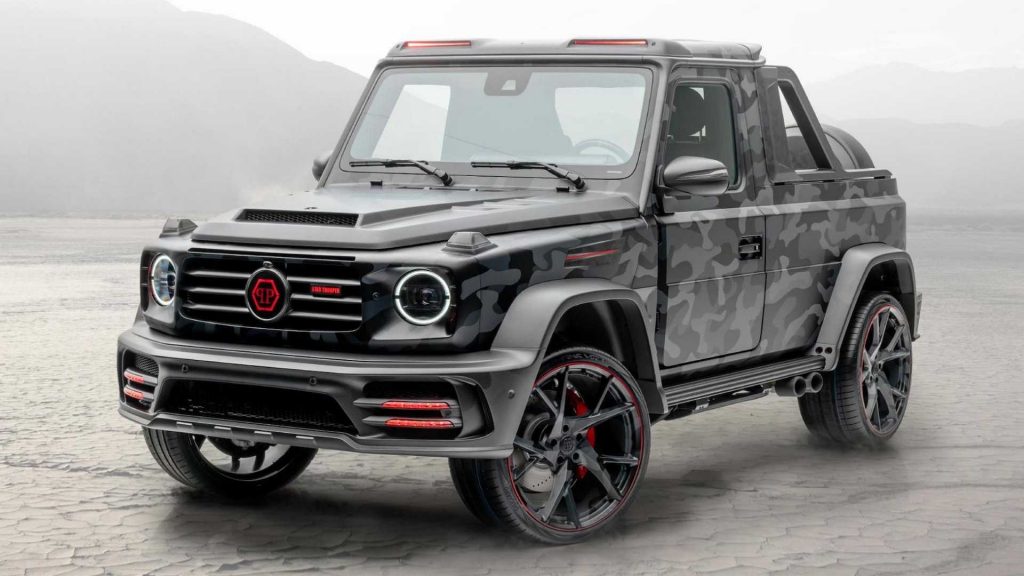 The pickup Star Trooper follows the design cues offered by its SUV counterpart. It features a steel camouflage paint combining matte black and grey plus red accents. The auto is also fitted with custom 24-inch black wheels, red brake calipers, electronically-retractable side steps, twin exhausts on each side, and sporty front grille complete with the tuner's logo as its centerpiece.
The Star Trooper pickup is equipped with a tuned version of AMG's 4.0-liter Biturbo V8. The output of the unit is a whopping 838 hp and 737 lb-ft of torque. The figures allow the vehicle to accelerate from 0 to 62 mph in just 2.5 seconds, and it has a top speed of 130 mph.
Only seven examples of the Mansory Mercedes-Benz G-Class Star Trooper are planned for production including the one shown in the gallery below: