Giancarlo Perlas
December 5, 2019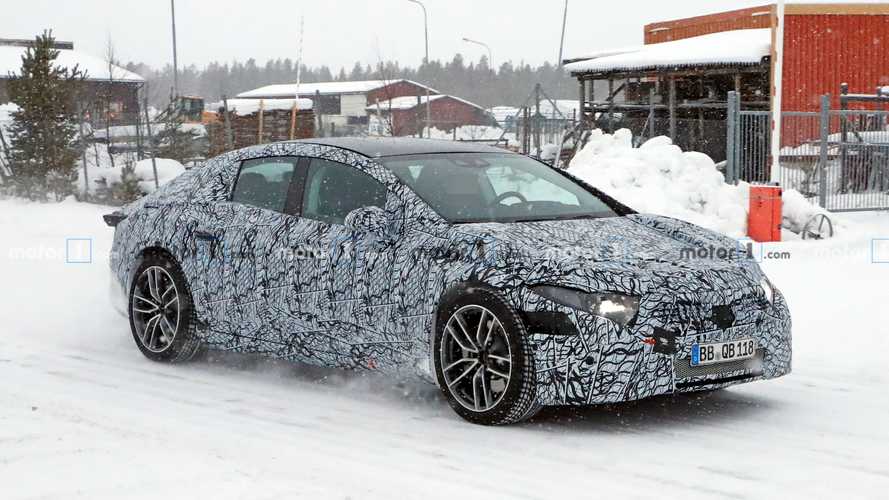 The upcoming Mercedes-Benz EQS was seen again, and a couple of its spy shots were taken while it was undergoing winter testing. The car is the production version of the all-electric Mercedes-Benz EQS Concept shown at the Frankfurt Motor Show. The electric vehicle will serve as the flagship car of Mercedes' EQ sub-brand, and it is set to debut around 2022.
The new spy shots taken by Motor1, show the EQS full zebra camouflage, which effectively hides all its key design elements. Based on the overall form, bulges and exposed areas of the auto though, we can already make out some of its key features.
The spied EQS looks curvaceous, which is similar to the shape of its concept version. It also bears a striking resemblance to the outline of the Mercedes-Benz CLS because of its low roofline and little greenhouse. However, the EV follows a liftback design unlike its rivals such as the Tesla Model S and Porsche Taycan.
Since it is still a long way to go until its world premiere, the EQS here is still a work-in-progress. So we may see the final product bearing new headlamps and taillights.
Upon closer inspection, it can be noticed that the spy shots cover two versions of the EQS. One is equipped with the conventional door handles while another has what appears to be pop-up door handles similar to the ones carried by the Tesla Model S.
The EQS uses the new Modular Electric Architecture (MEA) of Mercedes. The car is expected to have a combined output of 350 kW from its twin electric motors. That should propel the EV from 0-100 km/h in less than 4.5 seconds. It promises an electric range of 700 km at full charge.