Giancarlo Perlas
August 29, 2019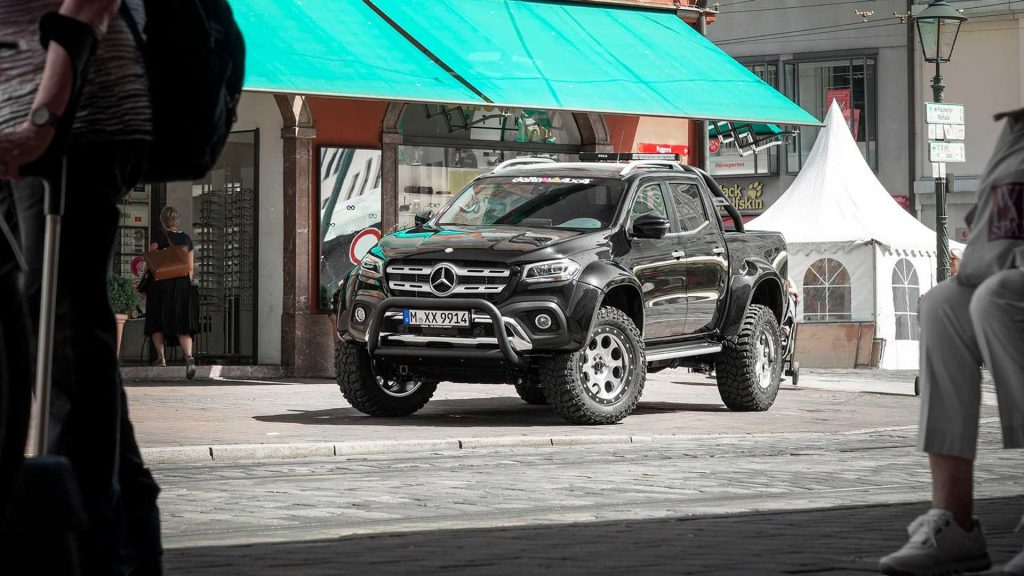 In the past two years since Mercedes-Benz came out with the X-Class, we've seen some modifications of this utilitarian vehicle. Based on the platform of the Nissan Navara, the Mercedes-Benz X-Class was a bit underwhelming design-wise because everyone was expecting it to be a more rugged version of the G-Class 4×4².
Fortunately, German tuner delta4x4 decided to develop a package that can turn the X-Class into an off-road-ready machine. This is the same company that showed its beefy Mercedes G-Class last month. This time, the package is tailored to the X-Class.
The tuner can jack up the body and increase the suspension travel to make the pickup truck more competent when traveling on bumpy terrain. On the front end, there's a bulbar made from stainless steel. This makes the pickup truck more off-road ready than other trucks in the same segment. It also gives it a sporty look that can be complemented by other accessories.
Those fender flares make the truck wider, too, by as much as 100 mm. This gives the truck a more aggressive stance that's perfect for a proper off-roader. The tuner is also offering a further way to customize the truck. Buyers can opt for alloy wheels from sizes 17 to 23 inches and roof-mounted LED light bar.
This package is perfect for the flagship X350d 4Matic variant, which is powered by a 3.0-liter V-6 diesel engine that cranks out 258 horsepower and 406 pound-feet of torque.
Prospective buyers may want to get their hands on the X-Class fast. There is a very good possibility that Mercedes will cancel the model because of poor sales.