Giancarlo Perlas
December 14, 2018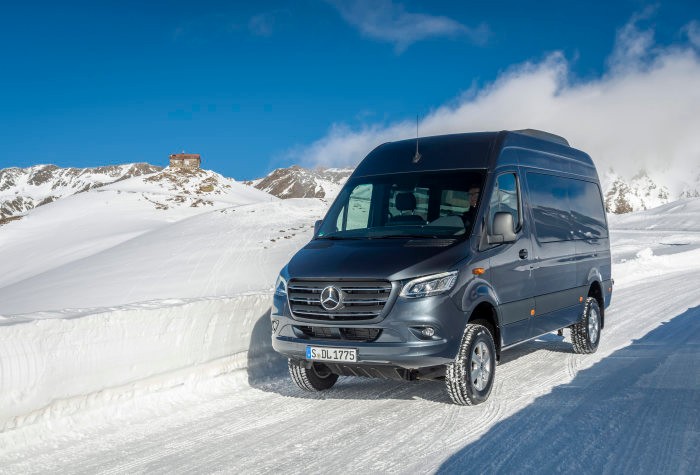 The Mercedes-Benz Sprinter may not be enjoying the same level of reception as the other Mercedes luxury vehicles because of its utilitarian design but here is something to get us a bit excited about the van range of the German automaker. Recently, the company revealed the 4×4 version of the Sprinter.
Among the main selling points of the Mercedes-Benz Sprinter 4×4 include an adaptive electronic stability program (ESP), an acceleration skid control (ASR) that can be disabled, a downhill speed regulation (DSR) with reduction gear, and a new traction-control system called the 4ETS.
The selectable all-wheel-drive system of the Sprinter 4×4 offers a 35/65 front-to-rear torque split as a default configuration. This helps improve traction, particularly at low speeds, compared to the regular version of the vehicle.
There's also the 4ETS that's fully integrated within the ESP of the Sprinter 4×4. In a nutshell, the system works similarly to a unit with three locking differentials. It directs torque to each wheel if it senses the loss of traction.
Meanwhile, the ASR of the Sprinter 4×4 can be easily disabled using the controls located on the steering wheel. This adds more slip, especially when driving using snow chains or when on gravel. The function is automatically reactivated when the speed of the auto reaches 40 km/h or the slip increases dramatically.
Furthermore, the optional DSR aids the van when driving downhill. This works together with the reduction gear of the unit.
The new Sprinter 4×4 is equipped with a turbodiesel 3.0-liter V6 engine with 190 hp and 324 lb-ft of torque. All that power is distributed to all four wheels via a seven-speed automatic transmission system. There is a 2.0-liter inline-four petrol variant of the Sprinter too but we are not sure if it is available in the 4×4 model.