Giancarlo Perlas
October 17, 2018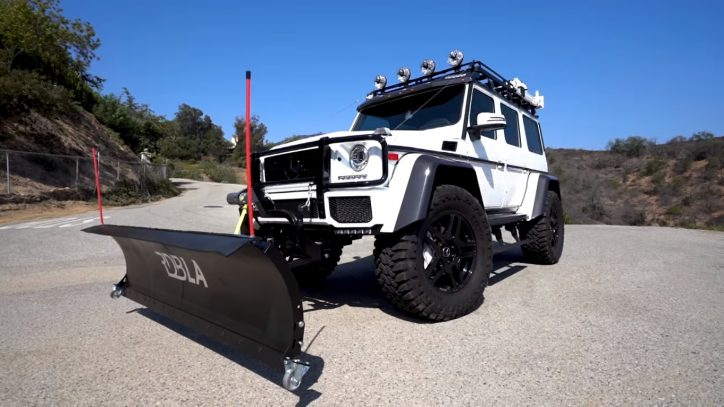 Controversial YouTube star Paul Logan just had his Mercedes-Benz G500 4×4² customized. He had a snow plow installed into the vehicle.
The work was done by the Los Angeles-based shop called RDBLA. It was quite an unusual request because owners of the vehicle usually don't put snow plows into their G-Class units. What makes it really weird though is that the climate in LA does not really present snow plowing opportunities. Regardless, that now makes the G-Class of Logan unique.
To support the weight of the heavy snow plowing rig, RDBLA equipped a custom bracket to keep it in place. The mechanism also allows the quick installation and removal of the plow.
RDBLA tested the strength of the G-Class' bracket by letting one of their crews ride the plow. After that, they had the vehicle ram a Jaguar on the streets and even had it lift the car's rear to show its power.
They simulated a car chase too just to prove that the upgrade to the G500 4×4² did not significantly affect its performance on the road. These antics, of course, elicited a shocked response from one onlooker. In addition, there was an off-road demo to display the auto's capabilities on the dirt.
While the snow plow gave the G-Class a more rugged look, the same cannot be said with its interior. RDB fitted the cabin of the auto with a Rolls-Royce-inspired starlight headliner. The visual effects definitely offer a luxurious touch into it.
Video
Check out the video below showcasing Logan's Mercedes-Benz G500 4×4² with a snow plow: