Giancarlo Perlas
October 13, 2018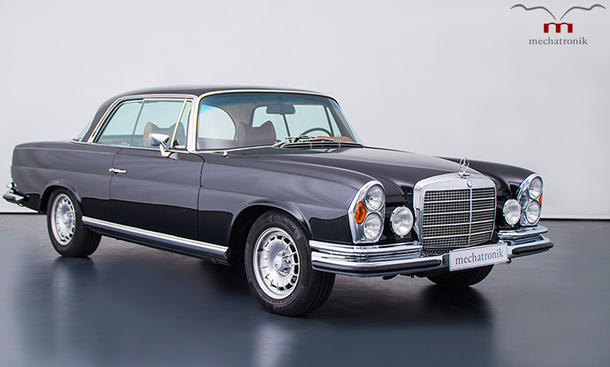 A 1970 Mercedes-Benz W111 Coupe received some restoration works and engine upgrades from Mechatronik. With its power boost, the car now has an output of 360 hp.
According to Auto Zeitung, Mechatronik is based in Pleidelsheim, Baden-Württemberg, Germany. The company specializes in vintage cars and is known for its works with classic Mercedes vehicles.
One of its projects involved a 70s W111 Coupe, which was restored to almost its original look when it rolled out from the production plant. Mechatronik was down to the detail on this one, but its mechanics have taken out its 3.5-liter V8 engine to replace it with a 5.5-liter V8 sourced from an SLK55 AMG.
During its time, the W111 was a force to be reckoned with on the road with its 200 hp engine. However, the new power unit raises it by 160 hp more.
The tuner complemented the power increase with a new seven-speed automatic transmission. It also came with an optimized ABS braking system.
The report said that the car sells for 400,000 euros in Pleidelsheim. To date, we don't know if it has been sold already, but we have been seeing postings of the same Mercedes car since last year, which makes us wonder why no one grabbed it yet.
Therefore, if you are looking for a good deal on a vintage Mercedes car, then, you might want to consider including this on your list.
Photos of Other Mechatronik Mercedes-Benz W111 Coupe and Cabriolet Cars
Check out the gallery below for more samples of Mercedes-Benz W111 Coupe and Cabrio units that were upgraded by Mechatronik: