Giancarlo Perlas
October 7, 2018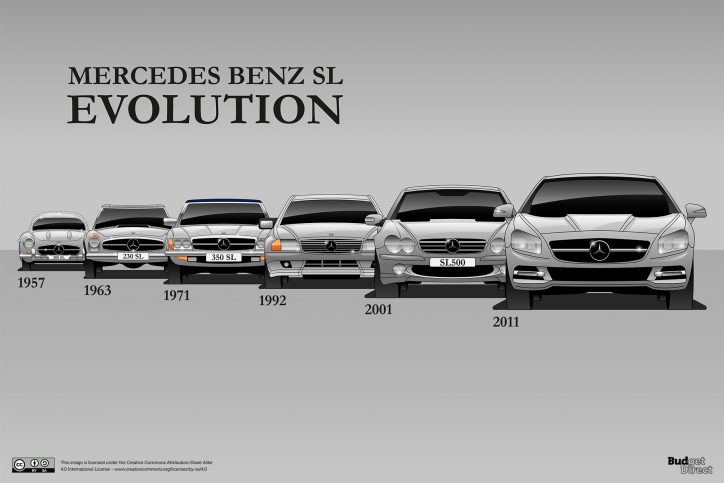 The Mercedes-Benz SL is the three-pointed star marque's oldest model to date that is being produced until now. Introduced in 1954, the SL is one of the longest surviving car models in the world today.
The name "SL" stands for "Sportlich-Leicht" or "Sport Lightweight". Max Hoffman, a luxury vehicle importer based in New York during the post-war period, was the one who pitched the idea of a toned-down Gran Prix car that aimed to attract performance car enthusiasts. The first to be produced in the range was the 300 SL Gullwing.
The 1954 Mercedes-Benz 300 SL Gullwing came with a 3.0-liter inline-six engine with 212 hp, which was quite impressive for its time. The car featured a timeless beauty with its design that was characterized by a two-door layout, sculpted body lines, thin fenders, single-bar radiator grille, rounded headlamps, thin taillights, and curvaceous body. Most of the vehicle's styling elements would later serve as the blueprint of the car designs that we enjoy today.
The image below shows how the SL changed from 1954 up to 2011—from models W198 to R230: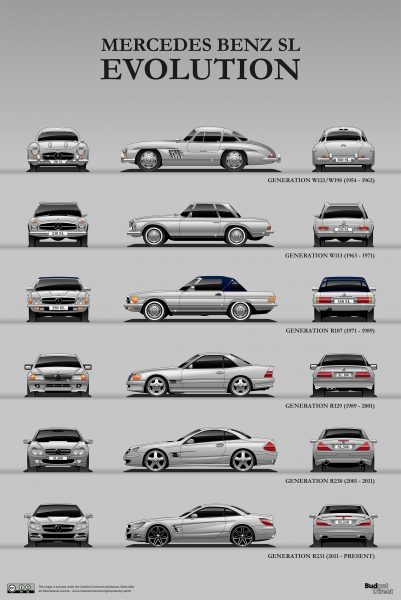 Here is another image showing the evolution of the SL:

The next photo shows the facelifted model of the R231 that we have right now: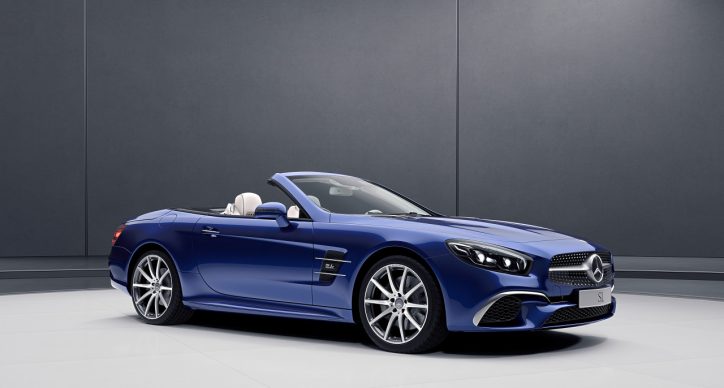 The new SL has a more dynamic design, and it is currently offered in its convertible guise with a retractable hard top. The vehicle is sold in three trims:
The SL 450 with 3.0-liter V6 offers 367 hp
The SL 550 with 4.7-liter V8 produces 455 hp
The AMG SL 63 with 5.5-liter V8 is capable of 577 hp
The US pricing of the car starts at $89,150.
Meanwhile, the 300 SL Gullwing remains as one of the most sought-after classic Mercedes cars at present—fetching millions in auctions.
Photo Credits: Budget Direct, Mercedes-Benz, MBoemparts.com