Giancarlo Perlas
October 17, 2018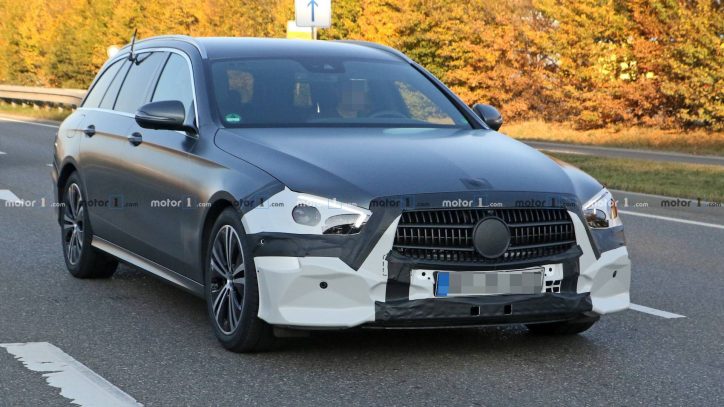 The Mercedes-Benz E-Class is getting a makeover for next year's lineup. These were revealed by the new spy shots of the car that just surfaced.
According to Motor1, the spy photos were taken while the car was undergoing testing in Europe. Although the subject in the images is the wagon model of the E-Class, it should be understood that the other variants of the range like the sedan, coupe, and convertible models will also feature the changes shown in the pictures.
The E-Class wagon here comes in a gray finish, so the white wraps in front of it are really noticeable. As we have been accustomed to, the covered areas usually indicate where the cosmetic changes will take place. Therefore, a closer look at the vehicle reveals only its bumper and headlamps in wraps.
Although obscured by the wraps, the shape of the E-Class wagon's front end appears to follow the same styling elements found in the new A-Class and CLS. The face of the car is now sleeker while the headlights are more angular. The bulges of the covers hint large air intakes on the lower fascia of the auto too. Meanwhile, the exposed radiator grille displays a more aggressive design.
The spy shots do not take us to the interior of the E-Class wagon. However, we expect the MBUX multimedia system to replace the COMAND system of the car.
The mild-hybrid powertrain of the CLS 450 that features a 3.0-liter inline-six engine with 362 hp will likely trickle down to the E-Class. That means the 3.0-liter V6 engine of the E 450 will have to go. Likewise, the 2.0-liter inline-four of the E-Class with an output of 241 hp will be replaced by the updated version of the unit with 255 hp, which is presently equipped in the C 300. Lastly, upgrades on the diesel trims of the auto's European models are expected as well.