Giancarlo Perlas
October 20, 2018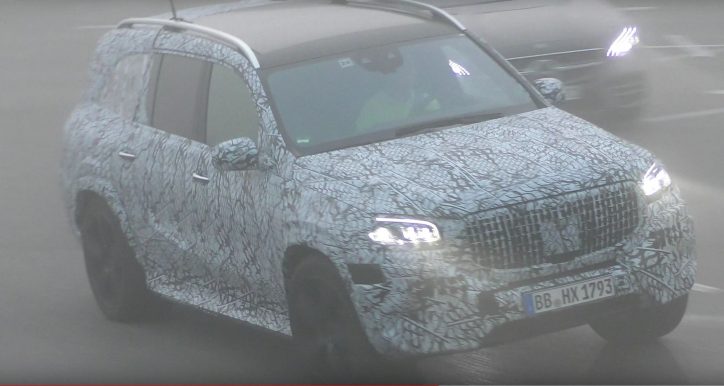 The testing of the new Mercedes-AMG GLS 63 continues. The new spy shots of the large sport utility vehicle appear online again.
The prototype appears covered in a heavy black and white camouflage so it is hard to make out what Mercedes is up to with the high-performance GLS. The misty background does not help either.
However, looking very closely at the images reveals that the upcoming AMG GLS 63 will feature a lot of changes compared to the present version of the model. The most noticeable upgrade comes from the front grille. It should be noted that the current model features a double horizontal grille styling. The new one replaces that with the signature Panamericana grille of AMG, which features vertical slats.
Next, examining the bulges below the front bumper hint that the new AMG GLS 63 is ditching its single air vent styling there in favor of three openings.
The overall layout of the AMG GLS 63 looks almost the same as its outgoing model right now. We are expecting some updates on the dimensions, particularly in the wheelbase measurement, of the auto that will provide more legroom to its occupants.
We couldn't see the interior of the SUV in the pictures but we bet that it will get many luxurious elements found in the GLE and S-Class Sedan. Big dual touchscreen displays measuring at least 12.3-inch each with the MBUX system are a certainty in the infotainment system of the vehicle too.
As for the powertrain, a twin-turbo V8 engine with at least 600 hp is a likely candidate for the next AMG GLS 63. The higher output of the unit is estimated to bring the 0-62 mph acceleration of the vehicle faster than the current version's 4.6 seconds time.
Look forward to the unveiling of the next AMG GLS 63 next year. It should be under the 2020 model year lineup of Mercedes.