Giancarlo Perlas
September 3, 2018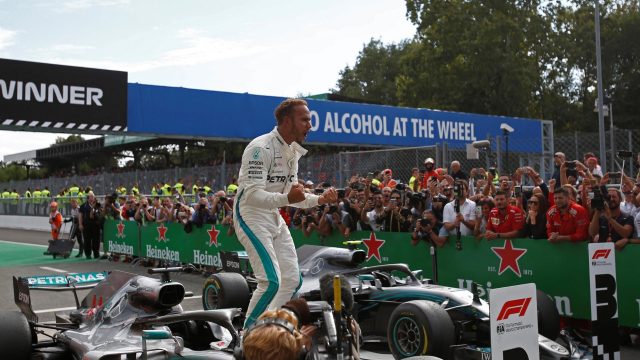 The win of Lewis Hamilton at Monza in the Formula One Italian Grand Prix comes as a bit of a relief for Mercedes. The victory extended the Briton's lead for the championship but it didn't come without controversy.
The race cars of Hamilton and Ferrari's Sebastian Vettel brushed with each other at the second chicane of the race on the first lap. The incident stemmed from the Mercedes driver's maneuver to overtake Vettel.
It started when Vettel attempted to overtake his teammate Kimi Raikkonen. He went wide on the chicane while targeting to go on the inside line. However, Hamilton approached on Vettel's right-hand side and he went outside the Ferrari driver's path.
The Mercedes car was ahead when Vettel hit his tires with Hamilton's left sidepod. As a result, the Ferrari car went out of control and spun.
"That was silly, where did he want to go?" a fuming Vettel told his radio.
"It was a racing move, pretty much the same move that Kimi later did to me. It was a racing maneuver, which is what we are supposed to do. I left him room, and I was still on the track. I think that was a comment made in the heat of the moment, so I don't read too much into it," Hamilton defended his action in the aftermath of the event.
"Lewis saw a little bit around the outside but he didn't leave me any space. I had no chance but to run into him and make contact," Vettel retorted, however.
Neither man was penalized over the incident but Hamilton used the opportunity to catch up with Raikkonen. The final moments of the show saw the fresher tires of the Briton prevail against the worn rear tires of the Finn. Hamilton made a critical move against his rival at the first chicane of the 44th lap too that allowed him to sail smoothly towards the chequered flag.
Hamilton won the race and extended his gap with Vettel in the rankings by 30 points. Raikkonen finished second while Valtteri Bottas was third. Vettel settled on the fourth place after Red Bull's Max Verstappen was penalized for flicking Bottas on the 43rd lap.